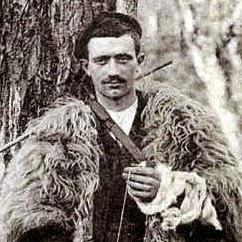 The scene is Arcachon, in the latter years of the nineteenth century, and local baker Sylvain Dornon (pictured left) has taken it upon himself to popularize the bygone Landaise tradition of walking on stilts. To do this he organises demonstrations and performances, then opts to stilt-walk up the Eiffel Tower, before venturing from Paris to Moscow. But let's go back to the start…
The use of stilts, or "
échasses
", was widespread throughout the Landes from the 18th century onwards. The wooden implements (and their leather foot-straps) were primarily employed by shepherds as both an easy way of manoeuvring through marshy land and as a means of extending their field of vision when watching over their flock of sheep. Other stilt users in the Landes were messengers and postmen, keen on time-saving and maintaining a steady step. But as the wetlands became drier, due to the work of Nicolas Brémontier and previous blog subject
Jules Chambrelent
, so the use of stilts began to die out. 
Enter Sylvain Dornon, who was born in 1858 in Salles, to the east of Arcachon and at the northern tip of the Landes. His background wasn't that of a shepherd. Rather, his father was a
résinier
, collecting resin from the pine trees of the region, and Sylvain became a baker in nearby Lugos. All the while he was fascinated by music and dancing, and during his time in Lugos he set up one of the first-ever folk-dancing troupes to perform… on stilts. In the late 1880s, the young baker moved to Arcachon, operating on the central Rue du Casino.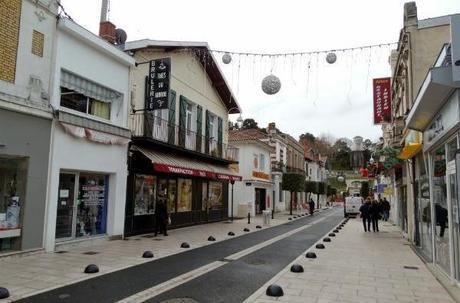 Arcachon's Rue du Casino is now known as  Rue du Maréchal de Lattre de Tassigny. If you can help me locate Dornon's former boulangerie, then I'm all ears!
As the town's tourist credentials were gaining momentum he hit on a potentially lucrative idea: to entertain visitors by putting on shows in the leafy Parc Mauresque, just metres away from his bakery. The
échassier
shows featured racing and dancing, culminating in a square dance number known by the Gascon name
Lou Quadrilh dous tchancats
(stilt-walkers were referred to as being "
tchanqués
", as still are the famous huts on stilts mid-Arcachon Bay,
les cabanes tchanquées
).
In true street entertainment style, spectators were invited to make generous donations at the end of the show. The concept proved successful but Dornon felt he and his stilts deserved greater exposure. In September of 1889 he therefore traveled to Paris for the
Exposition Universelle
and, in full-on
tchanqué
mode, walked up the steps to the second level of the Eiffel Tower. The
coup
garnered extensive coverage in the press.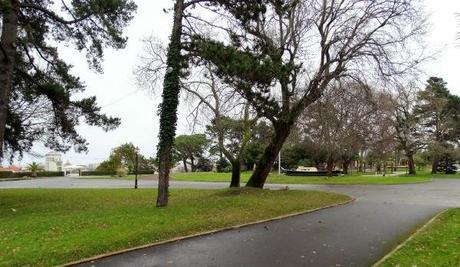 Arcachon's Parc Mauresque, sadly short on stilts the day I was there.
He would not stop there though. Inspired by tales of eccentric Russians traveling on foot from the western frontier of their country to France, Dornon elected to go one step further (well, several steps further) and stilt-walk all the way from Paris to Moscow. His arrival would be timed to coincide with a Franco-Russian exhibition being held there in May 1891. He secured financial backing from the magazine
L'Illustration
and Dornon set to work making two new pairs of stilts: one set measured 1 meter 10 centimetres and weighed 3 kilogrammes while the second, longer pair (1m80) were, along with trunks of clothes, dispatched to Moscow.
Dressed in full
Landais
shepherd clothing (including goat-skin coat and beret), carrying a bag containing maps, a few spare clothes and a loaded gun (you can never be too careful), Dornon set out from Place de la Concorde in Paris on March 12th 1891, surrounded by a 2,000-strong crowd of enthusiastic supporters!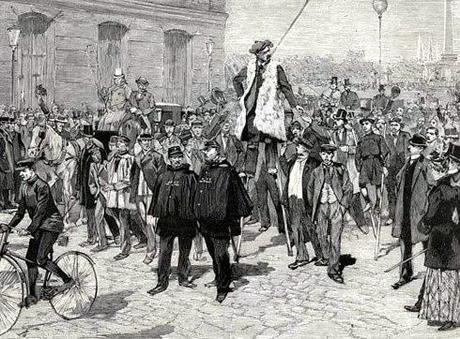 The scene on Place de la Concorde, as recorded by L'Illustration (photo source: bassindarcachon.com)
Covering an average of 60 kilometres per day and in spite of harsh weather conditions and poor road surfaces, Dornon cruised through Reims, Sedan, Luxembourg, Koblenz, Berlin, Wilna and on to Moscow. Walkers and cyclists would often join him for stretches of the route, although progress was also sometimes hindered by uncooperative policemen or children who would throw stones at him! On the whole though, Dornon would never fail to find a local who had heard of his venture or a hotel bed to sleep in.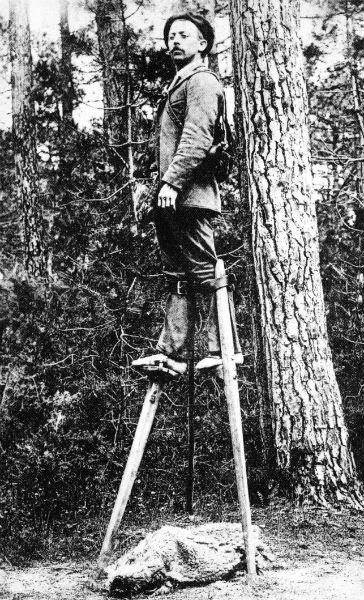 Source: Wikipedia
After 58 days and 2,875 kilometres, Dornon arrived in Moscow preceded by a police cortege. He was hailed by a crowd chanting "
Vive la France
!" and treated to a champagne reception.  After taking part in a number of festivities (including a race on stilts against a clown from Germany), and visiting Saint Petersburg, Dornon finally got on a train and began the return trip, which would of course take far less time… although it wasn't incident-free: somewhere in Poland the souvenir engraved glasses Dornon was bringing home for friends all got broken.
Back in Arcachon, Dornon returned to his duties at the
boulangerie
. Other than dealing with visitors familiar with his recent achievements, his life regained some form of normality. His
Landaise
stilts did however continue to excite him far more than the bakery's output; he would take part in races and dance performances throughout the region up until his death in 1900 aged just 42. His legacy is that of reviving a
Landaise
tradition which had already died out, and the concept he developed lives on to this day, with many
échassier folk dance troupes
continuing to entertain the masses.