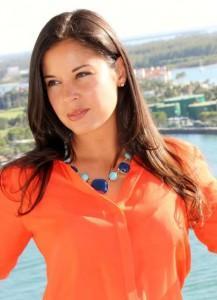 Our interview with top Miami fashion blogger Martha Dominguez
A fashion leader is someone who influences the fashion of others. This can be as simple as providing a follower with outfit inspiration to as big as changing the fashion industry itself. That's why at SwimsuitsDirect.com we are always looking to work with and learn from these fashion leaders. So we've started our ongoing interview series SwimTalk.
Today's interviewee is the very colorful Martha Dominguez. Her Miami based fashion blog, Princess Martha, gives great fashion advice to women of all types. She has a very fun and easygoing style that mirrors her own personality. Martha brings a unique Latin flair to her outfits and is definitely one of the top fashion bloggers to follow.
1) What drew you to the world of fashion?
I love art and in my mind, fashion is wearable art. It's an expression of who we are as individuals. There's nothing better than being able to let someone know your style without having to say a word.
2) How is fashion different in Miami as compared to a place like New York?
Miami's fashion is chill, easy, light with a dash of sexiness. We love lightweight fabrics that move in the ocean breeze and bright colors that reflect the vibe of the city.
3) How does your Latin culture influence your style?
My Latin culture is rich in colors and that makes me gravitate towards bright pinks, oranges, blues and greens.
4) Where do you find your fashion inspiration?
My fashion inspiration comes from my surroundings. The ocean, the energy of the city, the tropical climate…and an occasional fashion editorial in a magazine.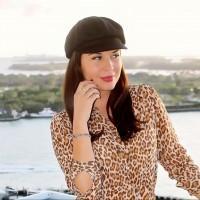 This Miami Blogger Has A Real Fierce Sense of Style
5) How do you think the regular fashion industry influences the swimwear one?
Swimwear, in a place like Miami, is regular fashion. We live in our swimsuits and we love to have them be chic enough to wear from pool to cocktails. The more versatile the style, cute and print, the better.
6) What are your thoughts about clothing shopping online vs. shopping in an actual store?
I love online shopping for everything!! I have packages delivered almost daily!!
7) Any advice for online swimwear shoppers?
Check the site's measurement chart and know your own numbers. It's important to know your true size.
8) How many swimsuits do you own?
Probably around 10 or 11 right now…but season is just starting so look for that number to increase as the weather heats up.
9) How often do you get a new swimsuit? And how often do you recommend getting new pieces?
I like to get new numbers every summer season. There are some pieces I have kept for many years but the everyday, casual swimsuits are replaced every year.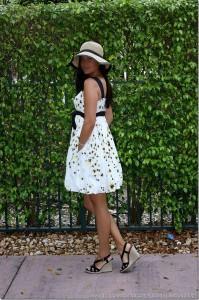 Martha's fun and easy going personality really reflects her style
10) What is your favorite style of bathing suit?
I love triangle tops and side tie bikini bottoms. I think they're flattering on the body and the bottoms won't "cut" you like other bottoms. You can tie them as tight as you'd like without creating an "overspill".
11) Do you think that being a mother has changed your swimsuit style?
Definitely! I recently invested in three new one pieces! I haven't purchased a one piece in years but taking my daughter to her swim class called for something a little more demure than my normal bikinis. I actually love the fit of a one piece and I feel much more comfortable in them for the purpose of a swim class.
12) Who is your favorite swimsuit designer and why?
Honestly, I'm a big J.Crew fan right now because of the newly acquired one piece love I have…they carry beautiful suits with fun prints at a very accessible price. But I'm always open to discover new designers.
13) Does where you are headed determine what swim outfit you would wear? Would beach wear be different from pool wear be different from resort/cruise wear?
Yes. If you're going boating, you can rock a studded and intricate bikini because you're mostly going to be dry and lounging. If you're going to the beach, you want to use a suit that will allow you to go swimming in the salt water without causing damage to the details. It all depends on the location and what you'll be doing there.
14) Where is your favorite beach?
1st and Ocean…just steps from our home. It's the best place on the beach for us. We can watch the cruise ships leave, see the pier and enjoy a pretty quite little slice of South Beach.
15) Describe your perfect poolside outfit.
An orange bikini with gold accents, sheer white palazzo pants, a big floopy hat and of course, big round sunglasses

16) What advice do you have for finding the ideal swimwear?
Mix and match!! Some designers run big, some run small. Find your perfect fit by mixing your tops and bottoms.
17) Often times women and young girls feel insecure when it comes to wearing a swimsuit what advice do you have for them to strut their stuff and put on their swimwear with confidence?
I promise you…the best thing you can do for yourself is to have confidence. In order to have that confidence, it is important to find a suit that fits you well. Decide how much you want to show (or not) and find a suit that offers you what you're comfortable with. There's nothing worse than wearing something that doesn't properly fit or fit the way you want. You can't feel good in that but if you find a suit that fits you perfectly, you'll feel good and you'll definitely LOOK good

You can check out our previous SwimTalk  interview with fashion blogger Lindsey Cheney creator of the blog The Pleated Poppy.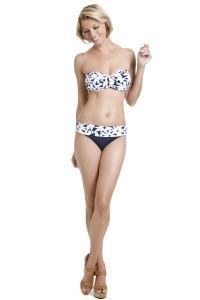 Daisy Twist Bandeau Bikini by Anne Cole
$50.00
$40.00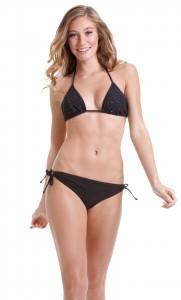 InMocean Shimmer Lace Tri-kini
$22.00
$17.60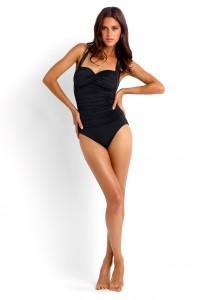 Goddess Twist Bandeau by Seafolly
$140.60
$126.54