Wondering what to do with last night's leftover mashed sweet potatoes?
I made way too many sweet potatoes last night but figured I could turn them into something else. I have never combined chocolate with sweet potatoes but found they went quite well together. These bars were quite easy to make and taste great.  The chocolate chips definitely make them more of a sweeter treat.
I just may make "extra" sweet potatoes again.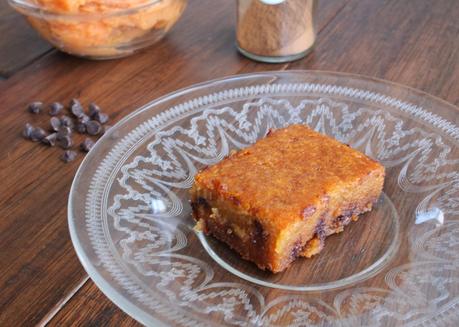 Ingredients
1 cup mashed sweet potato
1/4 cup coconut flour
1/4 cup tapioca starch
1/2 teaspoon sea salt
1/2 teaspoon baking soda
1 teaspoon cinnamon
3 eggs
1/3 cup grapeseed oil
1/2 cup honey or other natural sweeteners
1 teaspoon gluten free vanilla
1/3 cup mini dark chocolate chips
Directions
Preheat oven to 350 F and grease an 8 x 8 baking dish.
In a mixer or blender add all ingredients except chocolate chips.  Blend until completely combined.  
Stir in chocolate chips.
Pour into prepared dish.
Bake 35-40 minutes or until inserted toothpick comes out clean.
Cool on wire rack and store in air tight container in the fridge.