To say I love cupcakes is an understatement. That's why I'm glad I discovered Debbie Alder, author of award-winning  Sweet Debbie's Organic Treats cookbook and owner of the gluten-free, vegan, sugar-free bakery Sweet Debbie's Organic Cupcakes in Los Angeles.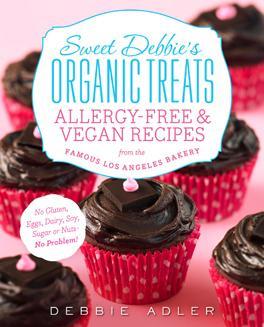 My sweet-tooth loves the frosting and the dietitian in me loves that it is portion-sized so I don't have more than 1 portion. Mini cupcakes are the best — just enough pleasure without the overload. Well even better if it is organic, whole food based, free of chemicals and additives and heartfully homemade. That's why I LOVE Debbie's Sweet Organic Treats cookbook. She lays out a step-by-step format to creating a healthier version of your favorite treats (and they are Allergy-free and Vegan!)
When I set out to make my first treat from Debbie's cookbook, I asked my girls individually at separate times what cupcake they'd prefer. Unanimously, they both chose the Red Velvet - which uses frozen cranberries in place of food coloring - dye. Quite possibly because they love pink (frosting is pink) AND they do love CHOCOLATE. So we made it our "mommy & me baking project" and together we followed the recipe. The only deviation is that by the time it came to the frosting, they changed their mind and requested a chocolate frosting so I simply added unsweetened cocoa powder to the mix.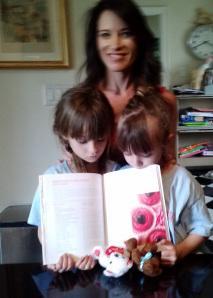 The result – delish AND definitely "twin star approved" by Ailish and Julia, 5 1/2 years old. My biggest critics and appreciators, too!
What I love about the cookbook:
1. It is designed with the allergy-conscience in mind.

2. She uses whole food based (real food) ingredients.

3. It's an easy read with healthful tips and tricks.

4. It's engaging with blurbs to introduce how and why she choose a creation.

5. It lists the tools you need and is compiled in a neat, orderly manner.

6. It has a recipe for a "gluten-free flour" base  you can use for many of her recipes. I've been looking to make my own gluten-free flour for quite sometime and never quite came up with the right combo. Now I have a good base to follow.

7. The recipes are simple to make and child-friendly (and perfect for adults, too!).

8. And she shares quality products and helpful resources.
Here's a pic of my girls enjoying their delcious, organic treats! These are Sweet Debbie's Organic Treats RED VELVET Cupcakes with a slight alteration – unsweetened cocoa added to the frosting to make it "chocolate".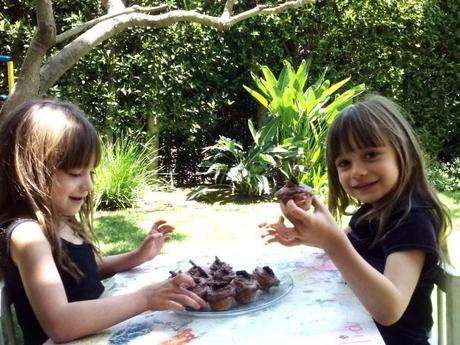 I hope you'll enjoy her cookbook as much as we do. For more info., visit: www.sweetdebbiesorganiccupcakes.com/index.html
xo,
Lauren
Filed under: diet, Favorite Books, healthy lifestyles, Nutri-Savvy, nutrition, parenting, Product Review