This post isn't going to be a review of either palette. Well, at least not a full one. Since I have both of them and I have not done this kind of post in quite some time now, I figured this would be the perfect topic. Thank you Tarte for including some shimmering shades in Tartelette in Bloom.
Even though this isn't a review, I will say that I love the original Tartelette palette. I reach for it quite often. I have only used Tartelette in bloom twice, but so far I am liking it. The metallic shades are gorgeous. Oh, and it smells just like the Too Faced Chocolate Bar palettes.
Tartelette (all mattes):                                                               
Free Spirit: cream                                                   
Force of Nature: nude
Dreamer: red brown
Multi Tasker: chocolate brown
Caregiver: baby pink
Best Friend: mulberry
Bombshell: plum
Super Mom: ivory
Wanderer: light warm brown
Power Player: taupe
Fashionista: black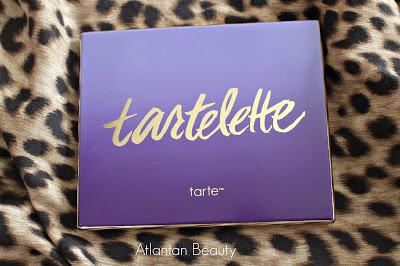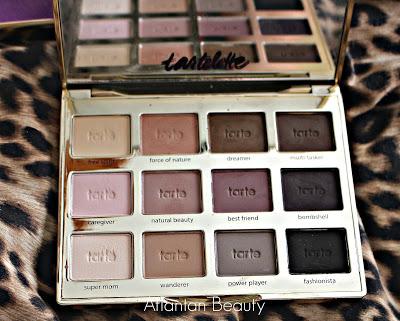 Tartelette in Bloom:
Charmer: matte off white
Jetsetter: matte taupe
Rocker: metallic taupe
Smokeshow: matte blackened brown
Flower Child: matte beige
Smarty Pants: matte light tan
Firecracker: metallic bronze
Activist: matte dark brown
Funny Girl: metallic champagne
Sweetheart: matte peach
Rebel: matte warm brown
Leader: matte plum brown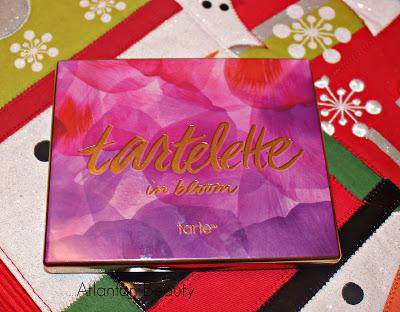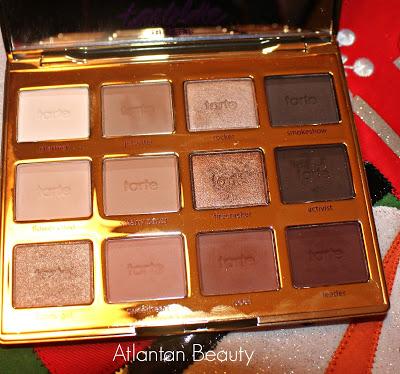 Row 1: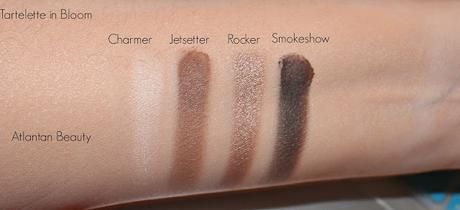 Row 2: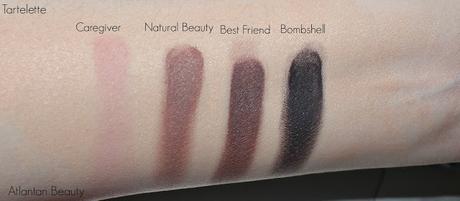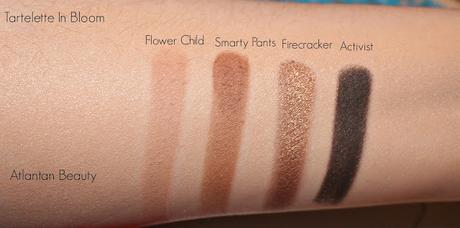 Row 3: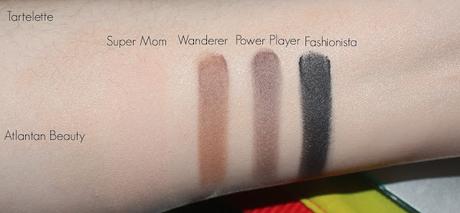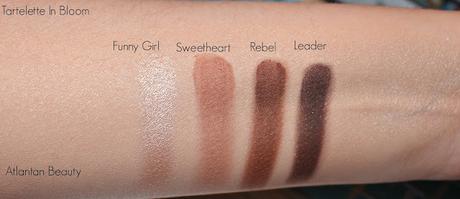 Overall, Tartelette in Bloom is more warm toned than the original. I still need to try it out some more before doing a review, but so far I am liking it a lot. I hope you find these swatches helpful. I meant to post this yesterday, but between running errands and catching up on stuff around the house, I got a little behind. But better late than never, right?