This trip is a different from the other reports so far because things didn't go as planned. I learnt there is a price to pay for inadequate preparation and equipment. The trip was intended to be a circuit from Farmhouse Ck to Ida Bay in one month. I had af ood drop planned for Melaleuca.
The year before I had traversed the Arthurs Ranges succesfull in good weather. This led me to think that lightening my load a bit would be practical so I could carry more food. The was a critical error. When the shit hit the fan I didn't have adequate protection from the elements. The following is a trip report taken adapted from the journal I carried.
PART 1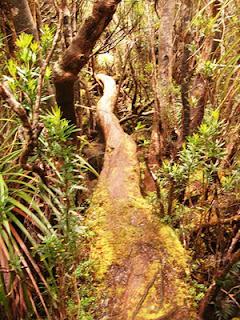 I started this trip by attending a 28k trail run on the Mornington Peninsula called 2 Bays. I flew down from Canberra, caught the bus to Dromana on Saturday 15th Jan 2011. I competed in the race on Sunday with a time of 2h 26mins then got a lift with a bloke I met in Dromana at the visitor center the day before. He dropped me at Docklands and from there I walked to Flinders St for dinner. Then I caught the tram and Jumped on Spirit of Tas. I should also add that the week before, I mailed ahead a food package to Maleleuca in anticipation of my arrival in a couple of weeks time. On departing for my trip, my bag had a basewieght of 8kg and around 10kg of food for the 15 days hike to arrive at the airstrip.
On Monday 17th I arrived in Devonport and jumped on the bus to Hobart. I picked up some supplies before catching another bus to Geeveston. All the large butane cannisters in Hobart were sold out. Something about the bad weather in QLD apparently. I got a lift from the Geeveston Visitor Centre out to Tahune/Picton Rd. I then had a 17k walk to the Farmhouse Creek trackhead. It took me around 5 hours. I shore can dawdle sometimes. Particularly when the firetrails are boring. I camped literally right on the bridge over the creek. While checking my gear I realised that I'd mailed my compass back to Canberra with my bum bag and joggers. Bummer.
Day one of the walk I headed out from the track head. The track was muddier than the last time I'd been there. Some spots were up to a meter deep. Had the same nav issues as last time going through south picton forrest but this time without a compass. Camped at Paperbark Camp or thereabouts.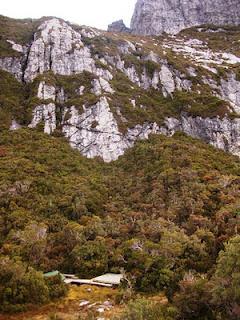 Day two saw me pass through cutting camp around 10. Everything was wet which was different to the dry conditions of February the year before. It started to rain around lunchtime as I was passing through Moss Camp and I pulled into Bechervaise Plateau around 2pm soaking wet. I set up camp and allowed myself to dry off. The weather cleared up later in the arvo and I got out and took some pics and enjoyed the scenery.
I woke on day three to discover that a rodent had chewed through my food bag, spilling muesly on the tent platform mixed with little bits of poo. I recovered what was left in the bag of the rationed muesli portion and ate it for brekkie. At 8.30am I headed for Federation Peak. I made it to the summit by 10.30 and once again was stunned by its beauty. I forgot to find the bloody log book again! I went down to hanging lake and stayed there for a couple of hours. In the warm afternoon I trekked to Goon Moor. I was feeling tired and a bit pekkish that evening. I should mention that I rang home from Federation on my Telstra phone. Three bars of reception.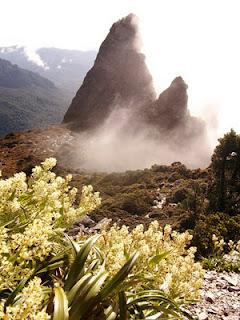 It was raining the following morning and I reluctantly broke camp at 10am. The clouds scurrying about in the lofty ranges was amazing. I got soaked walking through the scrub and was drenched by the time I reached Pass Ck. It was only 2pm but with no hope of reaching the next camp I settled in to the familiar campsite. The rain cleared around 4pm and I dried off all my stuff.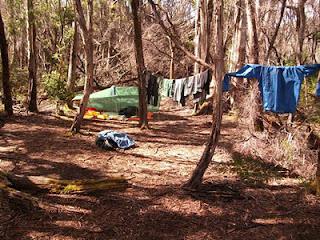 I started at 6.15 on Saturday 22nd Jan, Day 5 of my trip, in order to make a good go of it. I head up Lucifer Ridge and the view was great but condensation had caused my camera to malfunction. I saw my first snake of the trip, a small grass snake sunning himself on a tussock. Because of the the inclement weather snakes were to be few and far between compared to 2010. I got up to the crags of Andromeda and went out to check out West Portal. I negotiated the precarious slimp to stand at the top of it. I sent some text messages on my mobile from this spot. I headed down to Promontary Lake and arrived about 4.30pm. I rested up for half an hour and then headed on to Haven Lake. It was a 14 hour day but in great weather with beautiful views. I enjoyed it. I set up camp at 8.30pm.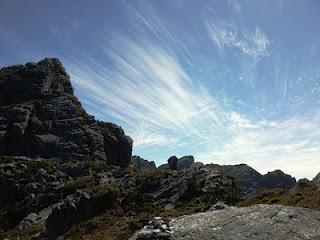 On Day six I spent the morning on a walk up to Mt Aldebran. It was further than I thought but the look down from the summit to the lake below was worth it. I got back to camp at 1.30pm and headed along the Beggary Bumps. I passed another solo hiker headed in the other direction. I struggled a bit on this day with my old ankle injury and generally felt a bit tired. I pushed through and arrived at High Moor around 6pm. I went up Mt Columba and sent a txt to home. A change in the weather had came across in the afternoon but I hadn't seen any rain yet. I figured I'd see some the following day.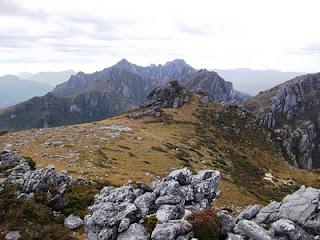 At 2am I woke to heavy rain. Water pooled on my shelter so heavily that the tarp was resting on my belly. I pushed it off and lay there awake for a while. The wind picked up and was starting to get very strong. There was a mixture of rain and hale being whipped around the lower moor from random directions. I had to maintain the tarp which was flapping around. I had tied it flat to the upper tent platform and was sleeping on the lower platform with the poles keeping the shelter off me. I removed the poles and cinched the tarp on a downward angle to the lower platform. It was literally as flat as I could make it and I lay in my waterproof sleeping bag cover underneath.  By this stage, having gradually watched the weather decline things were looking grim.My gear was saturated and everytime I got out of my bag to maintain the tarp, I was forced to ditch wet clothes that had been exposed. My hands were freezing up everytime I moved to do something. I had my wet weather gear on and huddled in my sleeping bag. My sleeping bag cover was flapping in the strong wind and pumping what warmth I had left out of the bag.
By sunlight at 6am the weather hadn't eased and it had been continually raining and blowing a gale for four hours. The wind had now changed to blow from the east directly into the high moor camp. having previously come from the north. My tarp started to fray at the bottom. I was still doing ok but hypothermia was setting in and I was convulsing periodicly. By 9am my tarp was completely shredded and I lay in my sleeping bag cover sheltering from the wind against the upper tent platform. The only dry clothing I had at this stage was a shirt, shorts and singlet that was in a drybag in my rucksack. Everything was soaked, and I had no shelter. The clouds were thinning out a bit but the wind and rain hadn't let up. I literally could have walked 200m to the summit of Mt Columba in fine weather and made a phone but in the conditions climbing up to the exposed saddle was not going to happen. I was freezing my arse off.
I wieghed up my options and decided that I couldn't risk the trip down to Scotts Peak in my condition. I had no shelter, all my gear was saturated and I was freezing cold. I was exposed and two days walk off the range. If the weather didn't ease up for another day or two, I'd be in worse trouble with even less chance of getting help. If I waited it out there was a chance my physical condition would have gotten serious or even critical. I decided staying put and activating my PLB was the wisest decision at the time. The weather was still so bad I had no idea how anyone could help me given the conditions. At a bit past 9am I pulled the pin on my PLB. At 11am with the constant beeping of the PLB going for two hours the cloudcover eased and the temperature increased slightly.  I adjusted my waterproof cover down to my waist and grabbed my stove. I threw in some water and one of my dinner meals and tried to heat it up. The wind was still blowing crazily. I did my best to create a wind block with my body. I hoped that if I ate some warm food I'd be ok to try and make a phone call from the saddle. I used a whole can of gas and the water didn't boil but it was warmed a bit. I ate the food and around 11.45am I headed up to the saddle with my groundsheet wrapped around me as a windblock.
I got up to the saddle and wandered around until I found reception. I dialled triple 0 and eventually got through to police. The conversation was pretty much impossible because of the wind but I did establish that I was the guy who set off the beacon and he did confirm "High Moor". The copper told me to stay put. A text came through that someone had tried to call me and I got a voicemail from AMSA headquarters trying to track me down. At 12.15 a chopper circled past to the east searching the area in and around the clouds. I signalled as best I could with my and after about 10 minutes it spotted me. The chopper came in to land on the saddle, still in crazy winds. A bloke on either side observed the landing. They did a pretty good job getting it onto the ground. The pilot kept it going and the paramedic came out and greeted me and asked me whether I was ok, any injuries and I said yep, nup so he helped me get my shit together and took me to the chopper.
The chopper took off and after a few minutes I got handed a headset. They asked me plenty of questions about the circumstances leading to the PLB. They weren't sure exactly where I was and were going to put blokes on the ground and search for me. They luckily spotted me from the air saving a lot of time and hassle. I told them the circumstances leading up to the rescue and they didn't give me a hard time about it. The paramedic and rescue cop in the back of the chopper were both bushwalkers themselves. I think one of them even took an interest in the gear I was using, or atleast why it f*&$%d up so catastrophicly. I pulled out the tarp which was previously my shelter. There was nothing left but a black hem and some flaps of sil nylon. I'd cut the guylines because I'd lost use of my hands properly.
We arrived back at the depot at Cambridge. I had a shower and contacted my folks. I then went up and filled out some paperwork with the paramedic. The chopper crew were great guys. I got a lift into Hobart around 2pm. It turned out the wind on that morning was clocked at speeds around 98km/h at Scotts Peak and the minimum temp was about 2 degrees.  I spoke to the cops in the car on the way to Hobart and said at the very least I'd arrange to pick up my food drop from Melaleaca, and might continue my journey. Hobart was a world away from the situation I had been in only hours before. I can't thank the rescue team enough for the service they provide to the community in Tasmania.
PART 2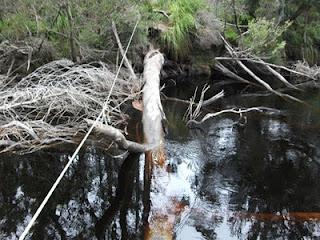 I spent four days resting in Hobart. I'd made the local news and collected a clipping from the Mercury of my story. I stayed in a backpackers and although quite embarrased, shared my story with the people I spoke to. I went out and had a few beers at the hotels around Hobart and arranged to have a tent sent down from Canberra. If only I'd taken the propper equipment to begin with I would have been ok. On Friday the 28th of Jan I caught the bus to Scotts Peak Damn. I was still depressed about the events that had occured but had resolved to make the best of it, considering I was still in good health and had a food drop waiting at Melaleuca. During my time in Hobart I borrowed a bike from the museum and rode around the streets and suburbs. On one occasion I took my watch off and put it my pocket. It fell out on the middle of a busy one way road and before I could grab it three lanes of oncoming traffic whizzed by and the watch was smashed. Later on I found out that my good woolen socks and merino cap had been left at the backpackers and I only had one pair of cotton ankle socks to last me the trip. Not a good start. On the plus side my compass arrived back with my tent. I was looking to put my misfortune behind me and finish the trip on a positive. I headed out from Scotts Peak and passed by a couple of groups at Junction Creek. This was the first time I'd actually seen the camp, having passed by it the previous year. I made camp at Crossing Creek.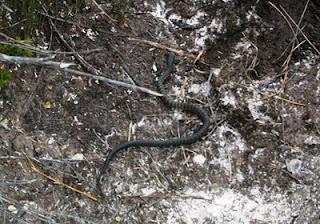 Day 9 of walking in total, today was the day I found out my woolens were missing. It took me ages to get to Watershed Camp. I pushed on to the camp at the start of lost world plateau. I estimate I made it to this camp around 7pm. It was evident on this day that my mental resolve was weakened. My injuries were bothering me, I was traveling slow and I ate all my days rations in the morning. I was forced to stop for dinner on the track in late afternoon or I would have been too buggered to go on. My ankle was playing up and I didn't know how many hours of daylight I had left in the day.
Day 10 saw my up at around 7am. I spent the morning getting to Spring River. It took me about 3 to 4 hours. Spring River was substantial compared to anything I had seen in the South West up to that point. The afternoon was spent getting to Fearrek Point boat crossing. The country was nice but was let down a bit be steadily increasing rain. The campsite at Farrel Point was amazing. It was also the first time I'd been near salty water in the South West.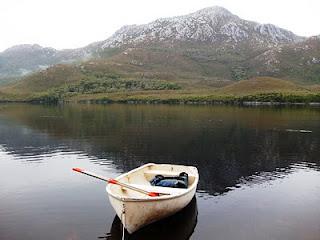 I was urged into action the following morning by the sound of a boat being launched. I was anxious about this because I would have to rom two boats back across on my own without help. I got there to see one boat and no people. I threw my kit and started to paddle across. Eventually I spotted two guys touring around Bathurst Harbour on one of four boats available between the two berths. They rowed over and told me to head back to Farrel Point. They then ferried me across the narrows to Joan Point. There the three of us stepped ashore. Thier names were Carlo and Morris. At Joan Point we met Fiona and John who had camped alongside the two guys the night before. I walked with Carlo and Morris al the way into Melaleuca, with Fiona and John catching up to us part way along. I real highlight was Morris producting an espresso coffee pot at Woureddy Creek and giving me a small cup of coffee with a crema on top. I didn't see that coming. We crossed Melaleuca Ck and went over the air strip to the storage hut. I grabbed my food package which I was relieved to find in the hut and the went up to the bushwalkers hut. Fiona, John, Carlo and Morris were all in the hut. Fiona and John decided to push on after a rest down to Point Eric. The hut volunteer informed us that the weather was going to be shitty.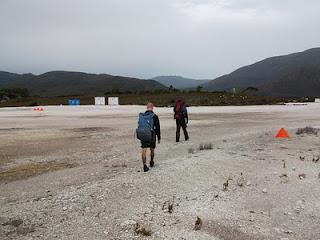 On day 12 I pretty mutch bludged and chatted with Carlo and Morris. We tried a little fishing off the wharf at the back of the hut. We were trying to catch and eel with salami to no avail. I ate a lot of the rations I had and then wandered over to check out the bird hide. I saw the endangered orange bellied parrot along with some beautiful firetailed finches. The sun came out in the afternoon. I made plans with my new friends to head out the following morning. I would leave them to see the south west cape and they would carry on to Point Eric. I enjoyed the company of Carlo and Morris. Both were enthusiastic about bushwalking and really enjoying themselves. Carlo was a tourist from Germany who had done a fair bit of climbing and Morris was an artist from Sydney. They had met because Carlo had advertised for a walking partner for the trip.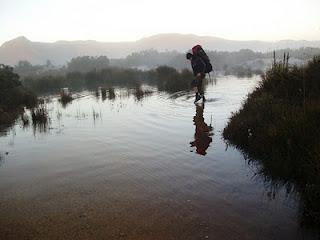 We left Melaleuca at dawn on wednesday. I left 15 days of food in the shed and my pack was now fairly light. The first to k's of the south coast track was flooded from the heavy rain of the day before. Sometimes the water was knee deep across the boardwalk and steadily flowing towards the sea. It was freezing until the sun came up. I said seeya to my mates at the 6k mark and turned off to New Harbour. As I approached New Harbour I saw and ell wrigling up a shallow stream. I quickly stepped on it and pulled out my pocket knife. I took it's head off and made plans to eat it for lunch. Strangely only 100m further on I found a frying pan in a tree. I used it as a chopping board but made do with my pot for the cooking. I cooked it up with a small amount of oil and was having lunch on the beach within fifteen minutes. I made it to Ketchem Bay and made camp in the arvo and had a swim. Things were looking up.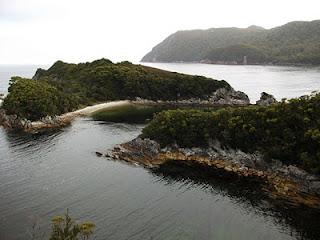 On day 14 I was missing home. I walked the short distance to Wilsons Bight and made camp. I rested and ate, tried some fishing with the short piece of line I had. It didn't work on account of the giant kelp which was everywhere. There was no signal for my phone so I was left to my own devices.
Day 15 I heade up Mt Karamu. I tried my telstra phone at the summit and on the SW Cape Range. No signal in SW Cape as far as I can tell. The views on this day towards the beaches were amazing. I arrived at Window Pane Bay and met a group of people on the beach. THey said the were called SPRAT and were working on cleaning up coastal spurge along the beaches. Not a bad way to pass the time if you ask me. http://www.wildcaretas.org.au/groups_details/sprats At dinner time one of the group produced a bit of blueberries and custard. After the crappy diet I had been living off it was a nice treat. The SPRAT team said the forecasted reported rain the next day.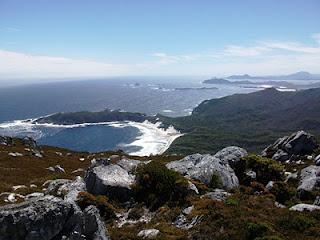 Day 16 turned out to be a rough one because I buggered up the navigation a bit. I followed the footpad from Window Pane Bay for about 3.5 k until I went into a forrest. The tracks here seemed to go in all direction and I ended up following one down to faults bay. Rather than heading back into the forrest I dedcided to follow the rocks around from Faults Bay to the beach. This worked ok because I don't mind a bit of rock climbing but after a while it became inpassible with steep cliffed coves of loose rocks and scruby tops. I decided to head into the scrub and things went from bad to worse. The coastal scrub in that area is the worst I've seen. Sometimes the going was ok but several times I got stuck in thickets four meter or more high and very dense. It was slow going. I got to the beach pretty worn out. The SPRAT team, which had headed out from the previous camp after me, were somewhat amused when I rocked up and hour after they had set up camp. Noyhener Beach has got some beautiful sand dunes. When I got to camp I went to take off my drenched North Face pullover shell and it came apart at the seam between my shoulders. I now almost had two pieces of jacket. In tassie this is not a good thing. After all the crap that had gone wrong on this trip, I decided I was well and truly over lightwieght gear. I spent the afternoon sewing my rain jacket back together.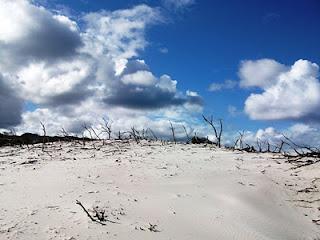 Day 17 I walked across the Dunes and on to Horseshoe Inlet. The going in this stretch was easy. Wading along horseshoe Inlet was a bit of a pain but looking back, is a pretty good memory. I remember the many black swans gathered on the water. I swam across the inlet and on to the Port Davey track and back to Melaleuca. I was amused that the Port Davey track is muddy and horrible to walk on, yet the button grass I crossed from the inlet to get to it was easy going. It was as if the track itself was the hardest part of the journey.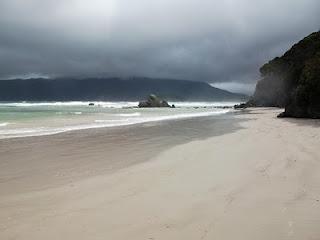 I managed to score some wooly socks from the Hut Volunteer Dave the night before so when I headed out day 18 I had a decent pair of socks for the first time in 10 days. The little ankle socks I had were well and truly finished. I arranged for a group to take my rubbish out with a plane and at the same time met a bunch of police doing the South Coast track. I headed off towards Point Eric. It rained all morning. I had lunch at Point Eric and sheltered in the small covered visitor book stand. I headed across Louisa Creek and headed to Louisa Bay to camp. This bay is beautirful and worth the side trip. I dried out and even had a swim after the rain had cleared.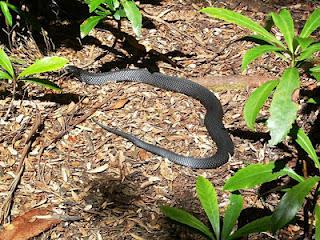 I headed back to the main track the following morning and headed across Loisa River and onto the Ironbounds. I enjoyed the climb. I tried my phone at the highest point on the track and again had no luck.  I ran into a Brittish tourist named Rob. He had already heard about from Maurice and Carlo. I ran into a few other people on the way down the Ironbounds into Deadman's Bay. At Deadman's Bay I chatted to the cops who had caught up from Melaleuca. It turns out the are from Police Rescue and one of the guys who was in the chopper that picked me up was coming through from the other direction. Before I went to bed I swapped the memory card in my Camera to a fresh one and replaced the batteries with some propper lithium type which I'd been given. I had taken some heavy duties by mistake.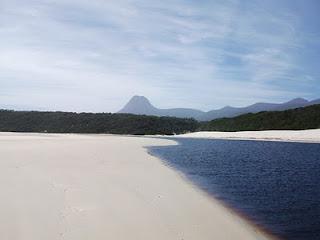 I enjoyed a sunrise on day 20 from my tent. I headed out towards Prion Beach along the a very muddy section of track. Sometime around 10am I stopped for a drink of water and accidently left my Camera on the track. By the time I realised I had been walking for 20 minutes. I backtracked and asked passing groups If I had seen it. One grou had said that a policeman had told them "Tell Cameron if he doesn't catch us his camera will be at Hobart police station." The only photo on the camera was of my ugly mug and the police rescue guy had recognised it from the chopper. They must have passed my near Prion Beach on the various muddy tracks. I ran back after my camera because I still had plenty to take photos of but I didn't catch them unitl near Lousy Bay. It was rather an embarrasing second time meeting for me when I finally got my camera back. Back at Prion I headed along the beach. The dunes near New River are amazing. I crossed via boat and then headed up towards the camp at the foot of PB finishing my stretch of the South Coast Track. I headed along New River Lagoon for ages and reached camp just on dark. I got some amazing view of Precipitous Bluff glowing red on sunset. What a massive day.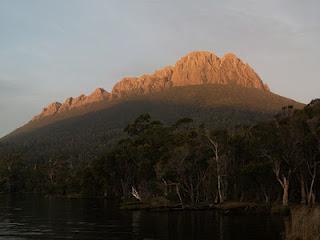 On day 21 it was no suprise that the walk to the summit of Precipitous Bluff was difficult. I walked from sea level to 1145m in one morning! I was also fairly fatigued by that stage having lived off dried rashions for quite some time. The walk through tall rainforrest was quite a change for me and pretty cool. I saw some strange plants along the way. I had almost no energy left when I reached the limestone walls at the base of the bluff. I ate lunch and then summited the beautiful PB. The views were awesome but it was raining and cold . I rang home for the first time in two weeks. I cllected water from a stream just 200m from the summit. I though that was pretty top notch. I headed down to Low Camp. The wooden platforms were very uncomfortable.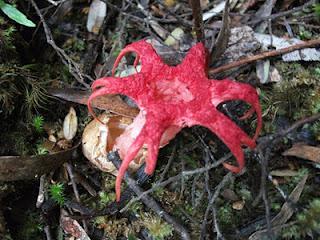 At 4am day 22 I awoke to the sound of an animal scratching at my tent. I woke up and reached over only to put my hand in a puddle. In the still conditions and raid, my tent had filled with condensation and the inside was drenched. I headed out at 7am for a long day of mist, rain and wet scrub. I made good time and set up camp a bit past Leaning Tea Tree Saddle. I had a miserable day cold and wet.
A lot of my gear was drenched from the night before. I stopped and camped at around 4.30 because the weather was getting worse and I didn't wan to cross Pindars Peak in the heavy cloud and cold conditions.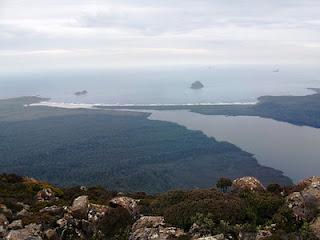 I started the day freezing cold. The wet clothes I had strung up in my tent were wetter in the morning from condenstation than when I hung them up the night before. After a couple of wet days in a row and a damp tent nothing was dry anymore. I lost sensation in my hands for ages and walking beneath the Pandani Palms there was no exposure to the sun. I passed Pindars Peak but I was too cold to summit in the bad weather. I descended to Ooze Lake in low visibility still and ended up having lunch at Pigsty Ponds. I was warming up at this stage.  It was not raining as much but still very windy across Hill 1,2,3,4. By this stage I had decided to finish the walk that day. I stopped for dinner at Moonlight Creek and was at the carpark by sunset.
On sunday morning 13th Feb I walked into Ida Bay and hitched a ride to Geeveston.
The Wash Up:
I learnt a lot in this trip about what not to do, how to look after myself, and my responsibility to others.
- I don't have any regrets about activating the beacon on day 7. I made a few mistakes leading up to that point, but generally most people I've talked to tend to agree that it was the right thing to do.
- I certainly wouldn't go into a situation as ill prepared as I did. I have been very critical of myself when it comes to the equipment I selected for this trip. It was a poor choice to take a tarp setup to SW Tas. It was a poor choice to take a light weight jacket. If I had have got this right, I would have finished the trip as planned.
- Self preservation is key. I noticed on this trip the advantage of pre-empting problems such as coldness or fatigue before they get more serious. It can be as simple as taking shelter, resting or having some food.
- I also took some time in the latter part of the trip to reflect on the impact my trips might have on my family if I did get into serious trouble.
If you've gotten this far thanks for reading.