Who better to ask for a rundown of the best places to go to in the Philippines than the doyenne of Travel Time herself, Susan Calo-Medina? The occasion for the asking was the recent mini-presscon for her new magazine (which I had written about here since, well, the latest issue has me as one of the contributors).
Tita Susan, as she's called by everyone, has tramped back and forth all over the archipelago that she said she can't count anymore the number of local places she's been to. Her TV show has continuously aired since 1986, and her archives are complete--all episodes accounted for, the copies stored in a climate-controlled room in her house. These episodes, by the way, are available for free to students doing research; they just have to shoulder the copying costs.
Launching a travel magazine, she explained, was a natural progression--it makes the perfect companion to the TV show. A book will take too much time away from the program, and she wouldn't want to have someone ghost-write it. But a magazine she can do. And not just any magazine, but one that's practical, useful, "not into celebrities but one that ordinary people can relate to while it also celebrates the beauty of our country, much like the TV show," said Tita Susan. Hence its newsstand price of only P125--"so more people can afford it."
I didn't dare ask the lady her age, but for someone who's been a fixture on local TV for 25 years now, Tita Susan seems ageless, remarkably spry. How does she do it? She gets by only on 6 hours' sleep, does Pilates, goes to the gym, and otherwise eats whatever is in front of her, she said.
So--her top 10 local destinations, in no particular order:
• Pinatubo. "Only 45 minutes' trek to the crater, but what a stunning view."
• Donsol, Sorsogon. "It's an out-of-body experience to see the huge butanding swimming under you."
• Batanes. "Raw, rugged, isolated, dramatic vistas."
• Banaue. "All of us, of course, have to see the Banaue Rice Terraces."
• Bohol. "It has everything, from heritage and hotels to adventure, beaches and great people."
• Palawan. "All those rivers, islands, nature!"
• Tawi-tawi/Jolo. "Beautiful beaches; and there's this island, Ungus Matata, about an hour away from Tawi-Tawi's capital Bongao, that produces the most beautiful mats in the world."
• Samar. "The largely undiscovered Sohoton Caves in Basey, Samar."
• Surigao Norte/Sur. "Hiking, surfing, seafood."
• Pampanga. "A food tour of Pampanga is a must!"
There's more. While she's also logged hundreds of miles all over the globe, Tita Susan said there remained places she's dying to visit. A surprise, for instance, that, for one reason or the other, she hasn't made the trip to Angkor Wat, Cambodia. Here are 12 or so of her dream destinations for now.
• Luang Prabang, Laos
• Angkor Wat, Cambodia
• Annapurna, Nepal
• Iguazu Falls, South America
• Victoria Falls, Southern Africa
• Machu Picchu, Peru
• Borobudur, Indonesia
• Ayers Rock, Australia
• Patagonia, Chile
• Libya
• North Vietnam
• All the US National Parks
PLUS: More about the magazine's latest issue--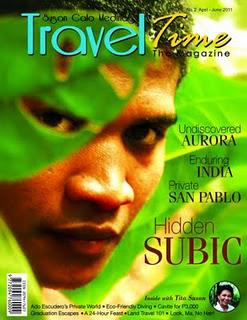 Tourism personality Susan Calo Medina takes travelers to interesting places within and around the metro with the second issue of Susan Calo Medina's Travel Time--The Magazine.
Carrying the theme "So Near, Yet So Far," the April-June 2011 issue of the magazine features three major destinations that are easily accessible from Metro Manila: "Hidden Subic" (Cover Story) and "Baler If You Dare" (Featured Destination), both written by Ricky Lopez, and "Resort Town San Pablo" (Detour), by Floy Quintos.
Packed with articles full of fun and useful information and striking images, Susan Calo Medina's Travel Time--The Magazine, also features "Heat and Dust: Surprise and Surrender in Incredible India" (Letters From Abroad). Written by Gibbs Cadiz, the article takes travelers to the fascinating sights and pure magic of nearby India.
"Children and Festivals" (Folio) gives readers four pages of colorful fiesta images from various photographers. Meanwhile, Lito Zulueta takes art lovers to places filled with masterpieces in "Art in Manila: Accessible Treasures" (Soul). Alya Honasan shares how to dive right in "The Conscientious Diver" (Thrill). "A 24-Hour Feast" (Flavors) features the Mercato and Banchetto food markets.
Also, Rose Libongco recounts her many years in the tourism industry in "Memoirs of a PR Woman" (Memo). And, finally, Tita Susan samples the gastronomic fare in London's Borough Market in her section, "Travels With My Aunt."
Before planning your vacation, make sure to check out the tips found in the magazine's regular sections. In Quick & Easy, there's "Escape to Balay Indang in Cavite for Under P3,000." Or, find out how to best prepare for your beach trip in "An Insider's Guide to Bikinis and Waxing" (Dossier). Celebrate your achievements with "Graduation Getaways" (By Demand). Pick up some tips on getting to your destination safely in "Land Travel 101" (Savvy). Enjoy the benefits of Hydrotherapy in "Water, Water Everywhere!" (Whole). Be a planet saver in "Back to Bayong" (Travel Green). And prepare to look like a million bucks sporting ukay-ukay fashion in "H'wag Wag Wag?" (Market).

Susan Calo Medina's Travel Time--The Magazine, retails for only P125 and is available in Powerbooks, Fully Booked, Filbar's, Book Sale, SM Hypermarket, Wilcon Builder's Depot and National Bookstore outlets nationwide. It is also distributed in the US and Canada by Genesis Direct Distribution, Inc. Grab your copy now!