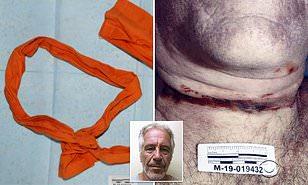 Images from Jeffrey Epstein's autopsy and jail cell.
Federal prosecutors revealed late last week that
surveillance video from Jeffrey Epstein's first "suicide attempt" at New York's Metropolitan Correctional Center (MCC) no longer exists
-- and that adds to troubling questions about Trump attorney general William Barr's possible involvement in a murder coverup, according to a D.C.-based investigative journalist.
The latest turn in the Epstein story came when attorneys for Epstein's cellmate -- former cop and quadruple drug-ring murderer Nicholas Tartaglione -- requested the video in an apparent effort to clear their client of involvement in Epstein's death. The response from federal prosecutors? Any such video has been lost or destroyed. A new story (subscription required) at
Wayne Madsen Report (WMR)
says that only adds to the stench surrounding Epstein's death. Writes Madsen:
Federal prosecutors in New York have revealed that the MCC's video of the Special Housing Unit (SHU) cell where Epstein was placed with former cop Nicholas Tartaglione, charged with a quadruple homicide involving a drug ring, was "accidentally" destroyed. Epstein is said to have tried to commit suicide by hanging himself on July 23, 2019, while Tartaglione was in his cell. Under suspicion for strangling Epstein in the alleged first suicide attempt, Tartaglione's attorney requested a copy of the July 23 videotape to demonstrate that he "acted appropriately" in his sentencing. Federal prosecutors are asking for the death penalty for Tartaglione.


It is not known what Tartaglione meant by stating that he "acted appropriately" while Epstein tried to hang himself.

Epstein's attorney claimed that marks on Epstein's neck were more indicative of a strangling attempt, not an attempted suicide by hanging. Epstein had apparently passed information to his relatives that his first injuries were sustained as the result of a physical attack, and that it was Tartaglione who assaulted him.
How could an exceptionally dangerous bad actor, such as Tartaglione, be placed anywhere near the alleged sex trafficker Epstein, who because of his ties to Trump, was perhaps the nation's most high-profile inmate at the time? That is one of many head-scratchers in this case. Writes Madsen:
It is clear that Tartaglione is trying to bargain his way out of a death sentence. What is not clear is what the July 23 videotape, had it not been destroyed, would have shown. In a January 9 letter a federal judge, prosecutors stated that the MCC "inadvertently preserved video from the wrong tier," adding that the video from Epstein's and Tartaglione's cell "no longer exists." Earlier, prosecutors told the judge that the tape had been "lost." They then changed their story to state that the video they discovered was trained on the wrong cell.




It defies logic that one of the government's most secure correctional facilities, the one that held Mexican Sinaloa drug cartel chieftain "El Chapo" and Gambino family kingpin John Gotti during their trials, could have destroyed a videotape on its most high-profile inmate.
How ugly could Tartaglione's possible ties to Epstein's death get? The answer is "off-the-charts" ugly, as Madsen explains:
Just prior to Epstein's arrival at the MCC following his arrest at a New Jersey airport, Tartaglione had been found with a contraband cell phone. There is a distinct possibility that Tartaglione received orders over the cell phone to kill Epstein at the first practical opportunity.

Tartaglione is now claiming that he "acted appropriately" in the cell with Epstein. In Targtaglione's world of gangland-style murders, "acting appropriately" might mean that he tried to carry out his orders to off Epstein, but, for some reason, Epstein managed to survive the attempted strangulation.
Once Epstein survived the first "suicide" event, did someone in authority takes steps to make sure he was safe? Nope:
After Epstein was found semi-conscious in his cell on July 23, he was moved to a special cell where he was placed under a suicide watch. An MCC psychologist later approved Epstein's removal from the suicide watch and back to the SHU.

On August 10, Epstein was found strangled to death from what was reported to have been a noose crafted from a torn orange bed sheet. There are reports that "shrieking" and "shouting" were heard from Epstein's cell shortly before his body was discovered by guards.




A cellmate was to have been with Epstein, but he had been transferred from Epstein's cell the day before the alleged suicide. Contrary to established procedures, no replacement cellmate was with Epstein.


In November of last year, two MCC guards, who were instructed to check on Epstein every 30 minutes, were criminally charged with failure to conduct the checks and falsifying official work logs to show that the inspections had been made. The two guards failed to check on Epstein for 8 hours. The two guards, Michael Thomas and Tova Noel, are subject to a strict gag order not to talk to the press pursuant to the charging document.
Who might have wanted to ensure that Epstein wound up dead? Madsen spells out possible scenarios:
Tartaglione had both the means and the motive to carry out a contract hit on Epstein. He was present in Epstein's cell during the first attempted "hanging" attempt. Tartaglione is also trying to beat the death penalty.




Another individual who had the means and the motive to have Epstein murdered is Attorney General William Barr. Barr's position puts him in charge of the federal Bureau of Prisons. That gives Barr the means. Barr's motive would have been to eliminate a potential threat to Donald Trump, arising from Trump's and Epstein's earlier wild years when they allegedly participated in orgies with underage girls, raping some of them.




Barr claimed that he personally viewed the August 10 videotape of Epstein's cell, claiming that he saw no one enter the cell. However, based on the destruction of the July 23 video and Barr's demonstrated lack of veracity, Barr's attestation about the August 10 tape should be taken with a large grain of salt.


On August 26, 2019, The Washington Post reported: "At least one camera in the hallway outside the cell where authorities say registered sex offender Jeffrey Epstein hanged himself earlier this month had footage that is unusable, although other, clearer footage was captured in the area, according to three people briefed on the evidence gathered earlier this month. It was not immediately clear why some video footage outside Epstein's cell is too flawed for investigators to use or what is visible in the usable footage. The incident is being investigated by the FBI and the Justice Department's inspector general's office, which are attempting to determine what happened and how to assess whether any policies were violated or crimes committed."
A
recent 60 Minutes report
adds another twist to the Epstein story. (See video at the end of this post.) Writes Madsen:
The New York City Medical Examiner concluded that Epstein's death was the result of suicide by hanging. However, 60 Minutes recently reported that noted pathologist Dr. Michael Baden, hired by Epstein's brother, Mark Epstein, to view the four-hour autopsy conducted on Epstein's body, believed the wealthy pedophile was murdered. Baden told the CBS News program, "There were fractures of the left, the right thyroid cartilage and the left hyoid bone ...I have never seen three fractures like this in a suicidal hanging . . . Going over a thousand jail hangings, suicides in the New York City state prisons over the past 40-50 years, no one had three fractures."
Barr claims to have determined that there was no foul play involving Epstein's death from viewing a tape that was, according to the Post's Justice Department and FBI sources, "flawed." However, there was a second camera trained on Epstein's cell that was inoperative the night he died. Also, no photograph was taken of Epstein's body in the cell. Epstein's body had been moved by guards prior to EMS personnel arriving at the cell, which amounts to tampering with a crime scene.
As for AG Barr's actions related to Epstein's death, they hardly could be more curious. Writes Madsen:
A former mob associate of John Gotti, Lewis Kasman, claimed to The New York Post that Barr paid a visit to the MCC on July 23, the same day that Epstein first allegedly tried to hang himself. Barr was in Manhattan to speak at a cyber security conference. Referring to Barr's reported visit to the MCC, Kasman told the Post: "When does that happen? The attorney general never visits jails. Something's not right there."


Absolutely, something's not right about Barr's involvement with the Epstein case, the missing videotapes, the goldbricking prison guards, Tartaglione's story and his illegal cell phone, the autopsy findings, and Trump's failure to utter a word about his old friend's arrest and death.

Any episode of Murder She Wrote or Columbo would have tagged Barr and Tartaglione as suspects in Epstein's murder. What's wrong with the FBI?