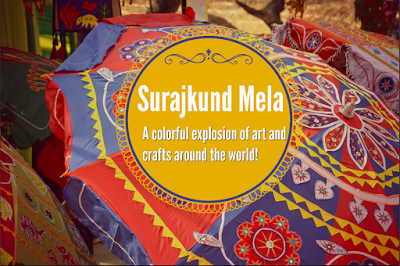 A celebration of art, dance, crafts, ethnic cuisine, music and cultures, Surajkund mela is observing its 32nd edition this year in Surajkund, Faridabad, Haryana - merely 50 kms away from Delhi. This enormous fair witnesses almost a million visitors each year, making it the largest craft fair in the world!
A post shared by Sakshi Raina (@capturesunshyne) on Feb 3, 2018 at 6:59am PST
I visited the fair this year and wasn't left disappointed. As you enter the gates, you'll be entering into a festival - with local artisans dancing, playing music and people joining in the celebration, you'll feel immersed into their joyous mood as well.
A post shared by Sakshi Raina (@capturesunshyne) on Feb 8, 2018 at 5:51am PST
With around a thousand stalls, and live shows to keep you entertained, this is a nice glimpse of the art that India has to offer. Artists from SAARC nations have also participated bringing in their slice of heritage as well.
What I truly loved about this fair is the fact that these artists from all around the world have this platform to showcase their crafts all under one roof directly to the market - thus, eliminating the middlemen. Also festivals like these just help promote the local artisans, something we don't usually see in the metropolitan cities.
A post shared by Sakshi Raina (@capturesunshyne) on Feb 7, 2018 at 7:48pm PST
There are food stalls from across the states and what I would recommend you to try from that cuisine:
Rajasthan : Dal Baati Choorma/ Kachori
Gujrati : Khaman Dhokla
Bihar: Litti Chokha
Delhi: Aloo Tikki /Cholle Bhature
Haryana : They have a pre-defined Haryanvi thali (Bajra Khichdi, Makke di Roti, Sarso ka saag and more)
South Indian: Masala Dosa
... and for people with a sweet tooth, we have Kulfi and Jalebi at various stalls. So many options to choose from!
Every year the fair has a theme state and a partner nation that is generally highlighted more than the rest. The theme state for this year is Uttar Pradesh and hence you'll find slogans for UP tourism and famous architecture imitations in the fair.
If you're visiting with kids, the site also offers an amusement park with various rides for kids and you alike! The ferris wheel is a delight to be in - a classic.
At a glance -
Where
: Surajkund, Faridabad, Haryana
When:
2nd - 18th February 2018
Timings:
10:30 AM to 7:30 PM
Theme State:
Uttar Pradesh
Partner Nation:
Kyrgyzstan
Are you planning a visit? Have you ever been to fairs like this in your country? Let me know :)
---
Let me take you to Kuala Lumpur? :
 All you need to know about traveling to Kuala Lumpur, Malaysia
Connect with me on: 
Twitter
 | 
Google+
 | 
Bloglovin
 | 
Instagram