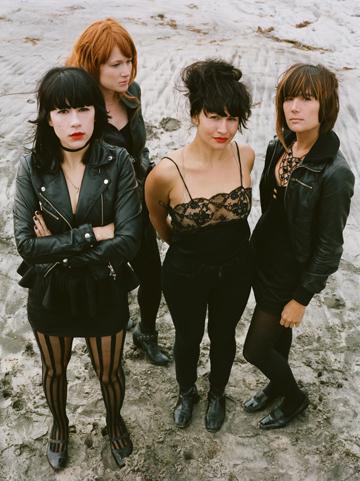 Dum Dum Girls
Dum Dum Girls are an indie pop band from California currently signed to Sub Pop Records. Their name is a homage to The Vaselines album 'Dum Dum' and the Iggy Pop song "Dum Dum Boys". The group also cites The Ronettes, The Ramones, Siouxsie and the Banshees, The Jesus and Mary Chain, Patti Smith, Spacemen 3, and Mazzy Star amongst their major influences.
The members of the band each have the words "Dum Dum" tattooed on a finger. Front woman Dee Dee has been likened to a "goth rock Susana Hoffs (lead singer of The Bangles)" and the band as the answer to "What if the Bangles and the Cure had mated in 1982?" by Spinner's Kenneth Partridge.
Along with the bolstering stage name, Dee Dee has utilised that time-honoured tactic of stage dress-up as a way of creating/inducing a more confident onstage presence, and credits a host of strong, boldly-attired female legends such as Siouxsie Sioux and Marianne Faithfull as inspirational music/fashion idols" "Patti Smith, Grace Slick, Siouxsie Sioux, Mary Weiss, Ronnie Spector, Hope Sandoval, Nico, Madonna. Courtney Love was a big deal to me when I was 12," she remembers.
via Wikipedia
Wrong Feels Right

There Is A Light That Never Goes Out

Dum Dum Girls on iTunes: