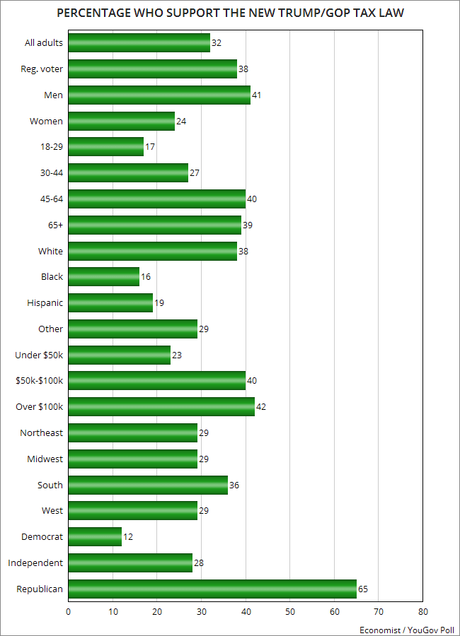 The Republicans were proud of themselves for passing their tax law, and they believed it would be the vehicle that saved them in the 2018 congressional elections. But something is happening that those Republicans didn't count on. The voters see the truth about that new tax law.
Republicans (and Trump) loved to call their plan a middle class tax cut, and promised Americans that the biggest beneficiaries of the tax cuts would be the middle class -- and that the rich would not benefit. That was an outrageous lie! It turns out that corporations and the rich got the biggest portion of the cuts. The rich got more than 80% of the cuts, while the rest of America divided up less than 20% (and many Americans got no cut at all).
This was NOT a middle class tax cut. It was a tax cut for the richest Americans -- and the public knows it. Only one demographic group has a majority (65%) supporting the tax cut law. All other groups have far less than a majority supporting it -- regardless of sex, age, race/ethnicity, income, or region of the country.
The Republicans know that their president has no coattails to cling to, and now they are learning the tax law will not help them in the coming elections. If the public goes to the polls in large numbers this November (and I think they will), then this election could be a disaster for the GOP.
The chart above uses information contained in a new Economist / YouGov Poll -- done between April 22nd and 24th of a random national sample of 1,500 adults (including 1,270 registered voters). The margin of error for adults is 3 point, and for registered voters is 2.9 points.