Coker's Oct. 29-30 no reserve auction: toys, lunchboxes, folk art: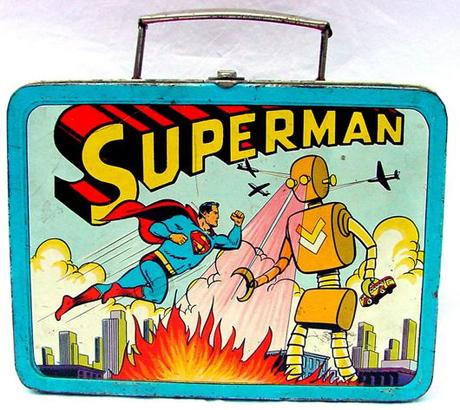 1954 ADCO metal Superman vs. the robot lunchbox. John W. Coker Auctions image.
"The rarest of all lunchboxes in the sale is the 1954 ADCO metal Superman box depicting the Man of Steel fighting an evil robot with eyes that can ignite anything in their path. With its colorful graphics and superhero theme, it is considered the ultimate prize to lunchbox collectors."
Related articles
Collector's Guide to Lunchboxes: Metal, Vinyl, Plastic: Identification & Values (Amazon)
'Man Of Steel' Villain Michael Shannon Describes Russell Crowe Fight (splashpage.mtv.com)
New 'Man of Steel' Set Photos: Superman to the Rescue (screenrant.com)
Awesomely Cool Geeky Lunch Bag Art (geektyrant.com)
eye catcher | tiffin boxes (insitehk.wordpress.com)
Lunch box mathematics: How to provide nutritious, special lunches (pbpulse.com)
Ruby Ellen Designs Hosting "Lunch Box Social" Fashion Event on August 28th, 2011 (fashionsignmag.com)
Kung Fu panda lunch boxes redemption (theodmgroup.com)
Unnecessary Quotations (scrapbooklady.typepad.com)
Eric Roberts lunchbox (dangerousminds.net)