In the movie "Sophie's Choice," Meryl Streep was forced to make a terrible decision over which of her children would be sent to the gas chamber and which to the labor camps.  Even after choosing, she was unable to live with the decision and she and her husband killed themselves, which manages to further screw the boy who was sent off to the labor camps, now an orphan too.  That pretty much sums up this Primary season for the Republicans as they have to choose between 3 TERRIBLE candidates – any one of which is a pretty clear path towards National suicide.
A recent Gallup poll indicated 55% of Republican voters say they wish someone else was running but, that leaves 45% happy with their choices (I guess if they were Sophie, they would have just flipped a coin and been done with it) and perhaps today we'll get a better indication of who the front-runner is as 410 delegates go up for grabs today, which is much less than last election, when John McCain alone scored 511 delegates on Feb 5th, 2008.  Interesting Republican trivia:  On that day in 2008, Mitt Romney came in 2nd with 176, Mike Huckabee had 147 and Dr. Ron Paul scored 10.  So Romney was only 1/3 as popular as McCain 4 years ago and I'm pretty sure McCain got his ass kicked in the General elections, didn't he?  
Something has to change in this country as 93% of all income gains in 2010 (most recent figures) went to the top 1%.  93%.  How does this work?  In 2010, average real income per family grew by 2.3% (Table 1) but the gains were very uneven. Top 1% incomes grew by 11.6% while bottom 99% incomes grew only by 0.2%.  Looking ahead to last year, National Accounts statistics show that corporate profits and dividends distributed have grown strongly in 2011 while wage and salary accruals have only grown only modestly. Unemployment and non-employment have remained high in 2011.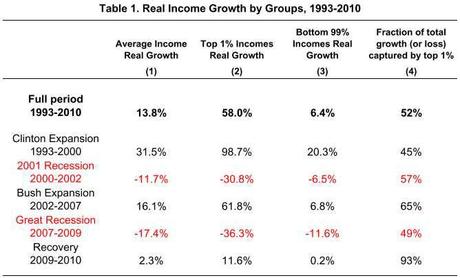 While it is very, VERY good to be in the top 1%, being in the bottom 99% – not so much.  What I try to get the top 1% to see though, is that getting 45% of the growth, like we did under Clinton, is pretty good – especially when it means that EVERYONE is participating in economic improvements.  There's no point…