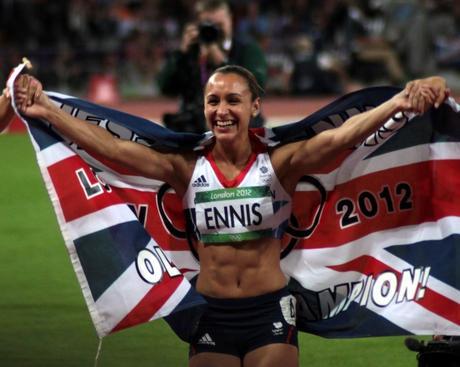 NEWS COPY - WITH INFOGRAPHIC
London 2012's 'Super Saturday' has been named the Greatest Sporting Moment of all time, in a new poll.
The heart-stopping August night in the Olympic stadium saw heptathlete Jessica Ennis-Hill, long jumper Greg Rutherford and distance runner Mo Farah all strike gold within just 44 minutes of each other.
It came after Great Britain had already scooped three golds earlier that day in the men's rowing, women's double sculls and women's cycling team pursuit.
Second place went to England's 1966 football World Cup victory followed by Jayne Torvill and Christopher Dean's gold at the Sarajevo Winter Olympics in 1984 with Bolero.
Andy Murray's Wimbledon victory in 2013, the first British men's singles winner since 1936, and Jonny Wilkinson's last minute drop kick to win the 2003 Rugby World Cup final completed the top five.
A spokesman for Simon Jersey, official supplier to Team GB, which commissioned the research, said: "2012 was a great year for sports in several areas, but the London Olympics really were amazing.
"Not only were they hosted by Great Britain, allowing the whole country to really get behind them, but the athletes had one of their most successful games ever.
"Super Saturday really was something else though. We had already seen three golds earlier that day, but the highlight was the moment in the Olympic stadium where the gold medals came in thick and fast.
"For anyone in the stadium, or even simply watching it on TV, it was an unforgettable moment."
Sixth place, in the poll of 2,000 Brits, went to the moment Roger Bannister ran a mile in less than four minutes for the first time in 1954, followed by Mo Farah's second Olympic gold at London 2012 in the 5,000 metres - just a week after winning the 10,000 metre race on 'Super Saturday'.
Rower Steve Redgrave's fifth consecutive Olympic gold came eighth, while Usain Bolt becoming the first man to hold both the 100m and 200m World records is at nine.
Bradley Wiggins Tour De France victory in 2012 completed the top ten.
The Olympics features heavily in the top 50 with summer and winter Olympics, as well as Paralympic moments accounting for almost 20 of the spots.
These include track cyclist Chris Hoy's three medals at the 1998 Beijing games (16), Daley Thompson's Decathlon win in the 1984 Olympics (19), and swimmer Michael Phelps' eight gold medals at the Beijing Olympics. (21)
Paralympian swimmer Ellie Simmonds' two gold medals, at the age of 13, in Beijing 2008 (25), Kelly Holmes winning gold in 800m and 1500m at Athens Olympics in 2004 (26) and Eddie "The Eagle" Edwards competing in the 1988 Winter Olympics ski jump also feature.
The story of Eddie the Eagle has even been turned into a feature film starring, Hugh Jackman.
Other sporting moments among the top 50 include Manchester United's last minute win against Bayern Munich to win the treble in 1999 (14), Great Britain's Davis cup win in 2015 (20) and Bjorn Borg and John McEnroe's 1980 Wimbledon final. (27)
A spokesman for Simon Jersey added: "Amazing sporting moments really have the power to lift the spirits of the whole nation and stay in our memories for decades. We're hoping that Team GB will go on to create some similar moments to remember this summer in Rio."
Top 50 Greatest Sporting Moments of all Time

1. 'Super Saturday' where Jessica Ennis-Hill, Mo Farah and Greg Rutherford all won gold, London Olympics 2012
2. England's Football World Cup win, 1966
3. Jayne Torvill and Christopher Dean's Winter Olympics gold with Bolero, 1984
4. Andy Murray wins Wimbledon for the first time, 2013
5. Jonny Wilkinson's winning drop kick in the Rugby World Cup, 2003
6. Roger Bannister running the 'four minute mile', 1954
7. Mo Farah's 5,000m Olympic gold to do the double, London 2012
8. Steve Redgrave fifth consecutive Olympic gold medal, 2000
9. Usain Bolt becoming the first man to hold 100m and 200m World Records, 2008
10. Bradley Wiggins Tour De France victory, 2012
11. Red Rum's third Grand National win, 1977
12. England's Ashes win, 2005
13. Andy Murray wins gold at London Olympics, 2012
14. Man Utd beat Bayern Munich in last 3 minutes of the game to win the Treble, 1999
15. England beat Germany 5-1, 2001
16. Chris Hoy wins three track cycling medals at the Beijing Olympics, 2008
17. Frankie Dettori rides 7 winners in one day at Ascot, 1997
18. Ian Botham's Ashes, 1981
19. Daley Thompson beating the American favourites to Decathlon Olympic gold, 1984
20. Great Britain win the Davis Cup, 2015
21. Michael Phelps wins eight gold medals at the Beijing Olympics, 2008
22. Paula Radcliffe's World Record marathon time, 2003
23. The Rumble in the Jungle - Ali vs Foreman, 1974
24. Liverpool's comeback from 3-0 down to win the European cup against AC Milan in Turkey, 2005
25. Paralympian Ellie Simmonds two gold medals, at the age of 13, Beijing 2008
26. Kelly Holmes winning gold in 800m and 1500m at Athens Olympics 2004
27. Bjorn Borg and John McEnroe's Wimbledon final, 1980
28. Lewis Hamilton winning the F1 world drivers title after overtaking Timo Glock on the final straight at the Brazil GP, 2008
29. Boris Becker wins Wimbledon, aged 17, 1985
30. Jonathon Edward's triple jump records - breaking two records in two consecutive jumps 1995
31. Virginia Wade wins Wimbledon 1977
32. Eddie "The Eagle" Edwards competing in the 1988 Winter Olympics ski jump
33. Ellen MacArthur breaking the record for fastest solo circumnavigation of the globe 2005
34. Linford Christie winning 100m gold, 1992
35. Tanni-Grey-Thompson winning 4 Paralympic golds, 1992
36. David Beckham's last minute equaliser against Greece in England's World Cup Qualifying game, 2002
37. Ronnie O'Sullivan makes a maximum in record time, snooker, 1997
38. Michael Johnson breaking the 200m and 400m Olympic Records at the Atlanta Olympics, 1996
39. Martina Navratilova wins a 9th Wimbledon title, 1990
40. David Beckham scores from half way line against Wimbledon, 1996
41. Jenson Button's winning F1 season, 2009
42. Paul Gascoigne's (Gazza) World Cup tears, 1990
43. Stephen Hendry wins record seventh world snooker title, 1999
44. Rafael Nadal beats five-time defending champion, Roger Federer, in the Wimbledon men's singles final, 2008
45. Denise Lewis wins Olympic Heptathlon Gold, 2000
46. Michael Owen's England wonder goal against Argentina, 1998
47. Nicola Adam's boxing gold at London 2012
48. Katherine Grainger finally getting gold after three silvers at London 2012
49. Jenny Jones' Bronze at the winter Olympics 2014
50. Van Gerwen beating Phil Taylor in the Premier League darts final with a 132 checkout, 2013
ENDS