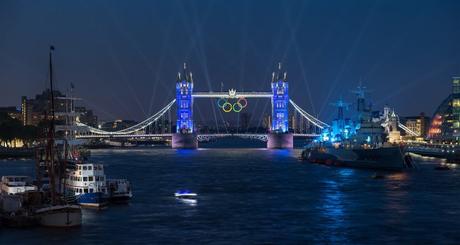 London 2012's 'Super Saturday', when Mo Farah, Jessica Ennis-Hill and Greg Rutherford grabbed golds in a heady 44-minute spell, has been named as the nation's favourite Olympic memory of all time.
A survey of 2,000 Brits and found that the stunning evening of sport came out on top, with one in four voters picking the greatest day in British athletics history ahead of any other Olympic moment.
Second place went to the fastest man alive Usain Bolt's golds in the 100m and 200m at the Beijing Olympics in 2008.
And the bronze medal went to Danny Boyle's epic "Isles of Wonder" opening ceremony at London 2012, which featured a fiery Olympic Cauldron, David Beckham manning a speedboat and James Bond and the 'Queen' parachuting into the stadium.
Patriotic pride led the charge for most voters, with 45 per cent of respondents saying the reason they voted was that they were proud of Brits succeeding - and a third said that they just liked the athletes that won.
Over 80 per cent of the nation describe themselves as feeling proud to be British, proving that even if the national football team underperforms, fans will still be there for their country.
Jessica Bridge of Ladbrokes, who commissioned the survey, said: "Super Saturday might have only lasted for 44 minutes but it's an iconic memory that will be talked about for generations to come.
"Patriotic punters all over the country are hopeful Team GB will hit the ground running in Rio and pick up where they left off in London four years ago."
Opinions are split on whether Team GB can equal 2012's haul of 29 golds, with 30 per cent thinking they will do it, 30 per cent thinking they won't, and 40 per cent unable to make up their minds.
If they are to do it, they'll have to face down stiff competition. Half of the population think that the USA will be the biggest challengers, and just 16 per cent believe the toughest opposition will be China - despite them coming on top of the gold table in 2012.
Athletics' popularity spike may be correlated directly to the dwindling fortunes of the English football team, with a huge 76 per cent of respondents believing that Team GB athletes are more relatable than their footballing counterparts.
Jessica Ennis-Hill came top of the charts in terms of popularity, with 20 per cent of Brits picking her as their favourite Team GB athlete - ahead of Mo Farah on 15 per cent and Andy Murray on seven per cent.
The men's 100 metre final, the scene of Usain Bolt's most recent world records, is the most eagerly-anticipated event in Rio, with the USA's Justin Gatlin and Bolt's Jamaican compatriot Yohan Blake all set to battle Bolt for gold.
Three quarters of the population believe that London 2012 left a good legacy for the city, and thousands will be making special plans to watch Rio 2016.
Jessica Bridge added: "Everyone has their own special memory of London 2012 and it's provided a generation of young athletes with inspiration to follow their own dreams.
"It's also hugely encouraging to see that 87 per cent of Brits think that Olympic athletes set a good example for kids, and stars like Usain Bolt, Mo Farah and Tom Daley will surely be front and foremost in Rio, as they were in London."
THE TOP 10 OLYMPIC MEMORIES
1. 'Super Saturday' at London 2012
2. Usain Bolt's double gold at Beijing 2008
3. The London 2012 opening ceremony
4. Jesse Owens' four gold medals in Berlin, 2936
5. The Jamaican Bobsleigh team's appearance at the Calgary Winter Olympics
6. Steve Redgrage wins his fifth gold medal in Sydney in 2000
7. Michael Phelps takes eight golds in Beijing, 2008
8. Female athletes are allowed to compete for the first time in Paris, 1900
9. Athletes in wheelchairs allowed to compete in London in 1948
10. Dame Kelly Holmes wins double gold in Athens, 2004
ENDS