Podcast: Play in new window | Download
Looking for something to do over the holidays to keep yourself in shape? No problem! I've got an exercise routine you'll love that takes no more than seven minutes to do. It's my Super Quick Bodyweight Workout for Tennis Players. I'll let you know the details and then you can download the entire routine! You can listen to this episode by clicking on the media player above or by listening in with your favorite podcast app. You can also subscribe in iTunes by clicking on this link: tennisfixation.com/itunes.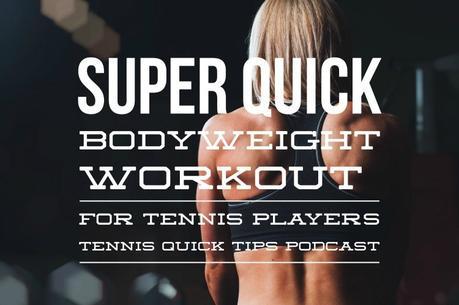 SHOW NOTES:
Bodyweight workouts are the perfect way to keep in shape - in tennis shape! - when you don't have access to a gym or to any kind of exercise gear or equipment. I've put together a super quick workout that will take you less than seven minutes to complete and consists of very simple bodyweight exercises. These will keep you in excellent shape and help you play even better tennis when you're able to hit the courts again.
This workout uses an interval timer to keep you on track and moving. If you don't already own an interval timer, you should be able to find one for free in your app store to download to your smart phone. This workout has 10 exercises done on a 40 second interval - 30 seconds of exercises followed by a 10 second rest period. The whole thing takes 400 seconds to do - that's 6.66 minutes!
The exercises you will do are very simple and, if you aren't sure how to do them, you can find plenty of videos on YouTube that will show you how by doing a quick search. Your ten exercises are:
Jumping Jacks
Squats
Lunges (alternate legs)
Push-Ups (modified to your ability)
Crunches
Donkey Kicks
Plank
Wall Sit
Running in Place with High Knees
Jumping Jacks
That's it! You can get a free download of this workout, with the interval timer instructions, by clicking on the big blue button below. That will also add you to my Tennis Fixation weekly update list so you'll get free tennis tips too! If you're already on the list, don't worry. You'll get the download but you won't get two emails each week.
Here's that big blue button:

I hope you'll try my Super Quick Bodyweight Workout for Tennis Players. It's fun, it's easy and so simple that you have no excuse for not working out!
RESOURCES AND LINKS FROM THIS EPISODE
Top Tips for Staying Tennis Fit for the Holidays - Tennis Quick Tips Episode 25
THE 12 DAYS OF TENNIS - MY HOLIDAY GIFT TO YOU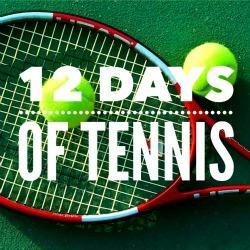 The holidays are here and it's time to celebrate with a tennis gift! Hooray!
I've got a very special gift for you this season that I think you're going to love. It's a little mini-course I put together called the 12 Days of Tennis. This course is absolutely free and just for you, all of my fabulous Tennis Fixation followers.
The 12 Days of Tennis is a free mini-course that will give you twelve days of fun activities that will help you improve your tennis game while you're enjoying this busy holiday season.
If you're looking for something tennis-related to do from the comfort of your own home, if you've always wanted to try out an on-line course but were afraid what it would involve or weren't sure how to get started, or if you'd just love to receive a Tennis Fixation gift from me for FREE, then I know you will love the 12 Days of Tennis.
Each day throughout the 12 Days of Tennis, you'll receive an email reminder and a link to new content for you to check out. Click on the link to be taken right to that day's mini-course content. You'll find fun activities that are simple and quick to do, no matter where you are, no matter how busy your schedule. And each of these activities can have a big impact on your tennis game.
The 12 Days of Tennis mini-course is my gift to you and your gift to yourself during the hustle and bustle of the holidays. So join in the fun! This course will only be available for you to join until December 24 so don't miss out.

Ready to get going? Just click on the link below to go to the course registration page (which is on the Tennis Mini-Courses website) where you can start the course right away. Like today!
Click here for the 12 Days of Tennis -
http://www.tennisminicourses.com/12daysoftennis
LOOKING FOR GREAT TENNIS GIFTS FOR THE HOLIDAYS?
I always put together several gift guides to help you pick out the funnest, cutest, most useful gifts for your favorite tennis players. If you're looking for my best holiday gift ideas, just check out these 2015 Tennis Fixation Holiday Gift Guides:
Happy Holidays and (as always) -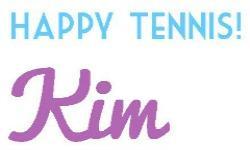 © Kim Selzman 2015 All Rights Reserved