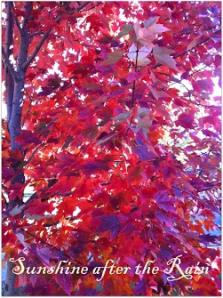 Sunshine after the Rain:  One Mother's Story of Hope by Stacy King.
When it rains, sometimes it pours and pour it did…
In a world populated by all walks of life, including those living with mental illness, I am but just one of the many mothers who grace this Earth with a mentally ill child.  This may come as no surprise as '450 million people suffer from mental disorders' (World Health Organization [WHO], 2010).  Thus, countless families are impacted by mental illness.
As a mother, I am blessed to have three children.  All three of my children are grown, and I would like to say that I am experiencing the empty nest.  My oldest son, who is 26, and my youngest daughter, who is 22, live on their own and have for some time now.  It is my middle child, who is 24, that still remains at home.  You see, she lives with bipolar disorder.  Anxiety also shows up on her doorstep, so to speak, quite frequently.  If that is not enough, she also has suicidal ideations to contend with, and as a consequence she has attempted suicide twice.  Miraculously, she survived her last attempt in May of 2010.
In regard to that chapter of our life, when my daughter returned from the hospital, a week after her second attempt, our family seemed to have broken into what felt like a million pieces by then.  My son reacted with what appeared to be fear, and he found solace by distancing himself for a while from the family.  My youngest daughter appeared to react with anger.  My husband reacted with what appeared to be a glimpse of depression, I believe, as he tried to calm the waters and maintain some semblance of normalcy within our family.  And I…well; I became a caregiver in addition to being a mom.  My daughter told me that it seemed like I was her nurse as I counted pills, handed  over her medication and tended to her while she lay in bed recuperating.  Over time I tended to her less and less and learned to let go once again.  It was extremely difficult, but I learned the importance of not enabling her.  However, I have to admit that to this day I still lock up her medications.  One thing is for sure, I noticed during this turbulent time in our life that no matter how weathered and worn we were from the experience, life marched on.
And so, I have painted you a picture of my family using words.  What do you imagine it must have looked like?  Does it sound bleak?  Perhaps you are wondering how a family could possibly go on after such turmoil.  Well, my friends, I'm here to share with you that yes there were times that life seemed bleak, and yes there were times when we were unsure how to move forward after such a blow.  After all, mental illness certainly wasn't part of the future we planned for our family when my husband and I married.  But it was…
And then came the sunshine…
With time, love and determination our family began to experience happier times.  I like to think of these days as sunshine moments.  My son once again returns home frequently, and my youngest daughter seems to have coped with her anger.  Both my son and youngest daughter have embraced their sister once again.  My husband as well has come to terms with our daughter's illness.  And as for me, my daughter was our songbird and has been since she was a little girl.  When mental illness took her voice away at the age of 19 I began to sing as a mother, but I began to sing with my words.  I started to write once again which has always been a passion.  This time though, my writing has renewed purpose.  I also started to volunteer, and I started to advocate for those with mental illness and their loved ones.  I discovered that there is so much hope!
How did I discover that hope exists?  It was on the day that I decided that I was not going to let bipolar disorder run my life.  Instead of running from it I decided to run at it!  I did not want to be held captive by my daughter's illness so I gathered what strength I had left and attended my first support group meeting.  That was a challenge for me because I had never gone to a support group meeting before.  I will never forget driving to the meeting.  I remember thinking that I could turn my car around at any moment.  I did not have to attend, but I did, and I learned that I am not alone and neither are you if you are in a similar situation.  The support group members of the Karla Smith Foundation embraced me and my family, provided us with resources and the courage to go on.
In addition to attending support group meetings, I started taking graduate level classes with a focus on professional counseling.  I wanted to learn how to help others.  My teaching degree was helpful, but I wanted to learn more.  In addition to taking graduate classes I also started volunteering with the Karla Smith Foundation.  Currently, I volunteer with The Balanced Mind Foundation as well.  I find letting families know that they are not alone and connecting them with resources to be rewarding.  I also created a blog titled "Stacy's Flutterings" where I write about our experiences in regard to mental illness and wellness.  In addition, I write children's picture book manuscripts, magazine articles, and I've written a memoir.
In all honesty, the mental illness of our loved one has not stopped us from growing individually and/or as a family.  We have grown beyond our own expectations.  Mental illness is a part of our definition now.  We just had to learn how to get through the rainy days.  And if you find that you have rainy days as well, I invite you to remember our story.  You are not alone!  We are here with you.  Eventually the sun does shine!  Never give up hope!  There is always a brighter tomorrow.
Stacy's Flutterings   http://stacysflutterings.wordpress.com/
References: World Health Organization. (2010). Mental health: strengthening our response (Factsheet No. 220). Retrieved from http://www.who.int/mediacentre/factsheets/fs220/en/