I have to share with you this scrumptious dessert that I made when I hosted our family Christmas last year. It's a Rocky Road Ice Cream Pudding which is easy to make and is sure to wow your guests, young and old. It was a huge hit with my family.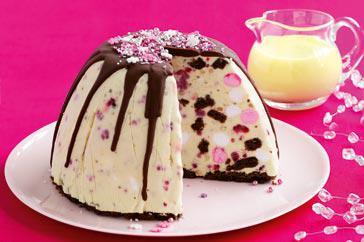 Image and recipe credit: Taste.com.au

Ingredients (serves 8)

16 chocolate biscuits
1.25 litres vanilla ice-cream, softened
1 cup vanilla custard
1 cup mini marshmallows
1/4 cup desiccated coconut
1/4 cup granulated nuts
1 cup frozen raspberries, roughly crushed
chocolate Ice Magic, sprinkles and silver cachous, to decorate
vanilla custard, to serve

Method

Line an 8 cup-capacity metal pudding steamer (I used a glass bowl) with plastic wrap, allowing a 2cm overhang.

Break 10 biscuits into 2cm pieces. Combine ice-cream, biscuit pieces, custard, marshmallows, coconut, nuts and raspberries in a bowl. Spoon mixture into prepared steamer. Smooth top. Top with remaining biscuits. Freeze overnight or until firm.

Stand pudding at room temperature for 5 minutes to soften. Turn out onto a plate. Carefully peel away wrap. Drizzle with Ice Magic. Top with sprinkles and cachous. Serve with custard.
Thank you to those who joined our little link up last week. We hope that it will grow as we're quite new to all this.
Please join in this week by adding a favorite sweet recipe, moment or blog post. We love reading them.