"Once you're off the gap year route, it's madness everywhere."
– Johnny "oneStep4″ Ward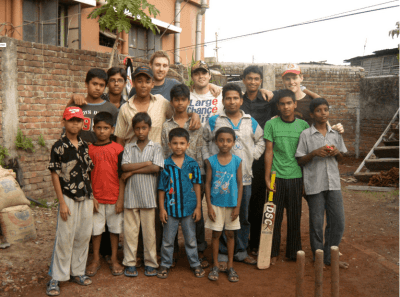 Sunday's Inspiration: Million Dollar Travel Blogger Johnny Ward Spills the Beans on 150 Countries
Johnny Ward is a long term backpacker from Kilkeel in Northern Ireland. In the last three years he has made $1,000,000 from travel blogging and he is enroute to visit every country in the world. He is currently in the Seychelles celebrating country number 150. That's 149 more than every baby just born, 48 more than me and over 100 more than most travel bloggers. $1,000,000 and 150 countries – what a journey!!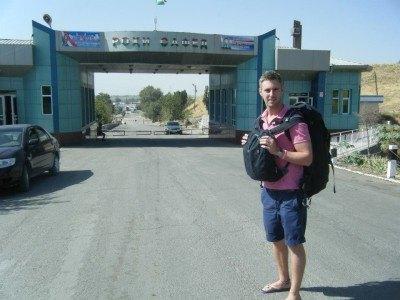 Million dollar travel blogger Johnny Ward at the Tajikistan border
You might have read some of my previous inspiration tales from my journeys and thought they were cool but Johnny's story should blow them out of the water and turn it to ice. My previous favorite bit of inspiration was the story of my Colombian mate Julio, the man who swapped his camera for a cow. Then I wrote about the Bournemouth million dollar pixel millionaire and the crazy story of the red paper clip guy who swapped a red paper clip for a house. All average, normal, ambitious every day people who did something out of the ordinary with their lives and made a name for themselves. Now it's time to enter Mr. Johnny Ward. Mr. Ward is a million dollar travel blogger who has just hit his 150th country this week and recently confessed to earning a seven figure sum in a hat-trick of years blogging. It's now a treble fifty in the country stakes and Ward gets to keep the match ball. Let's repeat. That's $1,000,000 in three years of working online as a professional travel blogger. 150 countries and A million dollars? Pretty damn successful right?
"Gonna be a millionaire, so can you take me there? Want to be wild cos my life's so tame." – Noel Gallagher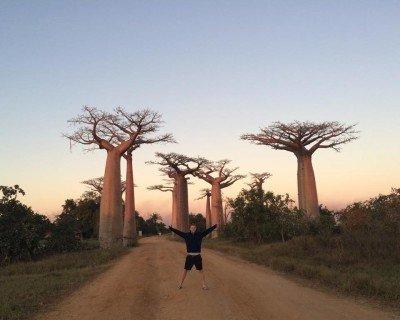 Johnny Ward backpacking at the Avenue of the Baobabs in MADagascar
Going by the UN list of countries, Mr. Ward has just 43 countries left to enjoy for the first time. So with the end in sight, I got in touch with the man himself for arguably his most open and honest interview to date. With 43 countries left, I fired him over 43 questions to answer based on his mammoth journey, I present you the wacky globetrotter Mr. Johnny Ward. A man who I have met a few times on my journey including at the 2014 World Cup Final in Brazil. If this isn't inspiration on your Sunday, then what is?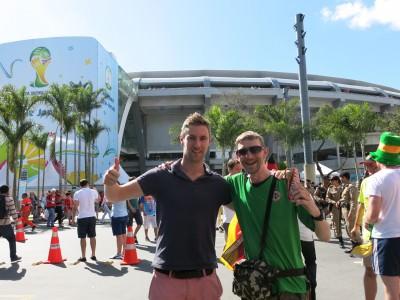 At the World Cup Final 2014 with Johnny of One Step 4Ward.
1. So…150 Countries mate, doesn't sound like a sensible lifestyle, are you having a laugh or what?
It's taken a long time to get to that many, more than eight years, and for the last four or five years it's been almost non-stop travel. I've seen some pretty amazing things, and I think I have another year and a half left until I reach my goal.
2. Let's test how much you remember. How and what was country number 73?
I have a list on my desktop, so that's an easy one. It was Austria, but being European, it didn't really inspire me. Beautiful country, but a little boring.
3. Out of all those 150 countries, which one have you spent most time in and why (apart from Ireland/UK)?
Thailand I guess, when i burn out i go back to Bangkok for two or three months at a time, I own an apartment there so it's 'home' for me now. In terms of travel countries, it's probably China – arguably my fav country to travel in, it's so varied.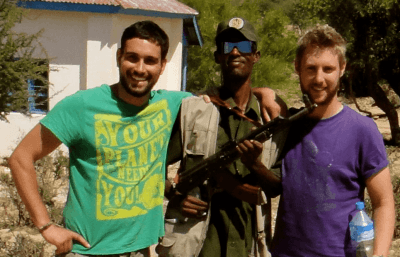 Johnny Ward (right) in Somaliland with an armed guard
4. Do you take any lucky mascots with you on your travels? If so, what?
I have a lucky watch, super cheap with a map as the clock face, it's kept me safe so far!
5. What's your favorite personal travel blog post on One Step 4 Ward?
Wow, good question. I post a lot about cool stuff I've done, but it's the motivational stuff I love the most – so I'd say one of my favs would be my post about cracking a million dollars online.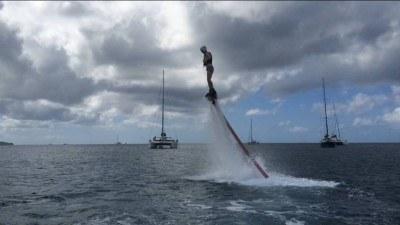 Johnny Ward doing a Marty McFly impression in St Lucia
6. What's been your biggest visa nightmare so far? How did you cope?
Oh wow, mate – so many. I got rejected by Turkmenistan twice, still haven't been, Rejected by Uzbekistan too but finally got it. I'm currently fighting for Angola, South Sudan was a struggle to. How do I cope? Lots of screaming into my pillow then a calm attitude in the embassy.
7. What's your favorite beer?
Guinness, all day long.
8. If a new country was invented tomorrow and became approved by the UN, would you change your current travel plans to become the first tourist to visit it and get featured on their first ever national TV news show?
Haha, interesting. No probably not to be honest, on this journey to every country in the world, I work in regions – now currently in Africa, so I don't deviate from that.
9. Will Northern Ireland qualify for Euro 2016 in France and will you go to the tournament?
Yes mate, almost definitely. Even if they don't, I'm still considering it.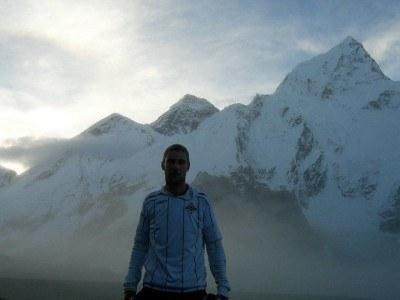 Johnny Ward at Mount Everest Base Camp
10. You just hit country 150. That's like 149 more than every baby just born, and 48 more than me. How are you celebrating it?
A week or relaxation in the Seychelles, I'm flying my girlfriend in my Thailand too – luxury hotels, sitting poolside, drinking cocktails and no mad travels.
11. I love cheese. Which country has the best cheese?
I tell you an area that doesn't – ASIA. Disaster haha. Gotta be France in all honesty, but the UK isn't bad either.
12. What will you do once you run out of countries? Remote islands? Micronations? Repeat your favorite cities?
For sure I'm gonna relax for three months, then I think I'm gonna start doing more physicial stuff – cycling across the USA, maybe even Mount Everest.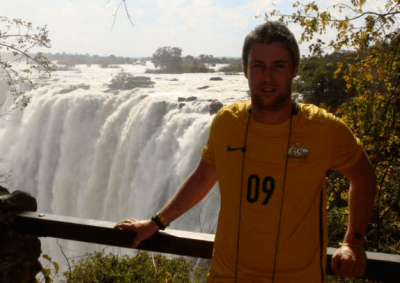 Johnny Ward backpacking at Victoria Falls, Zambia
13. Pick your top 3 countries for…
(a) Booze
UK/Ireland joint first – best bars in the world.
Then I'd say Thailand coming in third -great nightlife.
(b) Football
Brazil top for sure, Argies in in second place, then England/UK third.
(c) Food
India, Thai, Mexico – love it all.
(d) Random backpacking sh*t that happens
Haha, anywhere in Central Africa, Central Asia or Central America. Once you're off the gap year route, it's madness everywhere.
(e) Sexy chicks
Good question. Thailand, Colombia and believe it or not maybe Kazakhstan or Mongolia, or Sweden, or Norway, or Korea hahaha.
(f) Cheese
France, UK, the Netherlands
14. You can meet one famous dead person. Who, why and in which country would you meet them?
Oooh, good one. Maybe Georgie Best, anyman who spent fifty percent of his earnings on booze and women, but squandered the rest has gotta be every man's hero. Home nation all the way – on the beers in Belfast.
15. You can meet one famous alive person. Why, who and in which country would you meet them?
You know what, it may be Tim Ferris. I don't look up to many people on the planet, but he's one I do look up to. He could teach me a lot, about pretty much anything, and it'd have to be Thailand, my adopted country, so I'm not on the road and can absorb all the info.
Johnny Ward on a chicken bus in El Salvador
16. Be honest – do you actually read any other travel blogs? If so which ones?
Very rarely. I've been to pretty much all the countries that most blogs talk about so they don't help me much, and often their 'crazy experiences' are the sort of things that happen in my day to day life, stuff that I don't think twice about. If they can help, I read them – like yours when I was going through Guyana, Suriname etc. Also wandering earls is cool too.
17. If you met a 17 year old Johnny Ward, what advice would you give yourself back then?
Wow, I'd tell him not to be such an idiot for a start. Then I'd make him study languages and online marketing at uni. And to start blogging, immediately.
18. What are the top 5 sights if I was to go backpacking in your hometown of Kilkeel in Northern Ireland?
The Mourne Mountains are beautiful, so that's number one. Number two would be Kilkeel's harbour, again really gorgoues. Number three would be what I do every time when I go home, get a 'chicken kebab' at our local chicken place, County Fried Chicken – it's heaven. Four would be beers in the Kilmorey Arms hotel, where I learned my drinking skills, and fifth would be to visit the legend Maura Ward on the Manse Road for some malteaster buns, the nicest, least healthy snack imaginable.
19. Favourite quote?
"We're never as young as we are tonight"
20. Favourite song?
The Gambler.
21. Favourite rock or pop star?
Ed Sheeran, love the man.
22. Name three places you have been that neither myself nor my readers will have heard of. (Buzzing to hear the answer to this).
You'll have heard of them all I reckon mate. Rajasthan in Uzbekistan – BEAUTIFUL. Kulna, Bangladesh – arriving my boat from Dhaka into the Bay of Bengal. And Gozo, Malta – magical island.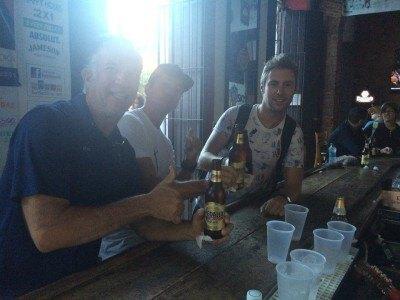 Johnny Ward partying in Puerto Rico
23. Roughly how many times have you puked up on your travels?
How many sessions of puking you mean? Because one bout of food poisoning could be twenty times alone. Bouts? Maybe five, not that many to be honest, but they were a pretty violent five sessions. Aaaagh.
24. What was the worst country for diarrhoea? Do you carry bog roll in your backpack?
I don't mate, no. I haven't been sick that often, although once badly in China and once, predictably so, in India.
25. What's the shortest timespan you have spent in any country and why?
Vatican City I guess, a few hours. Other than that, probably Burundi – one night and two days because there was a failed military coup, people got murdered in the streets and it was on the brink of civil war.
26. What was your worst boat ride?
I've had a few. But the one from Langkawi to Penang was ROUGH, also to the island where Mandela was kept outside Cape Town. Eurrrgh.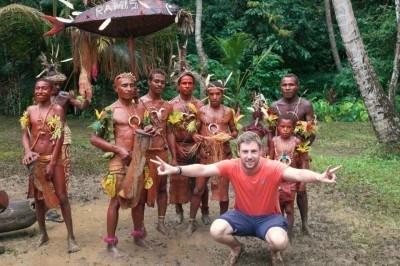 Johnny Ward in Papua New Guinea
27. What's your favorite ice cream flavor and where did you eat it?
Gelato, any flavour, anywhere in Italy. That place knows how to make icecream. Coffee and chocolate preferably though.
28. Who is the most famous person you have met on your travels?
Ronaldinho and Vince Vaughan, on the same night in Beijing. I was drunk, Ronaldinho was drunk, so was my boy Vince. Oh yeah I bumped into Mick Jagger in Barbados too.
29. Have you ever been kicked out of a country? If so why?
I don't think so, I'll get back to you if I remember otherwise.
30. Which country did you spend the most money on visiting?
Good question. Probably Brazil – the World Cup was on, I was with friends who were in holiday mode as opposed to travel mode. That always costs a bomb.
31. Which country did you spend the least amount of cash visiting?
A lot – I get invited by tourism boards now a lot, or hotel companies, tour companies so I've spent less than one hundred bucks in A LOT of countries.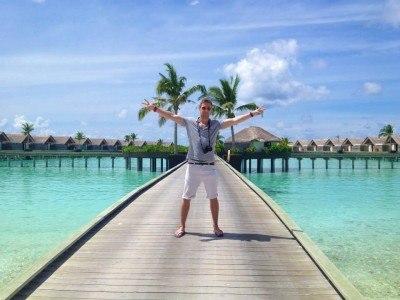 Johnny Ward nonchalantly cracks the century in the Maldives
31. I'm out of touch with fashion. Why did you wear pink shorts to the World Cup Final in 2014?
Hahahaha. Real men wear pink, didn't you know that Jonny??
32. Who would you rather go backpacking with – Neil Armstrong or John Lennon?
I'm a capitalist at hear, so John's not my cup of tea. I'll have to go with Neil.
33. Spill the beans (literally). What scares the excrement out of you?
Being truly broke again, that's my biggest fear with all this lifestyle stuff. I hope I never experience it again. Especially now as I get older, family, kids, mortgages aren't a million miles away, I wanna be financially free.
34. If someone arrives at an airport in a new country at 11.50pm, gets their passport stamped, enters the county and is whisked to a 3 star hotel for the night, woken up the next morning with a breakfast and taken back to the airport to get an exit stamp the next morning before noon, would you count it as having visited that country? (i.e. they've spent 12 hours in the country, compared to someone who does a day trip to Liechtenstein or for 8 hours and sees all the sights of the country)
I'm not big on rules, does it count? Yeah I guess so. Personally I would try to do a little more, but if they wanna do it like that, good luck to them.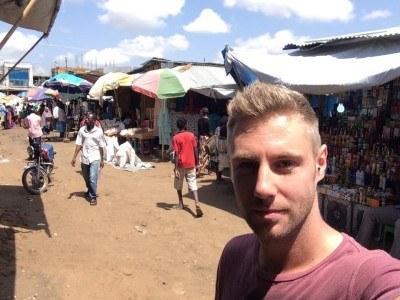 Johnny Ward backpacking in South Sudan – where taking photographs is illegal
35. If the world had to lose one of these countries forever, which would you kick out: USA, Thailand or Northern Ireland?
Haha, USA buddy although I'm sure you knew I would answer that. NI is where I grew up, it's home. Thailand is my adopted home so USA wins be default. Although their foreign policy and world police attitude would have them on the top of a lot of countries lists too.
36. If one of these places became a country and a member of the UN, which would you visit first: Sealand, Narnia or Gaza Strip?
Narnia mate, the author is from Belfast isn't he??
37. Which two countries do you think are the most similar, almost to the point where the border goes un-noticed?
Good question. Not Israel and Palestine, I'll tell you that much 😛 Hmmm, perhaps Tanzania and Kenya, languages, good, 'sites'.
38. Who would you rather share a dorm room with – Lionel Messi, Kylie Minogue or David Cameron?
Leo, greatest footballer ever to live. I've watched him play in three different continents, would be nice to have a chat and convince him to sign for Liverpool.
39. If you could change the visa laws for any country to allow everyone to go freely, which country would you do it for?
Equatorial Guinea or Saudi, because I'm struggling to get into their countries!!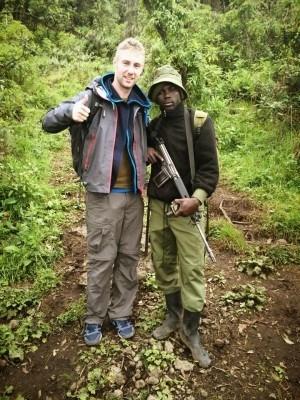 Jonny Ward backpacking in Democratic Republic of Congo
40. If Barack Obama emailed you inviting you to the Whitehouse to meet him for a cup of tea and a chat about backpacking and Steven Gerrard invited you to a party in a swimming pool resort with endless food and drink on the same night, which would you choose and why?
Stevie G, easy mate. He won us the Champo League and will always be a legend. Barack is on his way out, having failed to fulfill a lot of his promises, with Guantanamo being high on the list of failures.
41. Would you ever buy your own country? If so what would you call it?
No thanks, too much politics for me.
42. Do you believe in ghosts? Have you ever seen one?
Categorically not, which is tough 'living' in thailand as they seem to be the most supersitious people I've ever encountered. I've had endless conversations about this there, never fails to entertain me.
43. Have you ever swam across a border between two countries?
I haven't Jonny, and i'm not a great swimmer, but that has intrigued me actually, seriously. Ireland and the UK, or UK and France – that would be awesome goal. Hmmmm.
Thanks for taking the time out of your busy schedule to answer my questions, Johnny!
Johnny Ward is currently on a hardcore backpacking adventure round Africa. You can read his travel goals here. He is still a few months short of his 32nd birthday, so if he can visit 150 countries by that age, then it's inspiration for us all.
One small step for man, one giant step 4Ward.
One Step 4Ward
https://twitter.com/onestep4ward
https://www.facebook.com/onestep4ward
Join 15,017 Monthly Readers! If you enjoyed this article and LOVE travel and SAVING money, get e-mail updates from Don't Stop Living – a lifestyle of travel! (It's Free) 😉 Jonny