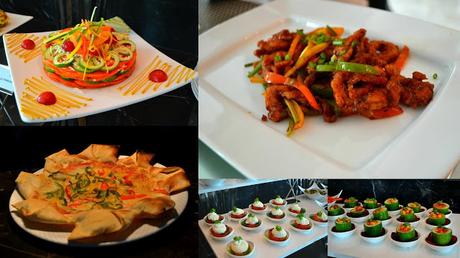 Weekend is the only time when everyone wakes up late in the morning or should I say early afternoon. Whatever the situation is, it ends up having no breakfast or lunch but a lavish brunch.
Sundays are stressfree and I usually enjoy mine with either a great movie on television or music on my laptop, savouring each and every bite of the brunch, and try to end it with a sweet dish. Perfect add-on would be a glass of good wine. Sometimes in a relaxed Sunday afternoon when we don't feel like cooking we go out.
This time it was Radisson Blu (Paschim Vihar) which was able to fulfill almost every expectation of a satisfying brunch.
First things first, the ambience of entire place was of a serenity which makes your entire senses calm and focuses on the food which is on display. The rich color of all the food items displayed in front of you does wonder to your appetite.
The brunch prepared by chefs is extravagant in every way, be it the variety of salads,  assortment of breads, reasonable variety of starters and the main course, different drinks to go with it from lassi to mango juice to wine, and a huge number of desserts. All in all, it was a delight to one's heart when it comes to food. Personally I was so full by the time I finished eating salads and starters that I couldn't try all the dishes in the main course, having sweet tooth as mine, I was saving some appetite for the variety of desserts displayed.
The salads were beautifully displayed and were prepared using exotic ingredients. Highlights were Fish Terreine, Turkey & Cheese Roulade and Cucumber Cup Filled with Corn Salsa.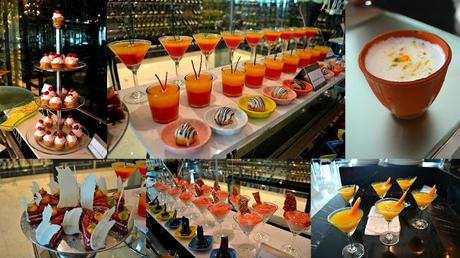 My personal favorite from the starters were Oriental Style Chicken (you can ask the chef to make them extra spicy) and Paneer Seekh Kebab- they were melt in the mouth with that roasted nuts and cardamom flavor. When it comes to pasta, you can choose the type of sauce and the pasta shape with the veg or non-veg options. The Burmese live counter was quite interesting. The toppings on their thin crust pizzas were completely customisable. I understand that the main course did not have a great variety but in a buffet the main course is never the highlight, at least not for me. Their dessert section more than made up for the limited main course. Their selection of 35 plus desserts just made my day. Their Chocolate Rasgulla was something really innovative and unique. Their  Mango Chiffon Pie was really flavourful and smooth. All the items from the bakery especially the Red Cherry Cupcake were marvelous.
They have a huge seating area and the Sr. Restaurant  Manager Mr. Dharamendra Chhabra was quite happy to attend every table and ask the guests whether they needed anything. The Wine Cellar was really impressive and had, apart from Indian selection, some very good wines from South Africa, Argentina and Australia. Overall the experience will leave your taste-buds satisfied and you will surely leave the place with a smile. 
Quick Facts 
PHONE NUMBER
011 46399999
Radisson Blu, District Centre, 
Outer Ring Road, Paschim Vihar, 
New Delhi
Timings:Noon  to 1530 hrs
Price:Rs.1999 + Taxes onwards with Liquor
Rs.1549+ Taxes without liquor
Rs.999+ Taxes for Kids up to 10 years