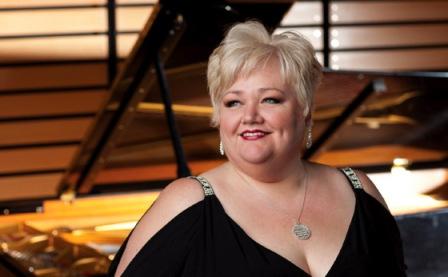 Stephanie Blythe's records a new album of the American songbook, 'As Long As There Are Songs'
If the United States had an order of chivalry like our friends across the pond, surely mezzo-soprano Stephanie Blythe would be our Dame Stephanie.
Her Wagner, Verdi, and Handel have been heralded the world around. She is our Olympic Gold Medalist in the international sphere of opera, a champion we celebrate with each new success, and one reason why her newest album As Long as There Are Songs is so exciting.
It is sung entirely in English. A classically trained American artist sings a 19th century American songbook featuring beloved tunes by Ira Gershwin, Harold Arlen, Johnny Mercer, and Irving Berlin that builds on the success of her Live from Lincoln Center — Celebration: Stephanie Blythe Meets Kate, a concert of works made famous by Kate Smith that was broadcast on PBS in 2013.
As Miss Blythe explains in a video about making the album, As Long As There Are Songs connects her to her audience in an immediate way unlike singing French songs or German lieder.
What's also brave and striking about this album is the way it was recorded. Some highly sophisticated technology afforded a sound so personal and intimate, it's like Miss Blythe is serenading you and you alone in your living room.
The sound is so honest and real and organic, and is a reflection of how we made this disk. The sound of the disk is the perfect reflection of what we we experienced in the moment in the room. " –Stephanie Blythe, As Long as There Are Songs
A very warm welcome to Operatoonity.com, Miss Blythe. What were your initial thoughts when you learned you wouldn't have to use close-field microphones or headphones to record this album?
I was thrilled!  As a opera singer who rarely deals with microphones of any kind, the idea of having the recorded sound captured purely from the room acoustic was intriguing and very exciting.  I have trained for many years to project my voice into the theater, so I don't believe that close-field mics really capture my voice adequately.  This is the very question that opened my first conversation with John Meyer about recording the voice.
Listening to 'AS LONG AS THERE ARE SONGS" absolutely felt like being in a concert hall with you. Accompanied by piano only, you laid your voice naked on this CD. Did that feel more comfortable, more like what you are used to in performance?
I have been singing recitals with piano for many years, and have sung these songs with Craig Terry for many audiences across the country.  It is always fun and always comes with the feeling that anything could happen in terms of interpretation.  The intimacy of voice and piano is something that has always made me feel very comfortable, and I was really happy that our first recording with the Meyers was voice and piano.
Your voice is in tip-top shape. It's strong, supple–sterling! You even belt! You switch from head to chest range seamlessly. How did you prepare to sing an album of songs that demanded so much of your instrument?
This style of singing has always come very easily to me- there is something there that I connected to when I was quite young.  It probably has something to do with being the child of a jazz musician and with having taken part in so many musicals growing up.  I have always had a fairly well developed chest voice, which is helpful in the belting department, but the style is something that has always spoken to me.  I am just so thankful to finally have a platform for performing these songs!
How did you choose the songs for the album? Were many of them already in your repertoire?
Several of the songs come from our Kate Smith Show, a tribute that Craig and I have toured around the country.  Many of the other songs were new to both of us, and some were sitting in my dream vault for a long time.  "The Man That Got Away" in particular. I have always loved that song, and I am very grateful to have this opportunity to program it — I will sing for as many years as I have to sing.  It is just that kind of song.  As far as how we chose the songs — they are all pieces for which Craig and I have enormous admiration for their musical construction and for their lyrics.  They all have that timeless quality that is the hallmark of a great work.
Do you have a favorite track? If so, which one(s) and why?
I think that "How Deep Is The Ocean" a particular favorite because I really took a point of view of the song when we first rehearsed it in my home.  My husband and I had just adopted our Boston Terrier, June, and she was about two months old when Craig came to the house to work with me for a few days.  She was very weepy that afternoon, and I just picked her up and sang that song to her, and she calmed right down — singing to that beautiful little face ensured it will always be June's song to me.
Are there any contemporary songwriters whose hits you'd like to take on in your next album?
There are far too many to name, but I would like to sing some of BIlly Joel's work — a dream is to do a song recording with him.  He is one of the most important American voices of this or any generation.
Learn more about how they recorded this album: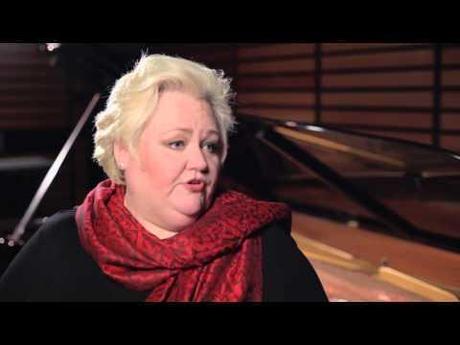 * * *
Learn more about "as long as there are songs:"
http://meyersound.com/news/2013/steph…
Purchase the album:
http://www.innova.mu/artist/stephanie…
http://www.amazon.com/As-Long-There-A…
Stephanie Blythe:
http://www.opus3artists.com/artists/s…