With a batch of these vegetarian Sun-dried Tomato & Pesto Mini Quiches in the freezer you will be ready for any occasion. They taste great either hot or cold, & are also ideal for packing into lunchboxes.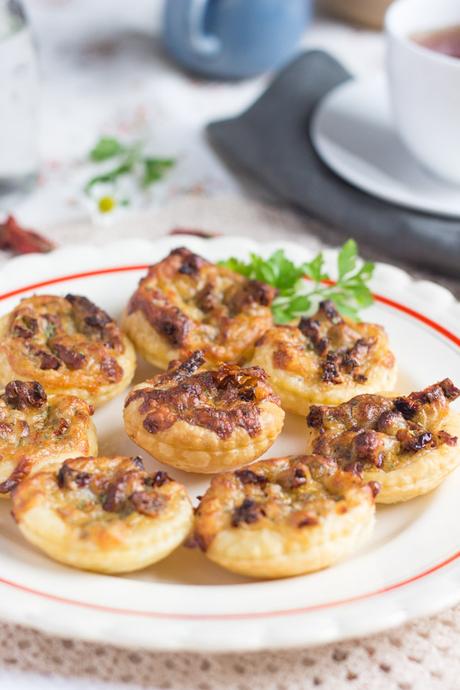 When The Princess takes it upon herself to cook one of my recipes I know I am on to something. She is a big fan of my mini ham and cheese quiches, and regularly whips up a batch for her lunchbox. If she is out of time, she will convince me to make them for her instead, which I still consider a tick of approval.
I love mini quiches. They are easy to make, and are always well received. Cheese and pastry; what's not too like? I've been making the ham version for many years, and have been toying with the idea of making other versions for a while now. This month's Recipe Redux theme, 'Small Plates For Sunny Days - a healthy take on small plates and finger foods', was just the impetus I needed to mix things up a little.
It is always good to have a simple vegetarian option up your sleeve when catering for an event. Carnivores and vegetarians alike will love these mini quiches, and they freeze so well that you can readily make them in advance of your soiree and just reheat them on the day. I also like to keep a batch on hand in the freezer for emergency lunchbox meals.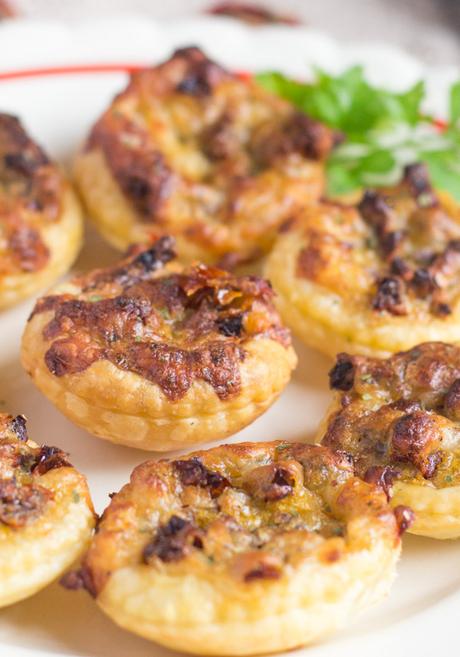 I use a good butter puff pastry as the base for these mini quiches. Read the label on your puff pastry carefully though, as most contain margarine rather than butter. No matter how hard the margarine companies try to pass margarine off as the healthier option, I remain a firm butter fanatic. You can read more about my thoughts on margarine here.
When tomatoes are in season, I make trays of my own sun-dried tomatoes which are perfect in these mini quiches. Be aware that the tomatoes can go a little crispy as they bake, so try and cover them with cheese when you fill the cases to protect them slightly in the oven. You could also use oven roasted tomatoes in place of the sun-dried tomatoes if you happened to have some on hand.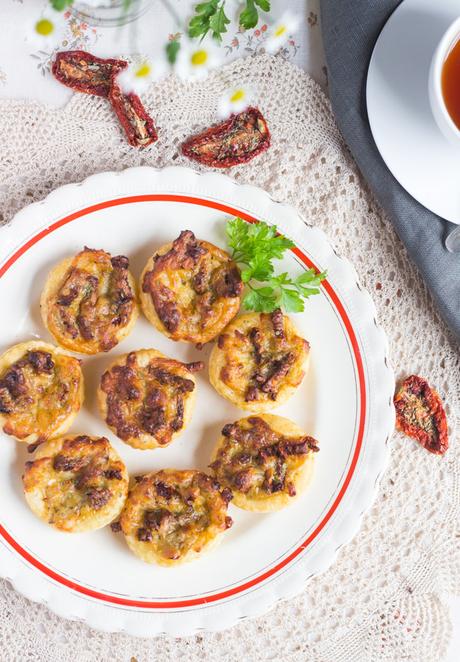 A basil pesto is best here, and if you don't make your own, buy the jar on the shelf that has the highest amount of basil. I have used this one from Jamie Oliver in this recipe.
Can I suggest that you make at least a double batch of these quiches. This will give you enough to devour half the batch straight out of the oven (not that I know anything about that), a few to put in the freezer and still leave you enough to serve to guests or pack up for a picnic, or send off in the children's lunchbox. Enjoy!