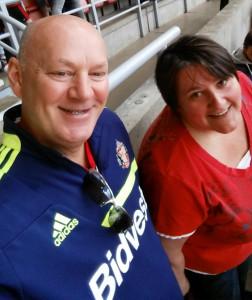 Paul Summerside is in grumpy mood
How many of the 26,000 fans who turned up for another rotten Sunderland display will be back for the Bristol City and Bolton matches at the end of the month? A good win at Brentford would do wonders for everyone's morale. Would it placate Paul Summerside? Sorry to be negative but what reason do we have to be otherwise, however improbably it is to think Paul's wish for four new players in January will be fulfilled, except by spreading very thinly the crumbs Grayson might be allowed from the cut-price sales of Kone and/or Ndong? What follows is short and not very sweet … …


Pete Sixsmith was absolutely spot on in his appraisal of what an afternoon at the Stadium of Light has now become.
I see no way forward other than removing the tactically inept Grayson (once he's had his 15 games to appease people who think he's actually capable, and not at fault in any of this mess).
Next move is to ensure (by whatever means possible) the next manager is allowed to buy four experienced championship players in January.
A combination of the above should provide an upturn in results, feeding into an upturn in returning fans, feeding into support for the players, feeding into confidence, feeding into performance, feeding into results.
Like a fast breeder nuclear reactor, the once buoyant mood at Sunderland CAN be resurrected.
But only if Short-Bain make changes now, and there Ladies and Gentlemen is the problem.
Failure to change the current set up WILL lead to Sunderland being relegated to League one in front of 10,000 fans.
The clock is ticking….