With each new season comes a range of new trends and a list of essential, directional purchases. The trick to getting the best value for money is to assess which of these trends are likely to translate into classic styles that you will be able to wear for many years to come and which are likely to fade with the sun come Autumn. For longterm classic purchases, don't be afraid to invest. A good quality item that you'll get good use from is worth splashing the cash a little. For fleeting trends and purchases that are likely to be fun and funky for a season, and not much longer, stick to the more affordable shopping ground of your local high street.
Geometric prints are big business this season but it's likely that this bold, bright trend won't stick around long enough to make any on-trend purchases viable outfit choices in 2013. That said, there's no reason not to have fun with the look with a cheap dress for Spring/Summer 2012. Check out the Geo Print Tunic from Next.co.uk (always a great, tried and tested cheap dress source).This is a great, easy to wear dress on the beach or at an evening do, with heels, bag and statement earrings, and if the look sticks around until Autumn you can easily style a tunic like this with leggings and boots to suit the season.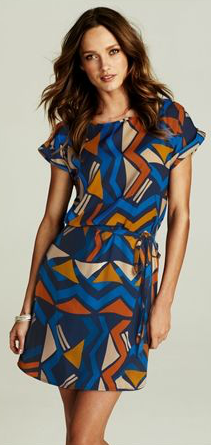 Geo Print Tunic from Next
The accessory of choice this season is the cross body bag – another retro inspired style. Get yours at a bargain price by trawling your local Salvation Army store or a value vintage shop to retrieve the style successes of yesteryear without breaking the bank.
A great way to give your summer look a quick style update is with a new pair of sunglasses. A funky pair of shades can add an instant, fashion forward vibe and allow you to have a little fun with summer trends without costing the earth or taking over your outfit. Go for something colourful in a sixties-inspired cat eye shape for Spring/Summer 2012, or for further bespectacled inspiration check out the latest on current styles and trends from top New Zealand fashion blog Gloss.