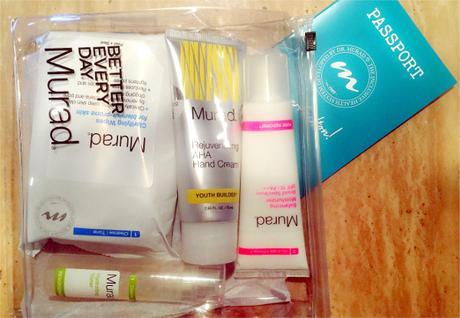 Summer is almost here. That means most us will be traveling for vacation. Some of us will be catching flights to see friends and family. Others will be keeping it "boss" and doing some traveling for business. But traveling can be worrisome. Besides TSA, delayed flights and missing luggage, our skin can also take a major hit. Let's face it. Traveling is stressful in many ways.
Combat Skin Lag
Spruce up your skin during layovers. Better yet, take your skin care regimen along with you for the ride. Stock up on those cute, travel-size skin care necessities in a TSA approved handy clear plastic case!
Be Prepared: First Class Skin Care
Murad Clarifying Wipes Pre-moistened, ultra-soft wipes that can be used for quick touch ups and help keep skin clear by removing dirt, bacteria and excess oil. These leave a refreshing, tingling feeling after use. Super convenient and perfect for on the go.
Murad Youth Builder Body Care Rejuvenating AHA Hand Cream Lightweight, quick-absorbing hand cream that softens and smoothes dry, dehydrated hands while gently exfoliating to reduce the visible signs of aging. I've been using nightly to ensure my hands stay soft. Also ensures my cuticles stay healthy.
Murad Hydrating Toner Refreshes skin by replenishing moisture loss that can occur as a result of traveling. Loving this too. Spritz on after cleansing or for touch ups throughout the day. Smells very pleasant…transports me to the spa.
Murad Balancing Moisturizer Broad Spectrum With SPF15 Lightweight hydration with powerful antioxidant protection that defends against damaging UVA/UVB rays. Can't even begin to stress how important a good moisturizer is during travel because it is so dehydrating. This will give you lightweight moisture as well as a dose of SPF. Plus!
A photo posted by ‼️girlratesworld‼️ (@girlratesworld) on May 3, 2015 at 2:05pm PDT
Stay Tuned to GRW
Be sure to follow GirlRatesWorld online at facebook, instagram, and youtube. Also check back soon. New updates are posted here weekly.