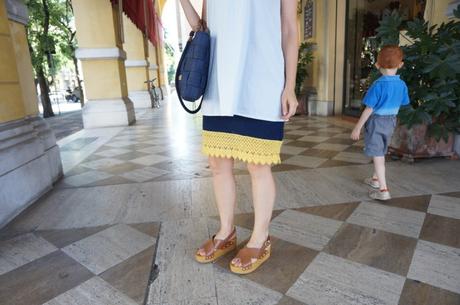 Summer has a new sandal and crisscross is his name (and we're not talking early 90s child rappers...Ha! Who's old enough for that reference?)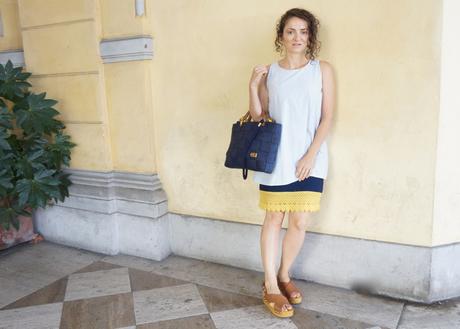 The crisscross sandal is HUGE this summer in all of its variations. I bought into the trend with this pair of flatform, clog inspired real leather sandals from the brand Sam Edelman, found on sale at Shopbop (you can shop the collection here)!
This trend is really comfortable as far as shoes go, because the crisscross sandal can easily be worn for long days at the office, 6 hour walks while sightseeing or even a night out. It is one of those shoe trends that can be casual during the day and easily dressed up at night. If your aim is to be fashionable while still being comfortable this is definitely one trend to buy into without worrying too much about whether or not it will be trending next year (but just a heads up...it will be!)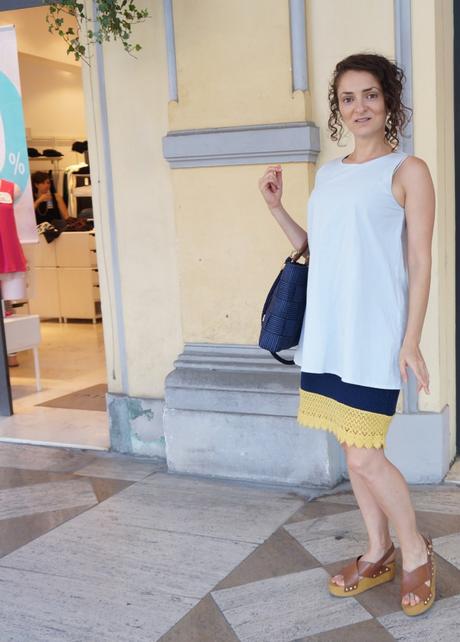 While other sandal trends like the flat, gladiator lace-up with pompoms (which you may remember from this post), or the ugly sports sandal trend that been happening for the last few years (I wrote about this in-depth here), or even the classic summer flipflop (which you'll never find Italians wearing out of the house or off the beach!) are all *fine*....they are nowhere near as versatile and chic as the crossover sandal that's "IN" right now.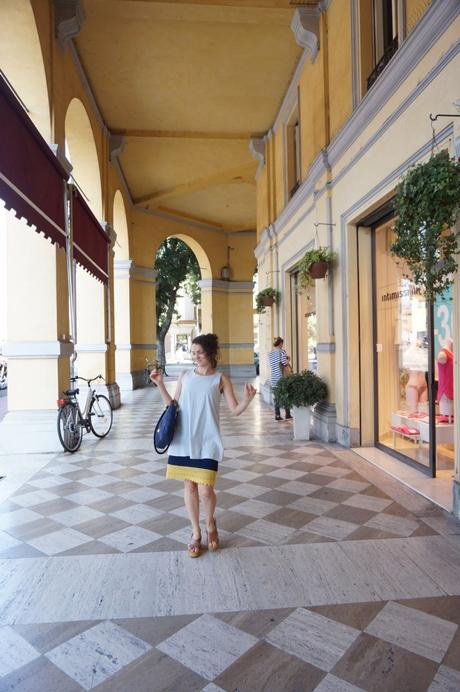 I've divided up the trend into a few sub-categories to go over together with you! Let's get started....
The Flatform Crisscross Sandal
The flatform is defined by its "platform" plateau that does not incline, meaning it gives height without changing the angle of the foot. I love this trend with culottes (which I've styled here) or even with dresses and skirts of all lengths. The flatform is a great choice if you want an elongated leg but you're not comfortable with the toe-pressure caused by heels. Like this pair in real leather by Stuart Weitzman currently 50% off here (down from $398.00 to $199!)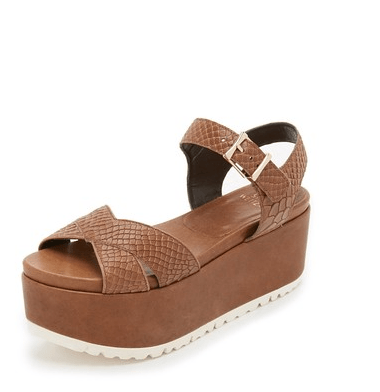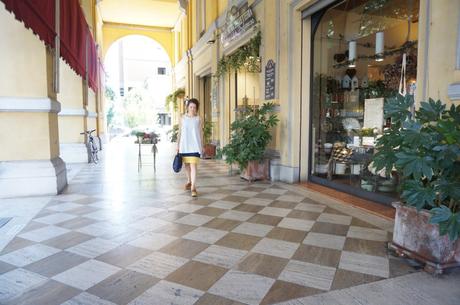 The Wide-X Slingback
Generally speaking I've seen this with a higher heel like this pair by Michael Kors available at Shopbop.com.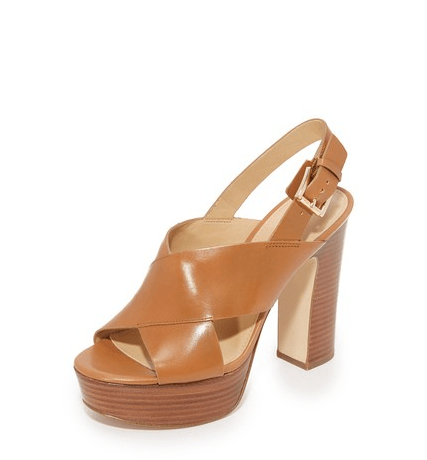 They are so elegant and perfect for a dinner out or a meeting - just add a pencil skirt and you're ready to go. As sexy as a pair of strappy stilettos but much more practical, the crisscross slingback is very flattering and I honestly think now is the time to buy because there is such a great selection and I see this as a shoe every woman should own.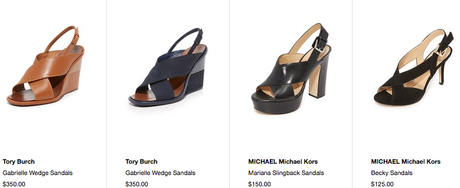 The Padded And Stitched Vamp Crisscross Sandal
This is the LATEST addition to the crisscross sandal trend this summer and features a very wide vamp crossover that is stitched dividing it into 4-5 padded sections. I love when these very mature and lady-like trends make their way onto the feet of mega fashion bloggers in their 20s, because it gives mature women the confidence to wear the look. These real suede mules from Jeffrey Campbell are currently available here in black and taupe for only $135 in ALL SIZES from 6.5 to 10!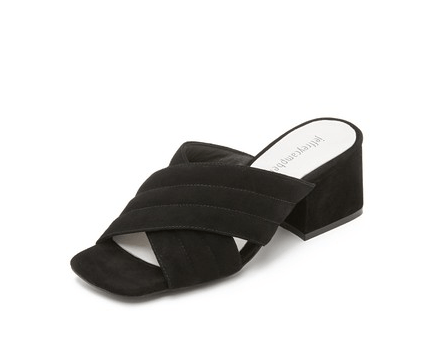 The secret to pulling off this trend without looking like a grandma is to juxtapose the look with frayed straight-leg denim or cut off jeans worn with a simple white t-shirt or blouse. Think princess on the bottom and pauper on top to make it work.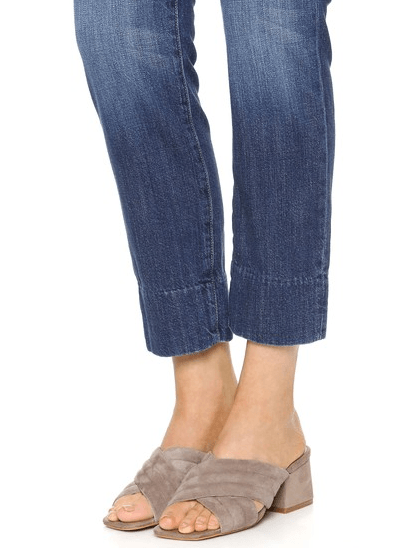 Currently also loving this DKNY pair (on sale at Shopbop.com for only $129 with free shipping and returns) available in black or white in sizes 6 to 10.
The Not Quite Clog
This is the trend that I bought into and I am loving it! In this look I wanted to be business casual but not too casual, so I paired a double layer tunic with a crocheted trim with a vintage Italian woven bag with my flatform not quite clogs! Although the revival of the clog trend this season made me happy, I'm not quite "bohemian" enough to work it into my real everyday life and style.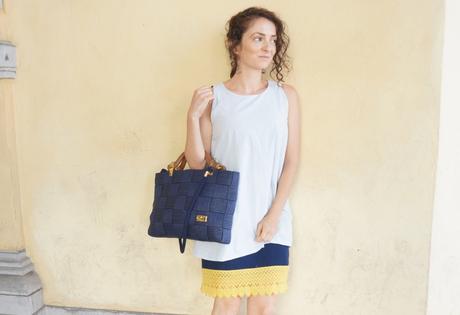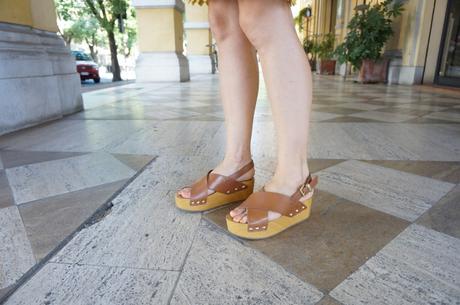 I find clogs to be a little too heavy, slippery and don't really work with my sense of style, however, I love the little accents that the "Not Quite Clog" sandal incorporates like rivets and a wood colored heel.
As I've mentioned my exact pair by Sam Edelman just sold out, but this pair by Dolce Vita featured below is very similar and is currently on sale from $170 to $85 is still available here. OR for a GREAT DEAL check out the pair on sale for only $51 from $170 with the high block heel (*love*)!!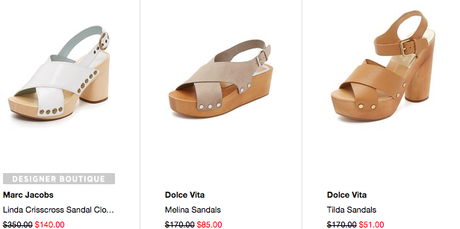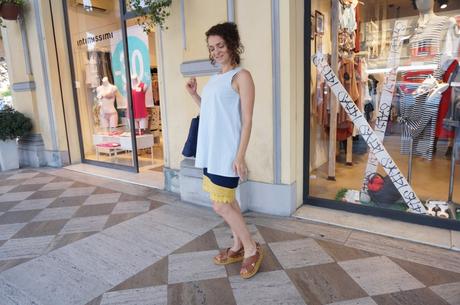 Has anyone else bought into this trend? Is there some sub-category I missed, let me know! And feel free to share your style with this week's linkup!
#REASONSTODRESS DRESS TO IMPRESS FASHION BLOGGER LINKUP
Welcome to the #REASONSTODRESS DRESS TO IMPRESS LINKUP for fashion and style bloggers!
This linkup is hosted by REASONS TO DRESS - An Italian lifestyle blog about an expat-Canadian married to an Italian leather artisan. Part of this new linkup is sharing up and coming style bloggers and we're always looking for fabulous co-hosts who will be interviewed and featured - email [email protected] for info!

SHARE YOUR POST ON TWITTER with the hashtag #REASONSTODRESS & you'll get a retweet!
REASONS TO DRESS - An Italian Lifestyle Blog About Fashion, Travel & Life in Italy
THIS WEEK'S BANNER / INSTAGRAM IMAGE :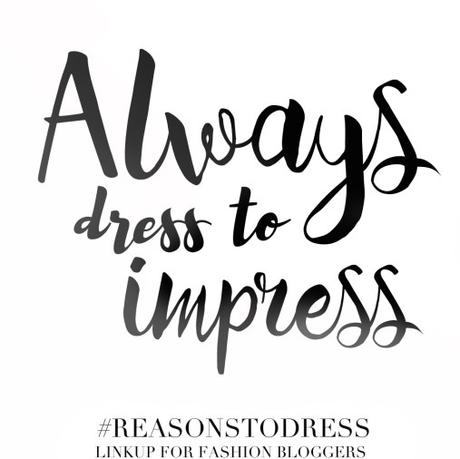 Grab the 200 x 200 version of this banner for your blog post with the code below!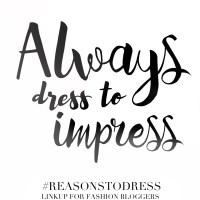 PLEASE : Linkup your STYLE related posts, new and old! Or Linkup a FASHION related picture from Instagram with the hashtag #REASONSTODRESS
PLEASE: Add the badge or a link back to EITHER of the weekly hosts
PLEASE: Follow each host on at least 1 social network , we're friendly, social and generally over-sharers! Let us know that you've followed so that we can share the love!
PLEASE: Please be social and visit a post that interests you. Don't forget to use the #REASONSTODRESS hashtag to let people know how you found them!