Because watching movies of opera productions on a screen for free couldn't possibly diminish the opening of the actual opera season a month later....
by Paul J. Pelkonen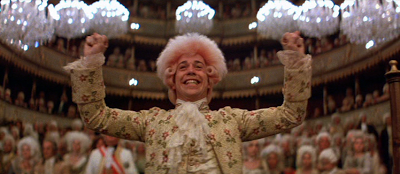 Mozart (Tom Hulce) celebrates a field goal in this scene from the
award-winning Milos Forman film Amadeus. Image © 1984 The Saul Zaentz Company/Orion Pictures.
This August, the Metropolitan Opera will fill Lincoln Center 's outdoor space with seats and turn Josie Robertson Plaza into a venue for repeats of the company's  omnipresent
Live in HD
series. This is an enjoyable summer festival event, free to all and stunning passers-by and curious tourists. Here's the slate for this year's festival which opens not with an opera but with an Academy Award-winning movie. And yes, we tell you which operas to catch and which ones to skip...or at least bring a good bottle of wine.
Amadeus 
(Aug. 26, 7:45pm) One of the greatest "music movies" of the 1980s, this adaptation of Peter Shaffer's play tells the story of Mozart's last years from the twisted perspective of Antonio Salieri (F. Murray Abraham) a rival composer who wants the young genius dead. Sheer hokum, but brilliantly shot, staged and edited with excerpts from four major Mozart operas and lots of great music.
Approximate running time: 2 hours, 40 minutes
Le Nozze di Figaro 
(Aug. 27, 7:30pm)
The series goes from fake Mozart to real Mozart with this staging of the ebullient
Figaro
starring Ildar Abdrazakov in the title role, Marlis Petersen as Susanna and Peter Mattei as the Count. This Richard Eyre production moves the action at Aguas Frescas to the early 20th century, which doesn't do much except make the Count much more threatening. James Levine conducts this broadcast from October of 2014.
Il Trovatore (
Aug. 28, 8pm)
The pairing of Anna Netrebko and stud baritone turned cancer recovery patient Dmitri Hvorostovsky made this revival of
Il Trovatore
the hot ticket of last fall. Verdi's blood-and-thunder drama ain't subtle or pretty, but the Russian diva's creamy soprano sure is.
Otello (
Aug. 29, 8pm)
Verdi's
Otello
opens with a bang but arrived last year with a whimper in this underwhelming new production by Peter Gelb's go-to guy Bartlett Sher. Future Met music director Yannick Nézet-Séguin conducts Aleksandrs Antonenko in the title role, baritone Željko Lučić as Iago and soprano Sonya Yoncheva in a career-making turn as Desdemona.
La Fille du Régiment 
(Aug. 30, 8pm)
This bubbly Donizetti comedy casts Natalie Dessay in the title role and tenor Juan Diego Flórez as the king of the high Cs, taking on the "impossible" aria "Ah, mes amis." A splendid time is guaranteed for all in this live broadcast from 2008.
Lucia di Lammermoor (
Aug. 31, 8pm)
She go crazy: Natalie Dessay returns to the title role of Lucia in this phantasmagorical production from the imagination of Mary Zimmerman. With Joseph Calleja as the hapless tenor who watches his beloved slip over the edge and in the climactic mad scene, over the top. From 2011.
La Cenerentola
(Sept. 1, 7:45pm)
Joyce DiDonato cleans the fireplace and then kicks her evil stepsister's butts in this exuberant Rossini comedy, presented in a charming production redolent of the paintings of René Magritte. One of the Met's best productions in a vibrant revival from 2014.
Cavalleria Rusticana
and
Pagliacci
(Sept. 2, 7:45pm)
"Charming" is not the word for this grim "Cav" which sets the action of the opera in a dark Sicilian piazza, a misguided attempt to give this slice of small-town violence a different dramatic setting. The "Pag" is better with Marcelo Álvarez giving his all in singing BOTH the roles of the violent Turiddu and the psychotic clown Canio. Eva-Maria Westbroek, Patricia Racette (in a star turn as Nedda) and George Gagnidze fill out the cast of this clunky new production from 2015.
The Merry Widow
(Sept. 3, 8pm)
The good news is that Renée Fleming has a blast as Hanna Glawari, the most eligible widow in all of Paris. The bad news is that this is another ham-handed attempt by Peter Gelb and his favored scribe Jeremy Sams to "modernize" operetta with a silly new English libretto. Can't anyone just do the show the way it's supposed to be done? Kelli O'Hara tries on her opera shoes in a cast that also features baritone Nathan Gunn. Another misfire from the 2015 season.