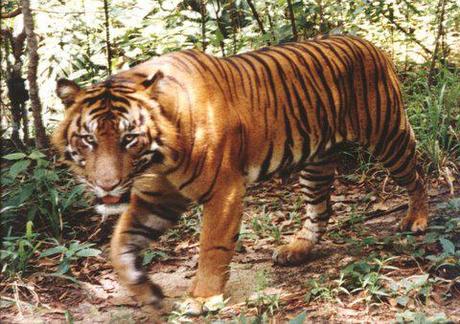 The WWF have released a video of three Sumatran tiger cubs frolicking in the forests of Bukit Tigapuluh region of Indonesia. The camera traps filmed for two months recording footage of 12 tigers including mothers with cubs. It is estimated that there are around 400 Sumatran tigers left in the wild.
The area in which the tigers were filmed has been designated a "global priority Tiger Conservation Landscape" and makes up 6 regions that the government of Indonesia pledged to protect at last November's tiger summit in Russia. The region which is also populated by elephants and orangutans is under threat from the pulp and paper industry expansion.
According to a report by the WWF from December of last year more than 500,000 acres of forest have been lost due to the expansion of the pulp and paper business since 2004. This has had a huge effect on the animals the inhabit the area.
The WWF is working closely with Indonesia and other countries where tigers can be found to build support in order to double the number of animals in the wild by 2022, the next Year of the Tiger. The Sumatran and the other five subspecies, Amur, Malayan, Bengal, Indochinese and South China number as little as 3,200. #SaveTigersNow