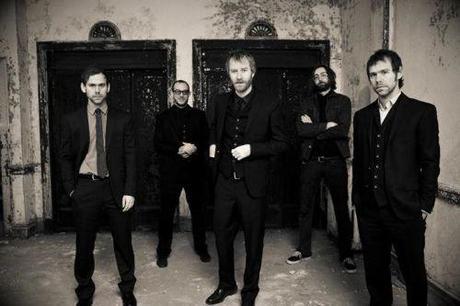 Photo source: The National
It's going to be a great week of holiday parties and amazing concerts here in New York City.  The National is playing six straight nights at the Beacon Theatre, James Murphy (of LCD Soundsystem) is DJ'ing the Brooklyn Night Bazaar, WHY? is playing a doubleheader, and, well, there's a ton more so see below.
Just a head's up, this will be the last suggested NYC concerts post of the year.  Have a happy holidays!

12/12 – 12/17: The National @ Beacon Theatre (Sold Out // Craigslist)

The National, The War on Drugs @ Beacon Theatre (Tickets)
Oh Land, Savoir Adore, Friends @ Bowery Ballroom (Tickets)
Rolling Stone Fest: Freelance Whales (1PM), Ximena Sarinana (2:30PM), Deer Tick (4PM), MNDR (5:30PM) @ Openhouse Gallery (RSVP)

Gary Clark Jr., White Dress @ Mercury Lounge (Tickets)
The National, Sharon Van  Etten @ Beacon Theatre (Tickets)

Wye Oak, Pattern is Movement @ The Rock Shop (Tickets)

Wordless Music Presents: WHY? @ Florence Gould Hall (Tickets)
Sand Dollars – WHY? // Buy
Family Records Holiday Party: Pearl & The Beard, Wakey!Wakey!, Rosi Golan, Casey Shea @ Bowery Ballroom (Tickets)
PopGun Holiday Party: North Highlands, Bell, Parlovr, Leisure @ Glasslands (Tickets)
Radical Dads, Hilly Eye, EULA, Libel @ Cake Shop

BrooklynVegan Presents: Fucked Up, DOM, Big Troubles, Radical Dads, Frankie Rose (DJ Set), Bill Pearis (DJ Set) @ Brooklyn Night Bazaar (Tickets)
Happy Birthday Party – Dom // Buy
Bear Hands, Deleted Scenes, Fort Lean @ Music Hall of Williamsburg (Tickets)

Twin Sister, Widowspeak, Ava Luna @ Bowery Ballroom (Tickets)

Atlas Sound, Balkans, Carnivores @ Bowery Ballroom (Tickets)