Have your cake and skinny jeans, too with this gluten free, vegan and sugar free Dark Chocolate Almond Butter Cake for two!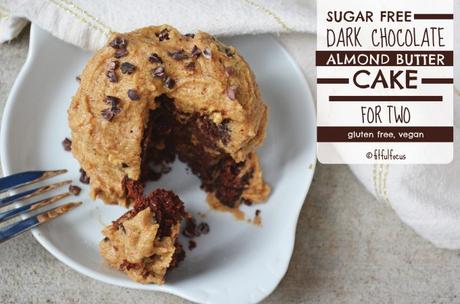 I received free samples of Swerve mentioned in this post. By posting this recipe I am entering a recipe contest sponsored by Swerve and am eligible to win prizes associated with the contest. I was not compensated for my time.
Guys! My birthday is coming up this weekend! WOOHOO! YIPPEE! I'm going to be 30! The big three oh. And I'm pumped.
Growing up, my Mom used to make THE BEST birthday cakes. They were delicious and decorated to whatever theme I wanted for my birthday party. I specifically remember a Winnie the Pooh cake that took her days. I wish I had a picture.
This year, I wanted to try to recreate a favorite of mine from my teenage years: a Reese's Peanut Butter Cake. Of course, I now have to make it gluten free, dairy free, and peanut free. I also decided a whole cake probably wasn't a good idea. I have a wedding dress to fit into a couple months from now, after all.
So, I needed to recreate a rich, chocolatey, peanut butter cake without wheat, without dairy, without peanuts and with only two portions (one for me and one for Will). It'd also help if it was healthier-than-your-typical-cake. Tricky, right?
Fortunately, I was able to make my birthday wish come true! Meet my birthday cake, aka this Sugar Free Dark Chocolate Almond Butter Cake for Two!

Since I didn't want an entire cake left over tempting me with the challenge of eating it all in one sitting, I decided to basically make two cupcakes. Not a dozen. Just two.
I got out a few key ingredients necessary to make a chocolate cake: gluten-free all purpose flour, cocoa powder. oil, baking soda, vanilla extract, and Swerve.
Hold up, what the what is Swerve?
Swerve, my fit & focused friends, is a delicious natural sweetener that tastes, bakes and measures just like sugar. I'm typically wary of sugar replacements but this stuff caught my eye for a few reasons. For one, it doesn't contain any artificial ingredients, preservatives or flavors. Second, the main ingredient is Erythritol, which doesn't cause digestive issues like Xylitol does (aka, you won't get diarrhea! - ain't nobody got time for that). It also doesn't contain any calories or affect blood sugar.
Once I had all my ingredients out, it was just about scaling down a full blown cake recipe to something that would create just enough for two.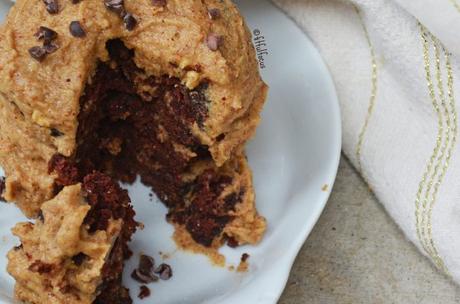 I mixed my cake batter up, split it between two cupcake tins, and put those babies in the oven.
Then, it was time for the frosting! I wanted the frosting to be simple, so I decided on three key ingredients: dairy-free margarine, almond butter, and Swerve confectioners sugar instead of powdered sugar. I whip, whip, whipped that up until I had a thick, creamy frosting!
Now, I could have simply frosted each cupcake and called it a day, but I wanted a mini cake, not a cupcake!
So once my cupcakes were cooled, I removed the liners and cut them in half width-wise. Now I had four layers for my cake! I layered them up with frosting in between and then frosted the whole shebang.
I sprinkled on a few cacao nibs and BAM! Healthy birthday cake made! The nutrition facts (per serving):
291 calories, 23 g fat, 18g carbs, 0g sugar, 3.5g protein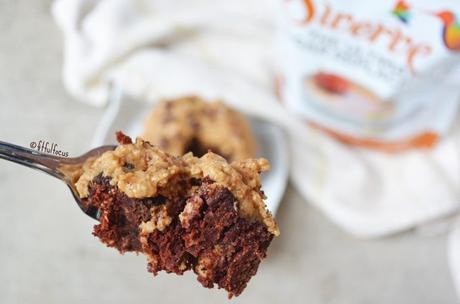 I know some of you are thinking: Ok, Nicole. I know a gluten free, dairy free, sugar free cake can't actually be that good.
So I put it to the true test and had Will taste it.
His response: That. Is. Delicious!
He said, and I quote, "I don't even like cake and that is damn good." He went on to eat his whole portion. Unprompted. Before dinner.
Believe me or not, you should try it for yourself!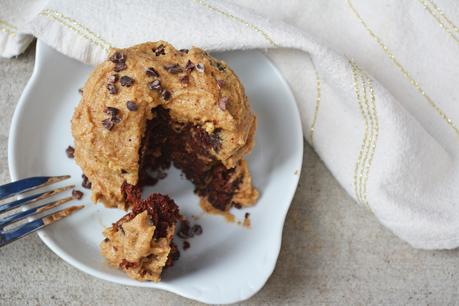 Ingredients
Instructions
Notes
A bunch of my Recipe Redux friends also made recipes using Swerve. Check them out: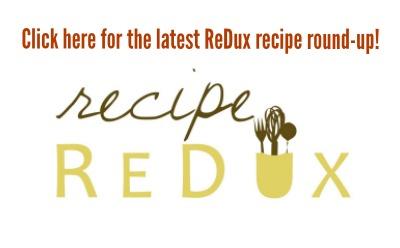 Let's Chat:
What your favorite kind of birthday cake?