When I got a request to review The Ekkos Clan by Sudipto Das, it killed me to have to decline. However, with work being what it is, and me having a towering backload of review copies to finish, it was in everyone's best interest that I let go of this opportunity

.
The book sounds very interesting though, and I requested for an interview opportunity instead (my first!).
So here we go…
What inspired you to write this book?

I've been always intrigued by ancient Indian history, especially the origin of our culture, our heritage, our religion, our languages. I figured out that there was not much literary works on these particular topics. Also there are lot of misinformation regarding these. I wanted to tell the true story of the origin of the Indian culture, Indian languages, but not in an academic way.

I felt that if Dan Brown hadn't written about the intriguing aspects of Christianity, not many things about Christianity would be known to us. Not many people would read history books. But writing about history in the garb of a thriller reaches out to a much bigger audience. So I decided to use the garb of a mystery novel to talk about Ancient Indian History.

Do you have a specific writing style?
I won't say that I've a particular writing style. But I do emulate the style used by Amitav Ghosh or Khaled Hosseini, where they use lot of vernacular words in English. Lot of vernacular expressions are very essential to create the right flavor or ambiance.
Is there a message in your novel that you want readers to grasp?
No, there's no message as such. But if the readers find the ancient Indian history and other things covered in the book fascinating and take interest in reading more about, that would be my success as the writer of this book.
What books have most influenced your life most?
Tagore's Shesher Kabita (Farewell Song), Sunil Gangopadhyay's Prothom Alo (First Light), Eric Segal's Love Story, Jhumpa Lahirir's Namesake, Amitav Ghosh's Hungry Tide, Sea of Poppies, Khaled Hosseini's Kite Runner.
If you had to choose, which writer would you consider a mentor?
Amitav Ghosh, for the ease with which he makes a simple story of a nondescript place into an epic & Jeffry Archer, for the power of keeping the readers hooked to each and every word he writes.
What book are you reading now?
Haruki Murakami's Blind Willow, Sleeping Woman
Are there any new authors that have grasped your interest?
Jhumpa Lahiri and Khaled Hosseini
What are your current projects?
I've already completed the first draft of my second book, which is not a sequel of The Ekkos Clan, but I do have a plan to make a trilogy with Afsar-Kratu-Tista and linguistic palaeontology, of which The Ekkos Clan is the first book. My yearning to make my alma mater IIT Kharagpur (KGP) as a part of my literary creation is so strong that I want to write a KGP trilogy too, a set of three unusual love stories, all originating in KGP. My second book named Prembajar would be the first book of this trilogy. KGP to me is like a miniature world; everything compressed and contracted within the confines of the walls that enclose the campus. My attempt in writing the KGP trilogy is just a humble effort to talk about this world, of which, it was my privilege to be a part.
Do you recall how your interest in writing originated?
I started writing poems in Bengali when I was in school. But the quantity suddenly increased during my engineering days in IIT Kharagpur, perhaps because I got someone who would wait to read each and everything I wrote.
Who is your favorite author and what is it that really strikes you about their work?
My favorites are Rabindranath & Keats from classical literature. Eric Segal, Jeffry Archer, Amitav Ghosh, Jhumpa Lahiri, Khaled Hosseini from contemporary literature. Tagore made me fall in love with my country and culture. Keats enhanced the romanticism Tagore had ignited. Jeffry Archer amazes me with the volumes of best sellers he has written. Amitav, Jhumpa & Khaled inspired me to write about nondescript things from some small desolate corners of the world and make heroes out of apparently insignificant people.
What was the hardest part of writing your book?
The hardest part was to be authentic. I was writing about ancient Indian history, which has been widely misinterpreted and misunderstood mainly because of the lacuna of historical and archaeological proofs available to us. I wanted to present a very realistic and authentic picture based on serious academic works. Writing on topics like linguistic palaeontology, comparative linguistics, Rig Veda etc needed lot of research work. I read a great part of the Rig Veda in original. These were big challenges to me.
Did you learn anything from writing your book and what was it?
Yes, I did learn a lot during the entire process of researching and then writing the book. The first and foremost was of course this amazing thing called the Rig Veda, the first book composed by mankind. It's a wonderful book of poems, the first literature known to mankind, created in an age when no other civilization perhaps knew much of poetry and prosody. From that aspect the Rig Veda has a tremendous value apart from just being a scripture.

I also learned how the languages evolve, how historical things can be manipulated to create fanaticism, why people across the world have an unstoppable urge to get to their roots and so many other things. It has been a very enriching experience overall.

Do you have any advice for other writers?
Read and read and read before you write. Writing is a very lonely process. You've to be very patient and disciplined. Treat it like a project, make a good project planning and execute it with precision. Getting a publisher is not at all an easy task. Don't lose heart and explore all options. Publishing industry is undergoing terrific changes. After 10 years there may be only e-books, and no conventional publisher may exist. So if you don't get a publisher, self-publish an e-book and sell through amazon.
Do you have anything specific that you want to say to your readers?
I wanted to share my love for something with my readers. If, after reading my book, a reader is inspired to read more about Rig Veda or the ancient Indian history, that would be my success as a writer. It would mean, I've transmitted my love for history and culture to my reader.
What were the challenges (research, literary, psychological, and logistical) in bringing it to life?
As I mentioned above, research was indeed a big challenge there's not much of material available on the topics I wrote about, at least not in the non academic space. I'd to read a big part of the Rig Veda in its original archaic Sanskrit. With my limited knowledge in Sanskrit, it was a very tough job and took the most time.

Literary challenge was not much as I wrote in a way I was comfortable with.

Logistically I didn't find much an issue as almost everything was available online. I didn't have to run around collecting material.

Psychologically, writing is a very lonely process.
Doesn't Sudipto Das and the book sound very interesting? Here's a little more information…
About the Book
It is a contemporary mystery novel dealing with some intriguing aspects of ancient Indian history. Kubha tells lots of stories to her kids. She has heard these stories from her ancestors. No one really knows where these stories came from. Many years later sometime during the nineties of the last century, long after Kubha died a gruesome death during the partition riots of 1947, her grandson Kratu, who is doing his masters at Stanford University, and his girlfriend Afsar, who studies linguistic palaeontology, figure out that the stories are not mere bed time tales. They discover that each story is rich in linguistic fossils and is actually in the form of a riddle which has clues to some explosive aspects of ancient Indian history that's not well known. They also come to know that all the unnatural deaths that have happened in their family over the past hundred years were all murders. Some fanatic group wants to eliminate the entire family of Kratu's to remove all traces of Kubha's stories, which if exposed will change the way the fanatics want the Indian history to be seen as. Kratu, Afsar and their friend Tista embark on a journey across continents to decipher Kubha's stories. While doing so, they also discover Kubha in a new light. They come to know of several things about Kubha's life which no one in Kratu's family knew till now.
About the Author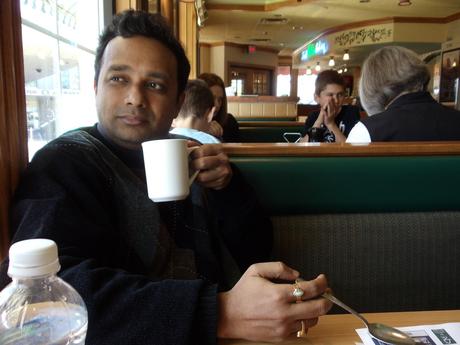 The author Sudipto Das
Sudipto Das completed his engineering from
IIT Kharagpur
in 1996. Having started his professional career in 1996 at
Noida
, he moved to
Bangalore
in 1997. Since then he has been staying in Bangalore. He started the music band Kohal in Bangalore in 2007 with some of the members of ETMS. History, culture, language, Writing and music are of special interest to him.