Overview
Dental problems are highly prevalent and all of us much have gone through some of the other dental problems at least once in our lives. The main problem with dental issues is the pain that comes with these and can strike people belonging to any age group. The reasons can be poor and unhealthy eating habits, lack of awareness and not giving enough care and thought towards dental health.
Also, many people think of the visit to a dentist to be scary and avoid by taking pain medications. But if not given timely attention, dental problems can lead to a terrible and painful situation. When ignored for a long time, the dental problems can get serious and the patients might have to go through a surgery.
Some of the common types of Dental Surgeries performed are  :
Endodontic surgery – Surgery involving the pulp or root of the tooth like Root Canal treatment
Periodontics – Surgeries involving treatment of the supporting structures of the teeth
Prosthodontics – Dental prosthetics such as crown, bridge, veneers, implant, denture, also known as false teeth
Orthodontic treatment – In this implants and the implant-supported prosthesis and it also involves the curing the bones
Oral and Maxillofacial surgery – This  area involves treating different diseases, injuries and defects affecting the neck, head, face, jaws as well as the hard and soft tissues of the Oral and Maxillofacial region
Why is India becoming so very popular as a treatment destination? More specifically, Dental Surgery in Goa? This is because of the presence of:
Very well established dental hospitals and clinics
Highly cost-effective and sensibly priced yet very progressive forms of dental treatment packages
The dental practitioners are highly qualified and competent to handle even the most complex dental procedures with ease
Be it patients from any corner of the globe, they do not have go through language hindrances as there are language translation services available in India
Even the nursing and assistant staff are adequately trained to handle the patients
The follow up services ensure that the patients recovery well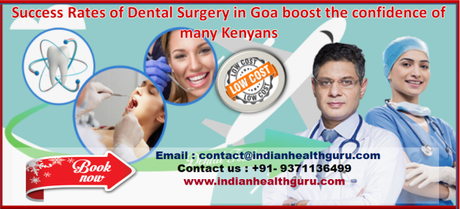 Patient Story
With the help of such outstanding services in India; particularly Dental Surgery in Goa, there are several international patients, who have been cured of many difficult and painful dental problems.
One of these patients is Jaden from Kenya, who needed Dental Implants procedure but she was finding it really difficult to find the related surgical facilities in her own country. Further, the few centers that had this facility had priced the Dental Implant procedures very high. That's why she started looking for suitable options in other countries and came across very reasonably priced Dental Implants surgery in Goa, India.
"I read about the Dental Implant surgery possible at the one of the best Dental Clinics, being associated with a health care tour planner in India known as Indian Health Guru Consultants. I researched more about them and even read the testimonials by some patients and came to know that these consultants have a very good track record. Without any delay, I sent my query and much to my surprise I got a very quick reply and that too a very detailed one."
"If anyone Looking For Successful Dental Surgery treatment. Goa is Best and Affordable Place in India For Dental treatment. Indian health Guru will Always help you to give Best Suggestion for best treatment within Your Budget."
We, at Indian Health Guru Consultants, ensured that the packages offered to Jaden were very cost effective. Further, after the initial consultation, we assisted her is getting the medical visa, flights, arranged her accommodation, pick up and drop from the airport as well as coordinating with the Dental Clinic in Goa. Our representative was there all the time to look after all her requirements during the whole treatment process. After all the formalities were done, the Dental Implant procedure was performed by a very qualified and experienced Dental surgeon, with a very high success rate. Jaden was very happy with the results of the procedures and also because the whole treatment did not feel heavy on her pockets at all.
"The Dental Clinic where this procedure was done was extremely patient-friendly and the staff members too were extremely caring. Also, I did not come across any language difficulties as I was provided language translation services. Overall, Indian Health Guru Consultants covered each and every aspect related to my medical tour, which made this a very rewarding experience. Thus, I can very confidently say that availing Dental Surgery in Goa proved to be a very beneficial decision for me and I got the best services associated with my treatment. I am immensely thankful to Indian Health Guru Consultants; specifically, Dr. Dheeraj Bojwani and his whole team for the guidance and support provided.
Read More About:  A Perfect Blend for Dental Care and a Cool Holiday for Global patients