A few years ago, SIGG started to make carrying water around in stainless steel water bottles trendy. Not only that, by using a water filter, and bottling your own tap water, you can save a bundle over other options like buying bottled water (In fact, tap water through a Brita filter is pretty much the same thing as filtered bottled water like Aquafina or Dasani). And of course, by bottling your own water you can save your local landfill from being filled with plastic bottles.
Recently it seems at every conference and trade show I go to there are cheaply made stainless steel water bottles being given away. Ironically, these are often so cheaply made that I invariably see a bunch of them always ending up in the garbage which of course makes it doubly ironic because it takes metal a heck of a lot longer to biodegrade than plastic.
I had the pleasure of trying out a new stainless steel water bottle called the "S'well" bottle. You can check out their Web site at www.swellbottle.com.
The bottle came packaged in this absolutely gorgeous gift box, making it an ideal gift for anyone you know who drinks water

It's the same shape as a Pringles can, but much sturdier and a little larger.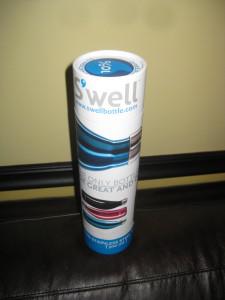 Carefully packaged inside the box is the bottle, wrapped in a plastic bag and wearing a bib, of all things.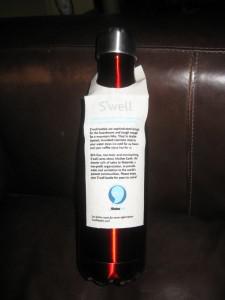 Here's what the bib says:
S'Well
Your S'well Bottle is designed to look great and do good.
S'well Bottles are sophisticated enough for the boardroom and tough enough for a mountain hike. They're double-layered, insulated stainless steel so your water stays ice cold for 24 hours and your coffee stays hot for 12.
BPA free, non-toxic, and non-leaching, S'well cares about Mother Earth. We donate 10% of sales to WaterAid, a non-profit organization, to provide water and sanitation to the world's poorest communities. Please enjoy your S'well bottle for years to come!
But that's not all! When you open the bottle, there's a "message in the bottle" insert.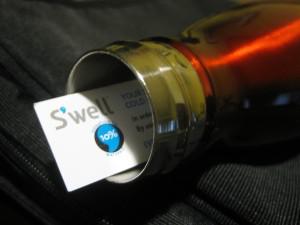 The insert says:
Your S'well bottle is double-layered, insulated stainless steel to keep hot beverages hot for 12 hours and cold beverages cold for 24 hours.
In order to achieve constant temperature maintenance we created a new advancement in metals science and called it ThermaS'well Technology, naturally! By using this bottle, you reduce the number of plastic bottles in landfills and oceans. Your bottle holds 17 oz/500 ml.
Every sip you take from your S'well helps WaterAid, a 501(c)(3) organization, bring clear water to the world's poorest.
On the flip side are care instructions (basically similar to a SIGG bottle–you can't put them in the dishwasher or microwave, and you clean it by using warm soapy water and letting it air dry). They also give their Facebook, Twitter, and Web site addresses.
I was intrigued by what they said about their double insulation, so I tried an experiment. I turned on the hot water in the sink until the water was scalding hot. Then I filled an old SIGG bottle with water, and then the S'well bottle.
The SIGG bottle was so hot I couldn't even pick it up–I dropped it back in the sink within 5 seconds of filling it with hot water. This was due to it only having one thin layer of stainless steel between your hand and the water. On the other hand, the S'Well bottle was still cool to the touch outside even after filling it to the top. I couldn't believe it. It was like a Thermos, only a lot cooler and hipper looking.
Speaking of cool and hip, take a look at my SIGG and my S'Well side by side: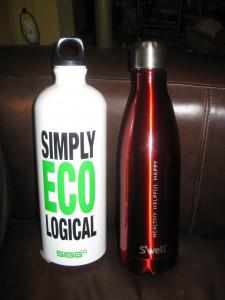 While I love my SIGG and it's been good to me, I think my new water bottle of choice is going to be that absolutely gorgeous ruby red S'well bottle. The brushed steel makes it easily the winner of any stainless steel bottle beauty contest. And it also comes in other colors, like black, pink, blue, silver, green, and gold. It makes THE perfect gift for runners and anyone else who like to keep themselves hydrated throughout the day (and if you want to be healthy and fit, that's not a bad habit to get into).
Get yours now at S'well Bottle's online store–before the rest of the world realizes how very cool it is and they sell out!