We have had unusually warm weather in LA right recently. Not that we have much of a winter here anyways, but the sunny skies and warm winds are making it feel like spring is right around the corner! It probably also doesn't help that I just got back from a short but sweet tropical vacation to the Bahamas, so my mind has moved way past winter coats and F/W seasonal colors and is eagerly awaiting the bright floral patterns and chic silhouettes of S/S clothing. While I prefer wrapping up in fall pieces much more than barely-there summer styles, I do find one thing about S/S collections much more appealing- the basics!
When it comes to jean shorts, colorful tank tops and loads of white on white, Spring collections reign supreme. Fall offers us the fashionable layers and intricately designed clothing that looks spectacular in editorials, but for day-to-day wear, the easier the piece the better. And I bet we can all agree how much easier it is to pack for a warm weather get away as opposed to a winter vacation. Simply throw in some and match pieces in bright and neutral colors and add those beachy, tropical accessories!
We all know that accessories are what takes an outfit from drab to fab, and since spring clothing can be so basic at times, the best way to make the most of your suitcase wardrobe is to stock up on hats, bags, shoes and jewelry that is going to make a statement no matter what you have on. If you are not yet familiar with our T.R.U. Brand, you may want to reconsider! All pieces are hand crafted in California with a unique, exotic flair that you won't find anywhere else. With a style that blends fine jewelry aesthetics with rare accents, these pieces are the perfect spring essentials!
Another key aspect to these pieces is the incredible amount of texture they incorporate. You can have a sleek, simple outfit on and let these jewelry items really stand out! Keep the clothing light and airy and let the accessories do the real style making. Here are some of our favorite ways to wear the T.R.U. pieces based on weekend getaways or spring break trips you might have planned.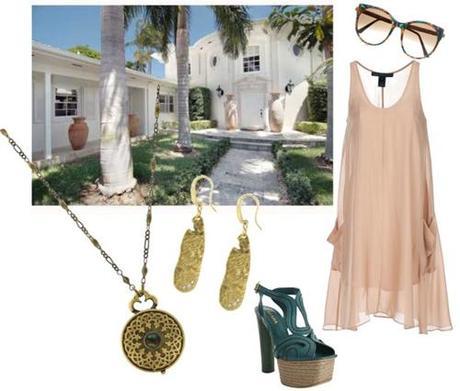 Find yourself in a sunny spot with nothing to do but relax? Lucky you! But just because your schedule is open doesn't mean you have to let your fashion senses slip. Try a relaxed blush tone sundress with some matte gold T.R.U. styles like the Secret Treasure Abalone Vintage Locket Necklace and
Swarovski Speckled & Sculptured Matte Gold Earrings
. Both of these jewelry pieces are so simple in silhouette and comfortable, you will barely feel like you have jewelry on, but the effect is boho chic at its most glamorous. I especially love the aqua reflection of the abalone shell on the locket that you can also match with denim or tropical teal accessories.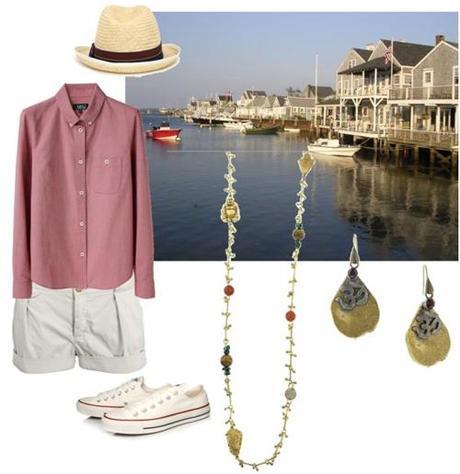 For a look that is more transitional from winter to spring, you may want to go a bit more casual. Get some of that preppy East Coast style and make it a bit more relaxed with T.R.U.'s more casual pieces like the Nature Medley Gold Droplet Charm Necklace. This style has exquisite natural elements that make you want to enjoy the beautiful fresh spring air. Worn with the Lake Arrowhead Casted Agate Organic Earrings, you don't need much else to make a sophisticated spring statement. You can even balance the look out with white shorts and tennis shoes and still never look too dressed down. A styling tip I've learned to love over the years is that opposites attract!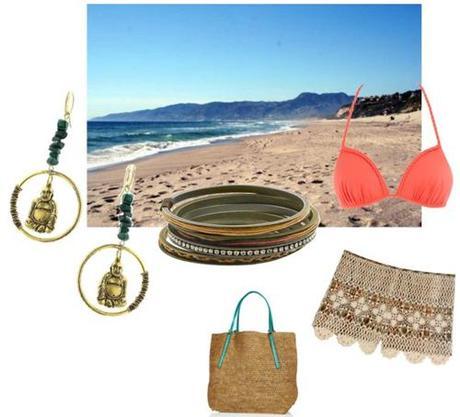 As someone who always thought jewelry had no place at the beach, I think there are definitely a few exceptions. One of them being, that if you are simply going to the beach to enjoy the sun and some company, you can definitely still have some bling on! Crochet has got to be the cutest thing to happen to shorts in a long time! Soak up the sun in a Tangerine Tango bathing suit top and forget the necklace. All you need here is a bold pair of earrings and some bangles. We suggest the
Hoop Dangle Sitting Buddha Earrings
because we love the natural element and color of the malachite chip beads. It's the perfect chance to wear your hair up in a new braid and show off those unique earrings.
The T.R.U. Collection is filled with all kinds of nature inspired spring pieces, so be sure to check it out today! Also, coming up in the next month we will be adding even MORE T.R.U. styles so be sure to check back on the 1928 brand that is becoming more and more popular as the days go by!