Most people assume that tall and skinny guys have it made in the wardrobe department. But the truth is that these fellas often have a hard time finding clothes that will fit and flatter their bodies than men with a standard build. If you're tall and slender, you know what we're talking about. Often, when you try on a shirt, a jacket or a pair of paints, either they are too loose on your frame or they're too short for you. With the right style tips for men, you'll be able to dress sharp and look good no matter what the occasion.
Born with a genetically slim frame, your friends probably regularly suggest that you hit the gym to bulk up and gain muscle size. You try to do your best to follow their advice. But with a ridiculously fast metabolism, it's really hard to gain weight, let alone build some muscles. Besides, you're probably too busy that you don't have the luxury of time to visit the gym as often as you want to.
When it comes to dressing up, most guys consider being tall and thin as a disadvantage. If you are in need of some style tips for men, we urge you to keep reading. You can still dress well and look great no matter how slender of a frame you have.
Here are some style tips for tall and skinny guys.
Wear lighter colors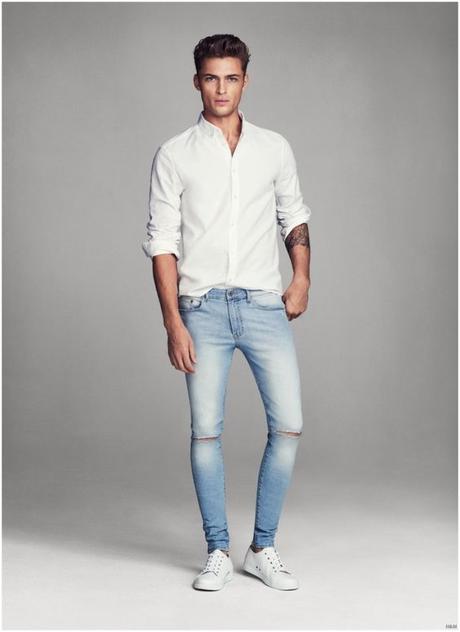 Image Source: https://www.pinterest.com
We all know that dark-colored clothing makes you look thinner. Given that you already have a slim frame, you may want to steer clear from them. Light colors such as pastels, beige, cream and white are your best bet. These colors tend to show off every bump and lump; thus, making you look bigger than you actually are.
If you are very skinny, choose suits in medium to light gray as opposed to black or charcoal. Dark on dark clothing will make a slim person look even slimmer.
Choose the right fabric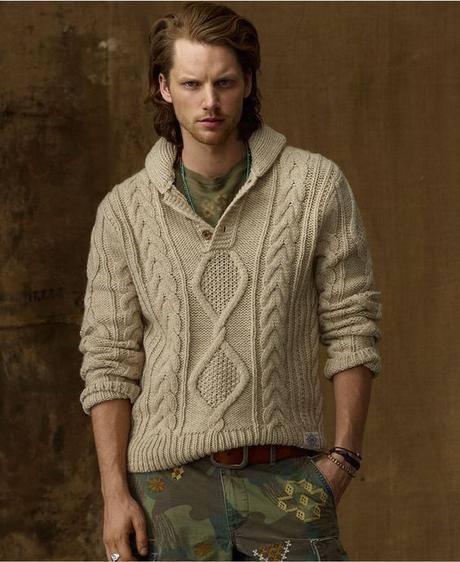 Image Source: https://www.pinterest.com
One way to add some visual bulk to think frame is by wearing clothing that are made of fabrics that are thicker and heavier. Fabrics such as corduroy, denim, glen check, flannel, wools, knit, and tweed give the illusion of having more mass; thus, adding bulk to your slight frame.
Heavier cloths will make you look and feel heftier. Plus, they tend to keep their shape and drape better across your body. The good news is that chunky, thick knits have gained popularity over the past few years. In fact, it reigned as fall and winter's ultimate wardrobe MVP, making it a great seasonal look for skinny guys. Remember, the chunkier, the better.
For guys with thinner structure, consider experimenting with a double breasted jacket. The extra cloth across the chest fills the frame out, making it a great option for tall, slender men.
Choose patterns that boost visual heft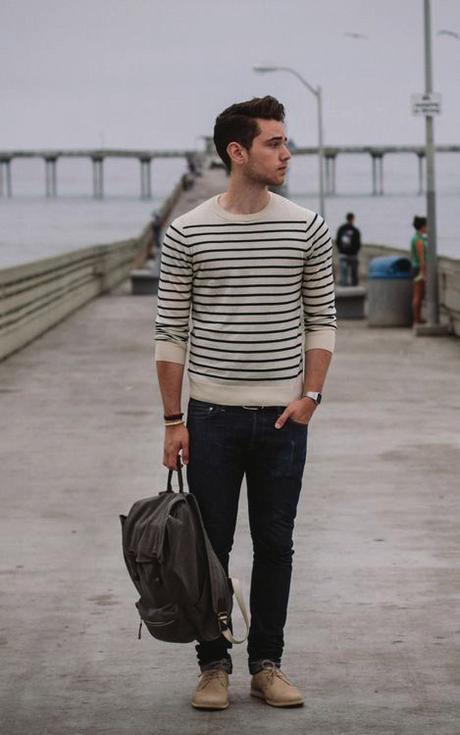 Image Source: https://famousoutfits.com
Clothing in horizontal patterns is ideal for tall and skinny men as they create the illusion of girth and width. When you wear clothes with horizontal patterns, you are forcing people's eyes to move across your body; thus, making you look bigger than you actually are.
Clothes that have vertical lines will only elongate your thin frame further, and therefore aren't the best choice for skinny guys. Avoid wearing clothes with vertical lines like chalk stripe and pin stripe patterns.
Use layers to add depth and dimension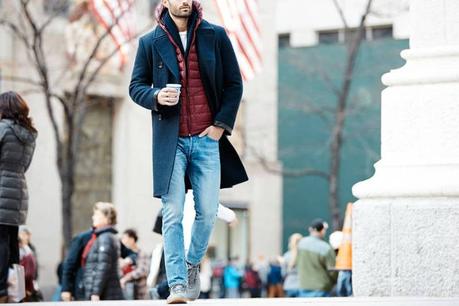 Image Source: https://theidleman.com
For men with slender builds, adding layers will give you more dimension. The look is easier to pull off during the winter months. You can wear an undershirt, under a dress shirt, under a sweater, under a trench coat.
Layering smartly is the key to look sharp. Although dressing in layers can help build on your natural build, it is important to be strategic, not only for style, but for comfort as well. Wearing heavier fabrics will add weight to your frame. However, too many bulky layers will make you feel warm and uncomfortable. Plus, it will make you look unnatural. The key to dressing in layers is to wear multiple thin layers.
Considering that the temperatures can rise to up to three digits during the summer, dressing in layers can be impossible. In this case, simply throw in a denim shirt over an undershirt and you'll look fine.
Wear clothes that fit you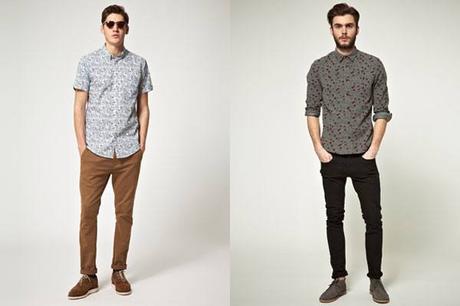 Image Source: http://www.outfittrends.com
Avoid wearing clothes that are either very loose or very tight fitting. This piece of advice remains true no matter what your body looks like. The problem is that most men with slender frame wearing baggier pieces of clothing hoping it will make up for their small frame. This is a big mistake. Wearing oversized clothes will only emphasize your slender physique since there is a stark contrast between your body and the size of your clothing. Worse, you'll look as if your swimming in a sea of fabric.
Tight-fitting clothing should also be avoided at all cost as it will only highlight more of your thin built and stature. Skinny jeans and tight-fitting shirts are definitely a no-no. Find the happy medium between the two ends of the spectrum. Choose clothing that is just slightly bigger than your actual size. This will add bulk without overly-emphasizing your smaller frame.
Consider alteration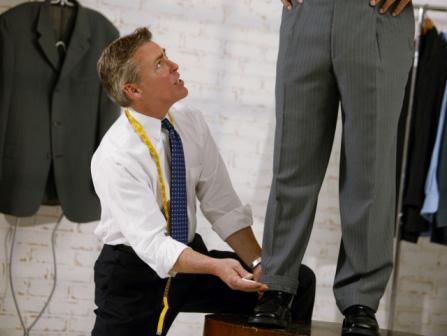 Image Source: http://philadelphia.cbslocal.com
We understand how frustrating it can be to shop for clothes that fit you well. If you have the budget, it is best to find a tailor who will alter the hell out of your clothes. Make sure that you factor in the cost of tailoring into your clothing budget.
Often, tall men are having a hard time finding dress shirts, suits or pants that fit well. They are either too short or too big for them. Take every worthy piece of clothing to a tailor and have it altered. If you can afford it, invest in custom-made clothing. It is well-adjusted to your personal measurements, so you are guaranteed perfectly fitted clothing that is made of the highest quality materials. Remember, a tall man in well-fitted clothes looks like a man in charge.