The last time I went to New York Fashion Week, as I may have mentioned, it was the mid '90s, all Marc Jacobs grunge and the advent of the Internet. It's of course a whole different circus now, with street style ranking nearly as high in importance (if not more for certain bloggers and hanger-oners), than the designers' carefully orchestrated fashion shows themselves.
I've garnered a handful of decent show invites for New York Fashion Week over the last couple of years, and am thinking that maybe (maybe) next fall I might make the fashion pilgrimage. In the meantime, I rely on the plethora of fashion week street style imagery online, from which I've pulled 20 looks. These are not over-the-top extravaganzas, but tasteful, on-trend ensembles.
I've included lots of identification notes and some commentary on these New York Fashion Week street style shots, along with a lot of great links, from Instagram accounts to shopping resources, so definitely click through when the look or the personality appeals. Happy fall, or Spring 2015, I should say.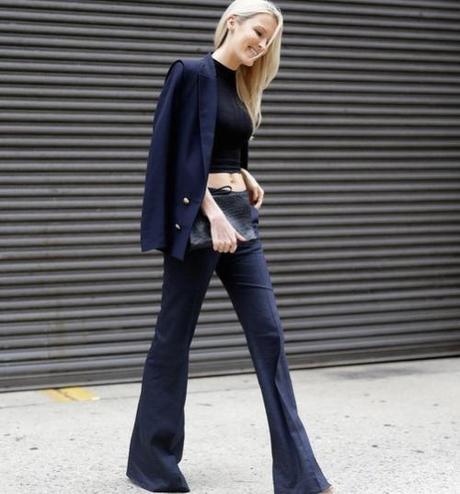 Former ELLE Accessories Director Kate Davidson Hudson, who founded The Editorialist last year, reveals her flat tummy with a peekaboo mock turtleneck crop top. Are flares back in? Navy blazer with gold buttons draped over the shoulders brings a touch of classic prep to Fashion Week.
Tim Regas / Instagram user wheresmydriver  •  via FabSugar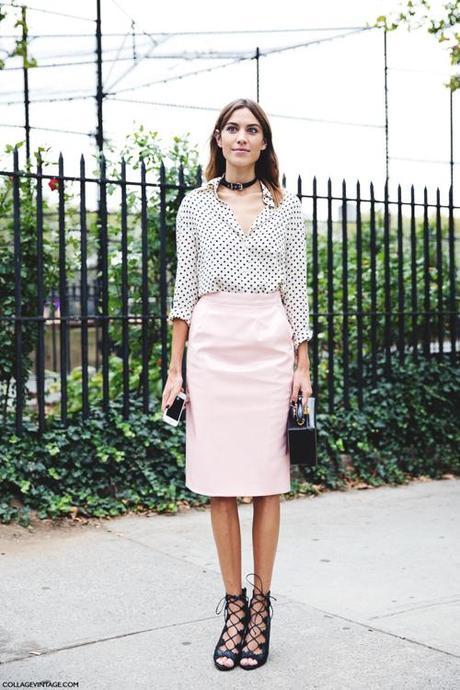 Alexa Chung in Marc Jacobs pink vinyl pencil skirt , Tabitha Simmons perforated lace-up ankle boots,  Mark Cross Grace box bag, and a polka dot blouse.  But what's with the belt around her neck?
CollageVintage.com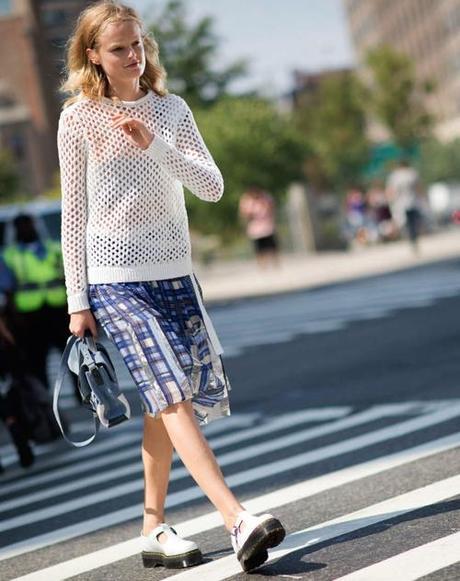 Belgian model Hanne Gaby Odiele pairs a Sacai  blue plaid skirt with a white perforated sweater, and finishes with white Dr. Martens T-Bar shoes.
Photo by YoungJun Koo/I'M KOO  •  The Cut/New York Magazine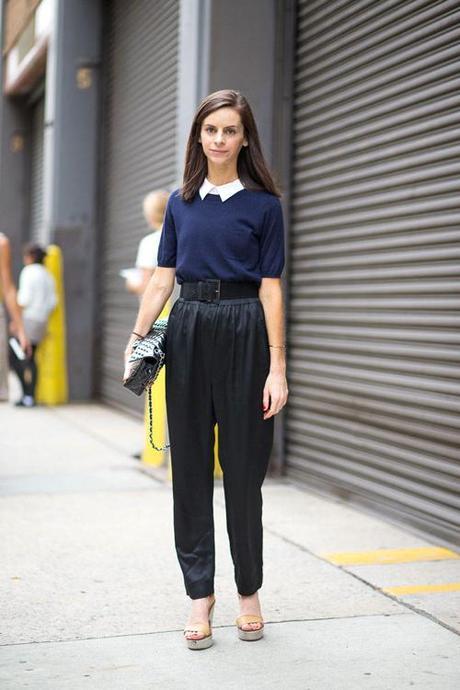 Megan Hayes (don't actually know who she is) goes for the elastic waist pants trend. A ladylike top and platform sandals keep her from channeling the frumpy Midwesterner.
Photo by Diego Zuko  •  Harper's Bazaar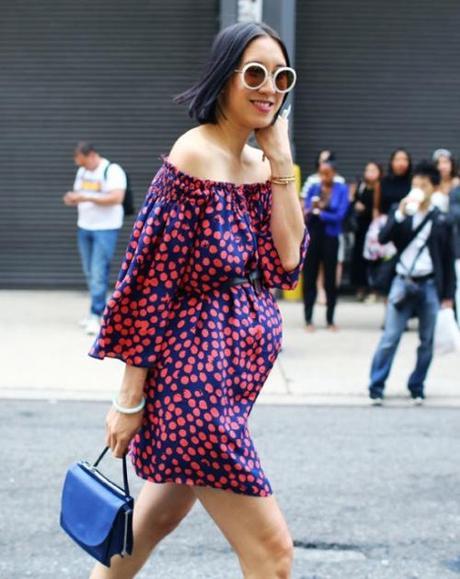 Lucky Editor-in-Chief Eva Chen in a loose-fitting (she's pregnant) printed, off-the-shoulder (a style she favored all week—ick) dress by Rebecca Minkoff.
Photo by Phil Oh  •  Vogue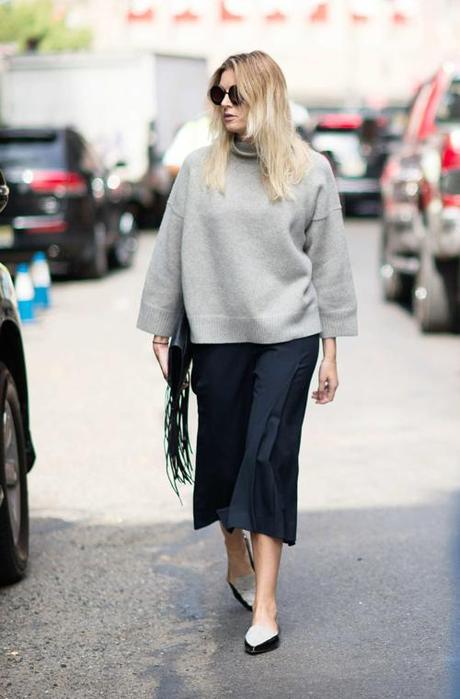 Blogger Camille Charriere of Camille Over the Rainbow wearing a boxy sweater, midi skirt, pointy flats, and fringe-y clultch.
Photo by YoungJun Koo/I'M KOO  •  The Cut/New York Magazine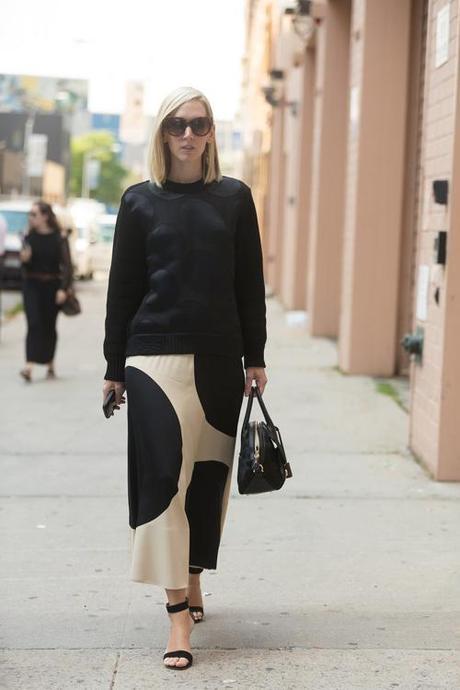 Jane Keltner de Valle, Fashion News Director at Glamour, goes for a full-on sweatshirt over longish skirt with oversize polka dots.
Photo: Getty / Melodie Jeng  •  PopSugar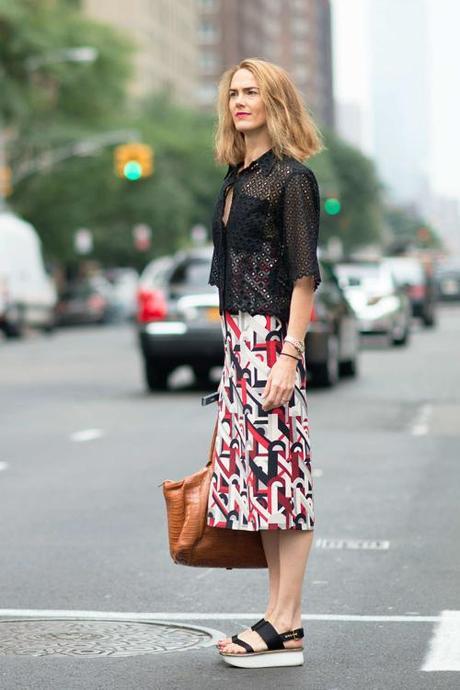 J.J. Martin, Editor-at-Large of Wallpaper Magazine, in flatform sandals and geometric print Prada dress that she apparently wore from morning through evening, a noteworthy feat not often practiced during Fashion Week.
Photo by YoungJun Koo/I'M KOO  •  The Cut/New York Magazine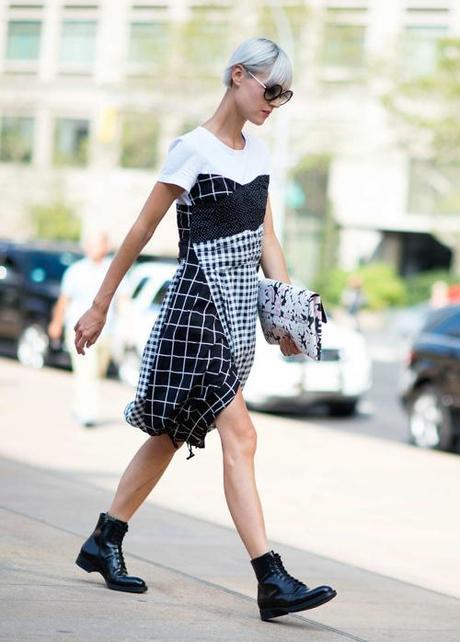 Lina Toll (not sure who she is) sporting the checked trend in a Dondup dress, paired with Prada combat boots and a splatter print (or is that a floral?) clutch.
Photo by YoungJunKoo/I'M KOO  •  The Cut/New York Magazine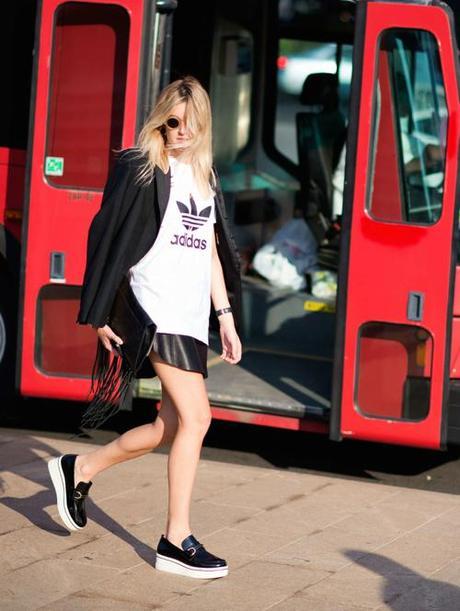 Blogger Camille Charrière of Camille Over the Rainbow in Adidas tee and Stella McCartney flatforms. Love the sporty, edgy leather gym shorts and again, that fringe-trimmed clutch. I wonder if it's the Valentino Zodiac fringe clutch?
Photo by YoungJun Koo/I'M KOO  •  The Cut/New York Magazine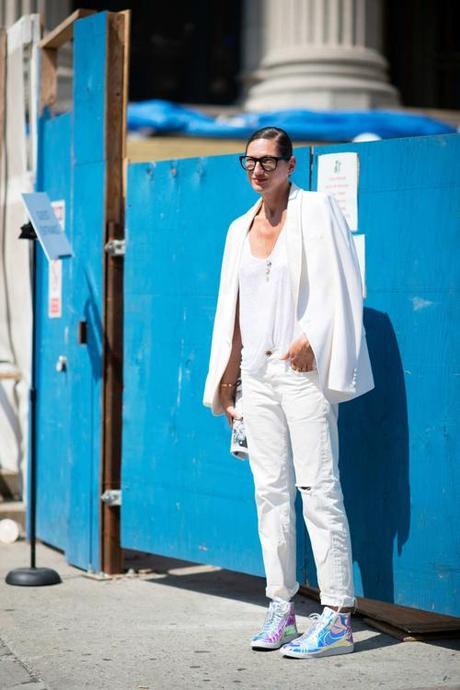 J.Crew creative visionary Jenna Lyons in distressed white khakis (a fashion week trend), white tee, her signature jacket over the shoulders, and pastel iridescent Nike sneakers. Want? You can find a (pricey) pair on eBay here.
Photo by YoungJun Koo/I'M KOO  •  The Cut/New York Magazine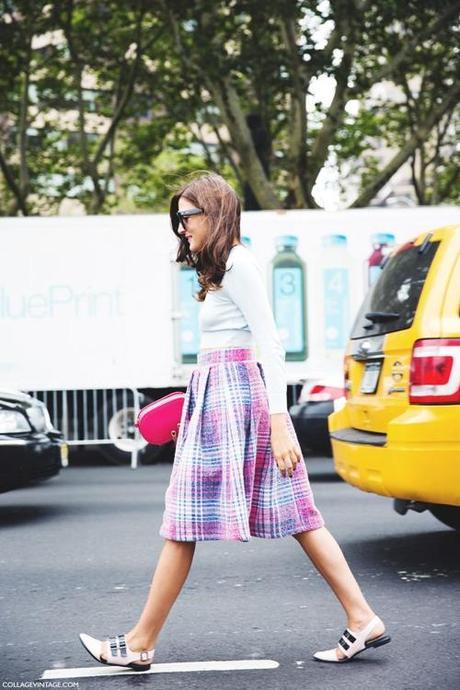 The plaid schoolgirl midi skirt, this time with a tucked in, fitted top instead of a baggy sweater.
CollageVintage.com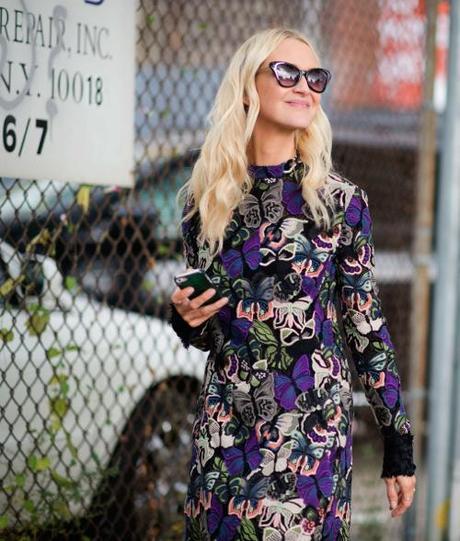 Zanna Roberts Rassi, senior fashion editor of Marie Claire, is wearing this season's butterfly Valentino dress.
Photo by YoungJun Koo/I'M KOO  •  The Cut/New York Magazine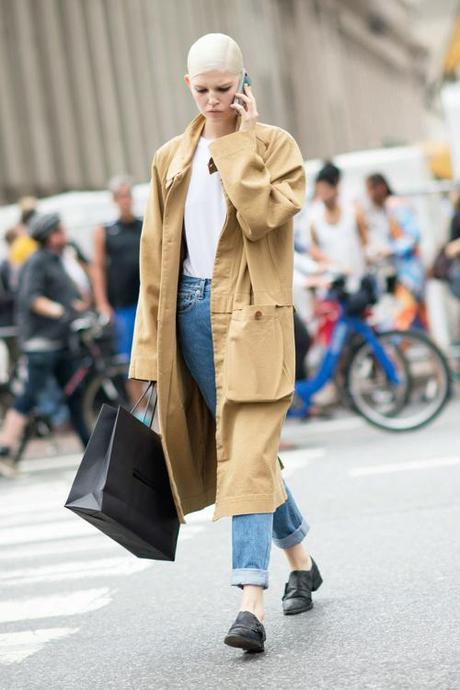 It's normcore all right. Basic blah, but still stylish. Could those medium wash jeans be any more nondescript? Back in February, The Cut described the look like this: "Clad in stonewash jeans, fleece, and comfortable sneakers, [art kids and middle-aged, middle-American tourists]  looked like they might've just stepped off an R-train after shopping in Times Square." Of course, this is a ridiculous trend unless you're an edgy European and/or a model. YOU will look like the frumpy tourist.
Photo by YoungJun Koo/I'M KOO  •  The Cut/New York Magazine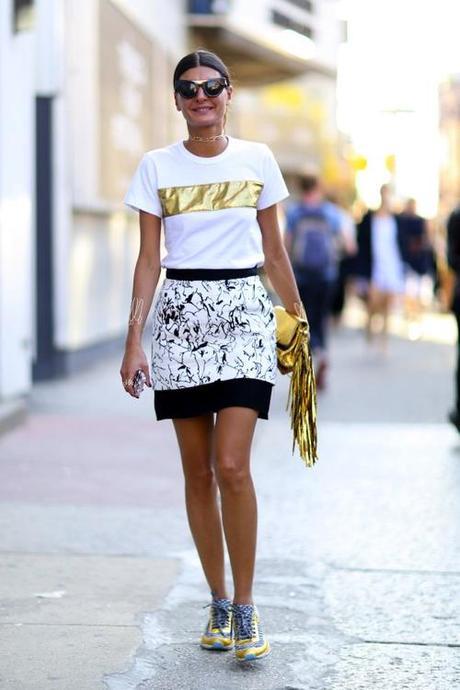 Fashion editor/stylist Giovanna Battaglia wears a splatter print mini with gilded accents, including metallic gold stripe tee, metallic gold sneakers, and metallic gold fringe clutch. (Fringe = trend.)
Photo: IMAXtree •  The Fashion Spot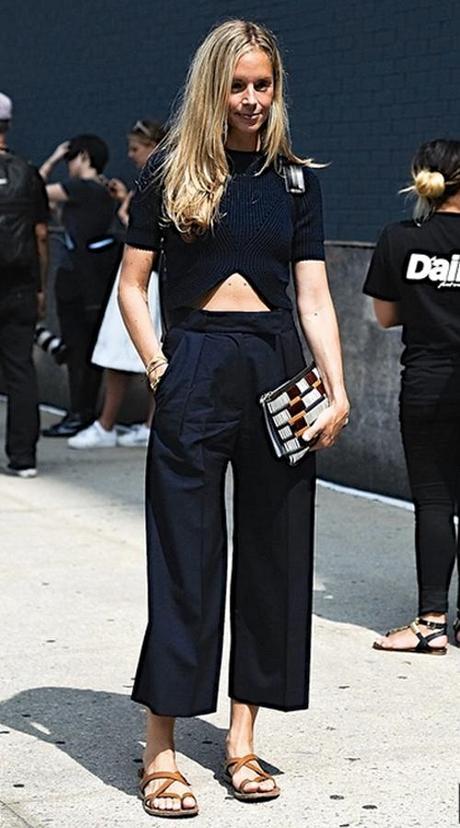 Boston native and former Vogue editor Meredith Melling Burke shows a glimpse of tummy in her crop top. Are wide leg trousers really back in? Some looked like they were wearing gauchos. Oucho.
Photo:  Getty / Daniel Zuchnik  •  FabSugar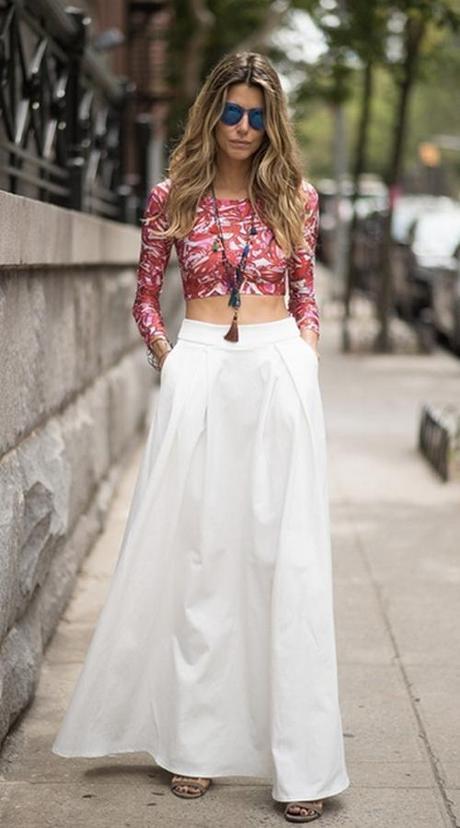 Around In Style fashion blogger Martha Graeff plays with proportions in a long sleeve crop top and ball skirt. I'm not a fan of the crop top, but these ladies are (mostly) pulling it off. You probably shouldn't try it though. I love a ball skirt; try that instead.
Photo: Getty / Timur Emek  •  PopSugar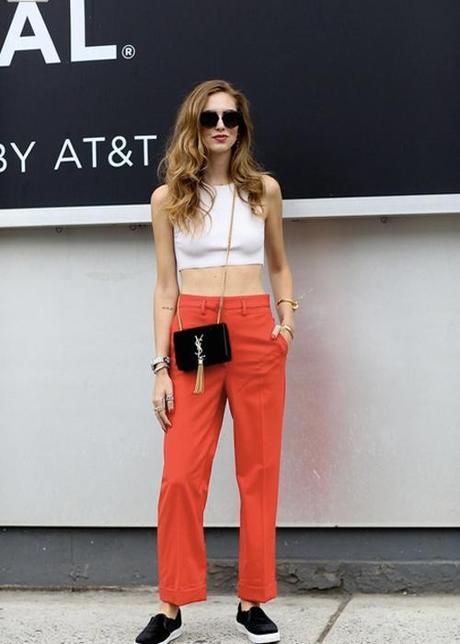 The Blonde Salad blogger and fashion designer Chiara Ferragini in vermillion trousers, crop top, black velvet slip-on sneakers, and YSL Monogram Tassel handbag.
Photo: IMAXTREE / vincenzo grillo  •  PopSugar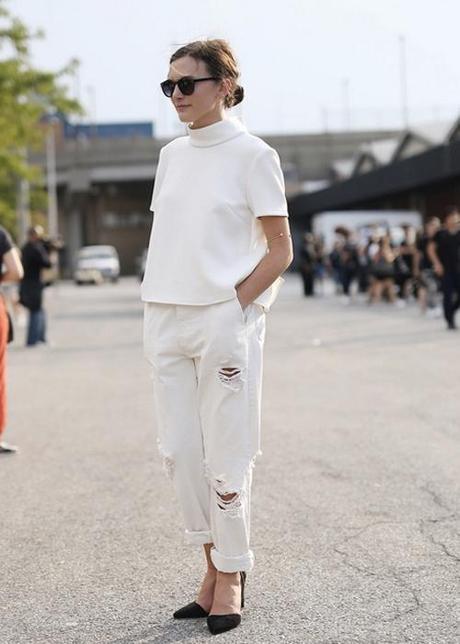 Told you distressed white khakis were a trend. She somehow manages to look elegantly Audrey though, despite the holes.
Phot by Tim Regas / Instagram user wheresmydriver  •  PopSugar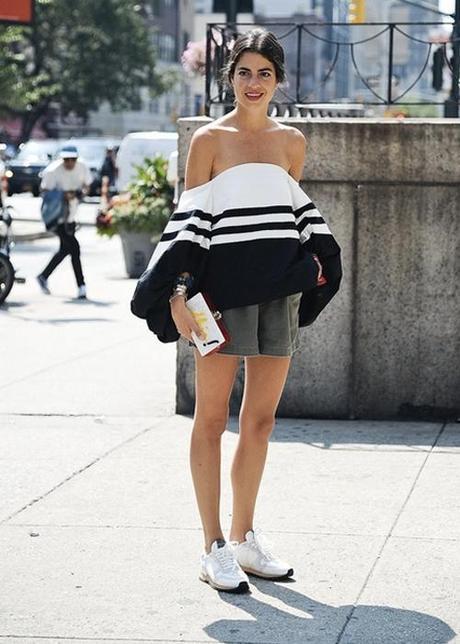 Another voluminous off-the-shoulder concoction, this one worn by the Man Repeller herself, Leandra Medine. Black and white stripedoff-the-shoulder blouse by Rosie Assoulin, casual shorts, white trainers. (I'm English now.)
Photo: Getty / Daniel Zuchnik  •  PopSugar