Playing in an unpopular rock band has a lot of drawbacks that I won't bore you with but there are some nice perks every now and then. Making a profit would be nice but there are more important things than money. Rock Karma is one of them. A month or so ago my band Mighty High played a local show here in Brooklyn. There weren't a lot of people there but everyone was very cool and a few of them brought me some gifts for me to listen to. Someone else gave me a bunch of free weeed, too, but that's another story. Here's what I got in the order they were given to me.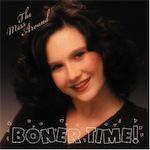 One of the bands on the bill was Brooklyn's The Mess Around, a band that's been around since 2007 but I'd never crossed paths with. They were supporting their new album, the excellently immaturely titled Boner Time! released on Drug Front Records. Live, they kick out a high energy MC5/Radio Birdman blend of rock, punk and soul. The album is no different, just not as loud. The Lazy Cowgirls were one of my favorite bands back in the 1980's and The Mess Around remind me a lot of them. Boner Time! is 13 songs in 35 minutes with a speedy twin axe attack and a lot of power in the rhythm section. Opening instrumental "Ken Shaffords vs. Chris Elliott" is a tribute to a local drunk who's always embarrassing himself. Songs like "Shake It On Down," "The Coldest Month" and "Leave Me Waiting" have a strong 1977 Sire Records influence - Ramones, The Saints, Radio Birdman. Slower ones like "Find Me Gone" and "Trainwreck" have a solid New York Dolls/Heartbreakers feel, maybe even The Runaways. There's even a blistering cover of Radio Birdman's "Burn My Eye" featuring a capable guitar solo from label boss Dean Rispler. The Mess Around are doing a great job of playing as loudly as possible through the small amps that they use. I'd like to see them get some triple stacks and really let loose. Also, maybe Dean can convince them to smoke some dust and listen to Tokyo Tapes by the Scorpions so they don't get stuck in to some kinda garage/punk rut. Boner Time! is available on vinyl and comes with a CD stashed inside.
band website
http://www.facebook.com/TheMessAround
buy from Drug Front Records
http://drugfrontrecords.com/2012/06/16/the-mess-around-boner-time-lpcddigital/?utm_source=rss&utm_medium=rss&utm_campaign=the-mess-around-boner-time-lpcddigital
"Long Way To Go" live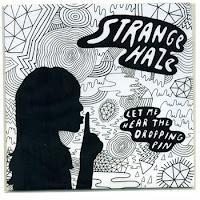 It's always a pleasure to see Michael "Big Sir" Rafalowich and even better when he's paid full price to get into the gig. Michael's the leader of Strange Haze (formerly Whooping Crane) and the biggest James Gang fan in all of Bay Ridge. I'm a big fan of Joe Walsh but Michael is really an expert on them. He also turned me on to a great album by Randy California called Kapt. Kopter & The (Fabulous) Twirly Birds that you need to check out if you don't know it already. Strange Haze put out a 7" single about a year ago that I neglected to pick up and Big Sir laid one on me. "Let Me Hear The Dropping Pin" is a total James Gang groover with a huge, dirty bass line and tasty cowbell licks. Big Sir's fiery Gibson Firebird riffs and fills are a nice match for his laid back Jimidelic vocals. "Test Driver" on the flip side (clocking in at 4:20) is a more psychedelic affair with a nice bump n grind blues jam at the end. Trippy purple wax to stare at, too.
band website
http://www.facebook.com/StrangeHazeSounds
"Let Me Hear The Dropping Pin" live

buy from bandcamp
http://strangehaze.bandcamp.com/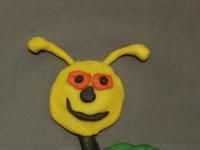 The last gift of the night was DVD from the Stoney Brothers from Coney Island. Their bassist Jim has come to see Mighty High a few times and always let's it all hang out. He's not afraid to light up where he's not supposed to and has been known to throw joints on stage while we play. The Stoney Brothers play funky, bluesy jams singing the praise of maryjane on songs like "My Pot Song" and "The Day I Lost My Pot" and then create bizarre videos to go along with them. These guys have some serious mental problems and that's why I love them.
Band website
https://www.facebook.com/pages/Stoney-Brothers/115572145173967
"My Pot Song"

So there you have it. Like I said, there's no money and very little glory in playing music these days but when you do it for the right reasons Rock Karma will make it all worthwhile.