Trying to motivate and distract myself after a completely unproductive (not to mention disappointing) week. Before fall passes us by, let's look at the pleated skirt trend, which started last year. Accordion pleated skirts work well as maxis and midis (unless you're in you are on the younger side I'd probably skip the pleated mini). The season's pleated maxi and midi skirts are best done in metallics. The main trick is to dress them down. Let's see how the street style stars are wearing them.
Metallic Skirt + Leather Jacket
Pairing pleated metallic skirts with leather jackets (quilted moto jackets look most fresh this season) toughen it up. Add booties, or if you can need to meander cobblestone streets, Gucci loafers.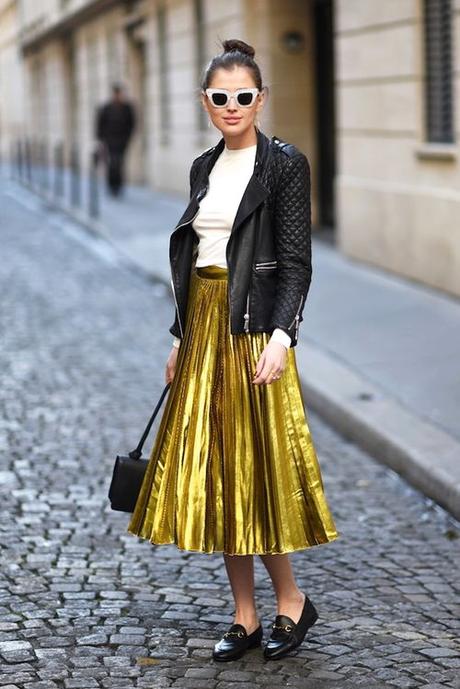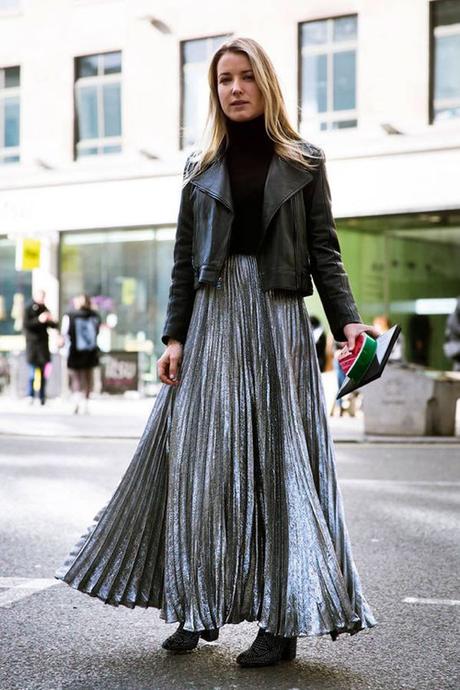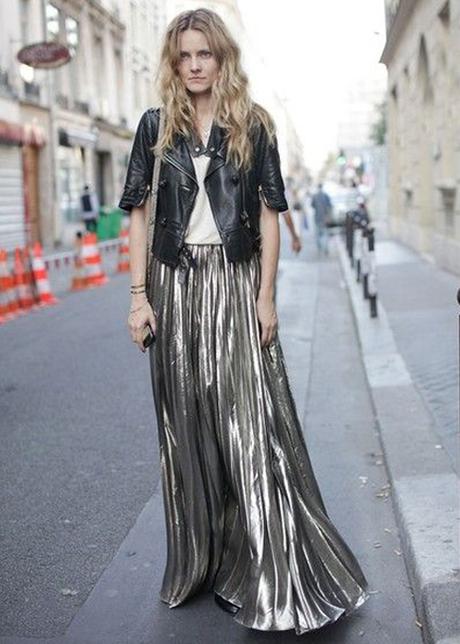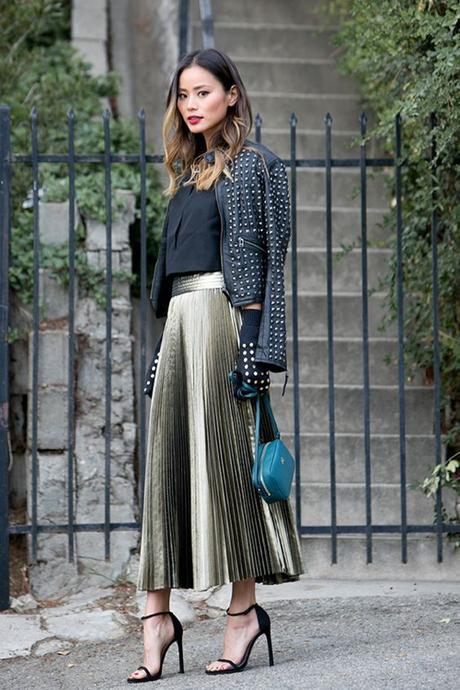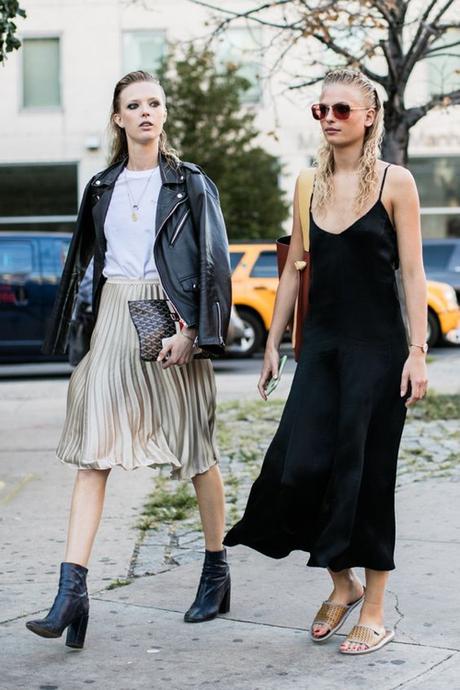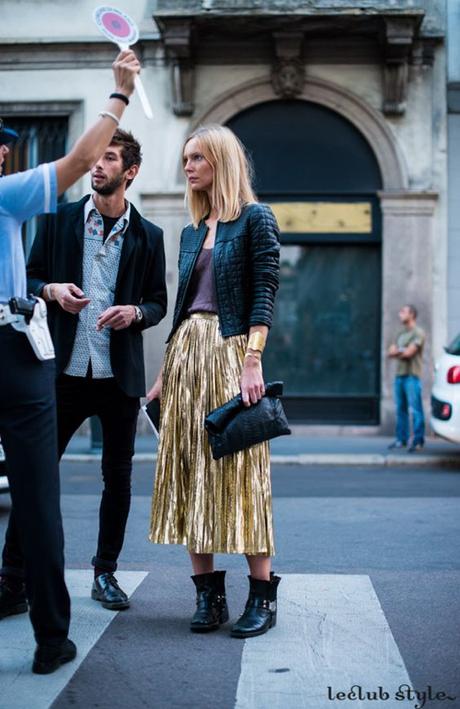 Metallic Skirt + Florals, Stripes, Animal Prints
Maximalists can revel in an anything goes state of mind, pairing metallic pleated skirts with multitude of pattern (embroidered florals are hits this fall), be it on top, bottom, or both. Leave it to Alexa Chung to pull on a preppy multicolor striped sweater with her liquid metal. Leopard print oxfords and a wide belt infuse a sort of vintage schoolgirl flair.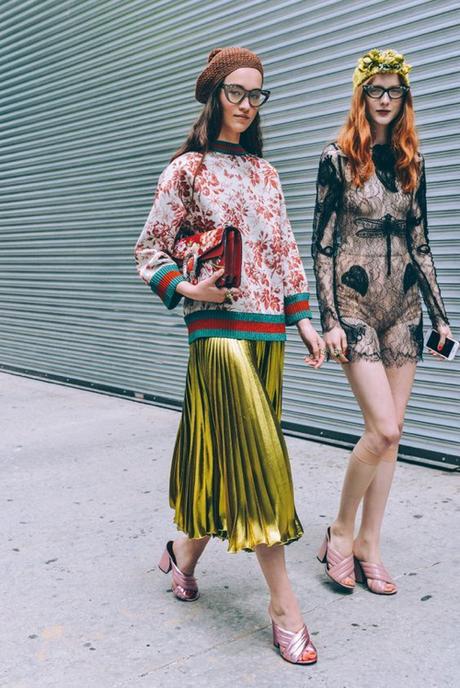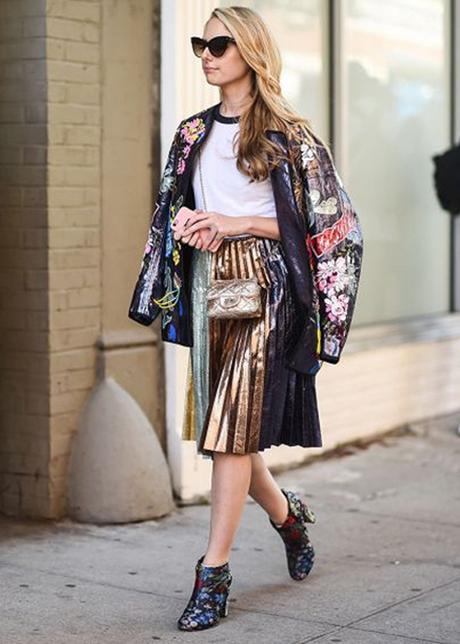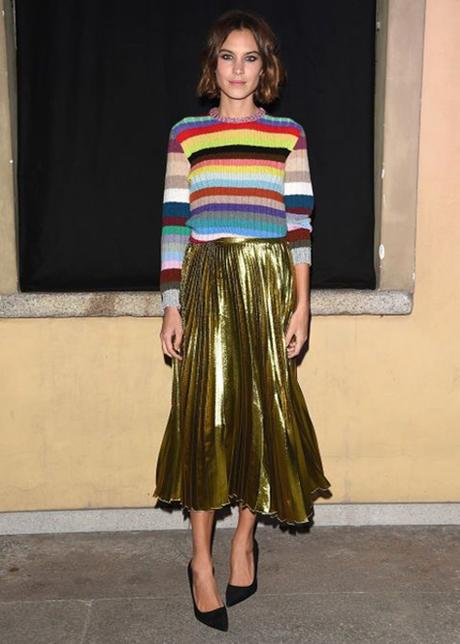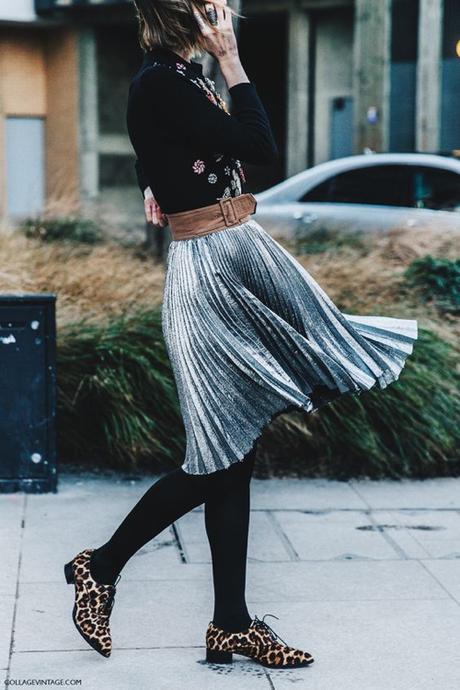 Metallic Skirt + White Sneakers
It's been all about the white sneaker, apparently even through fall. From not quite white canvas Converse  Chuck Taylors to pristine, look-at-me-I-got-new-shoes slip-ons to Adidas Stan Smiths like I had in high school.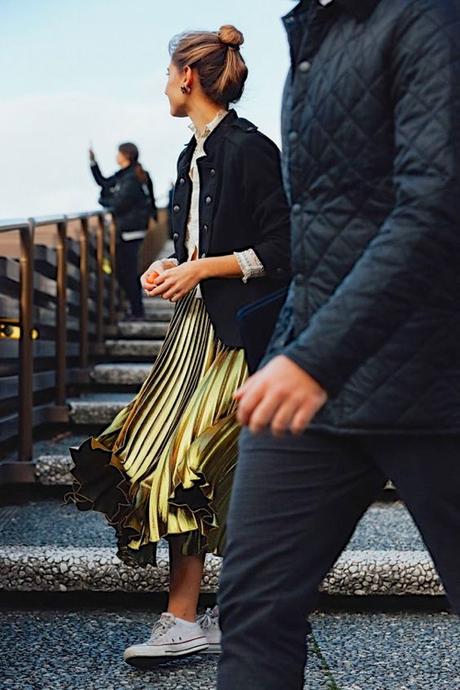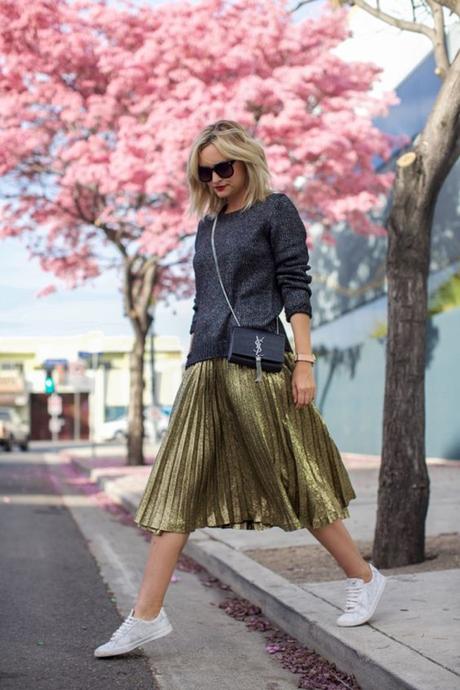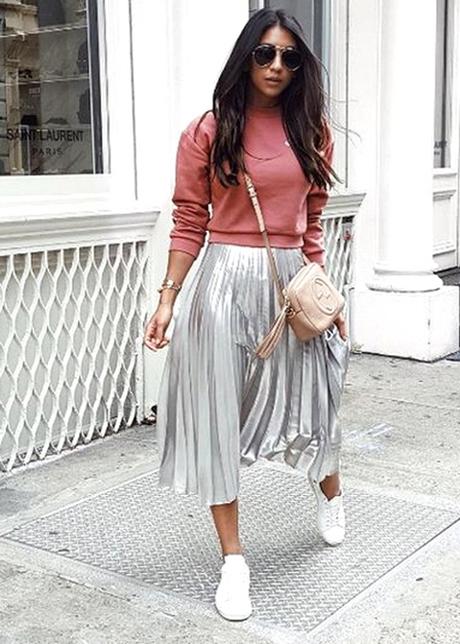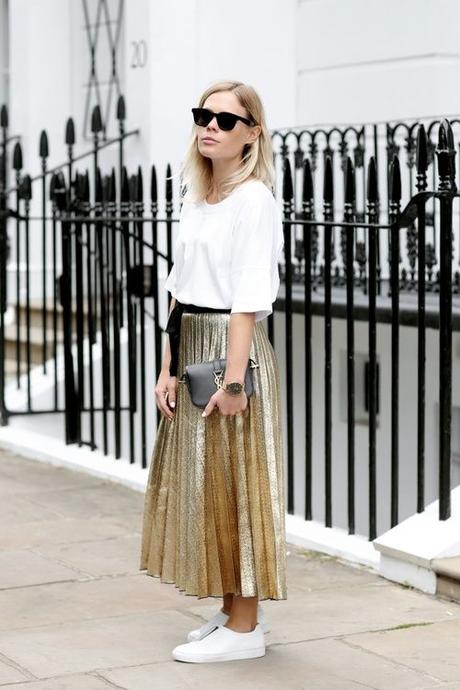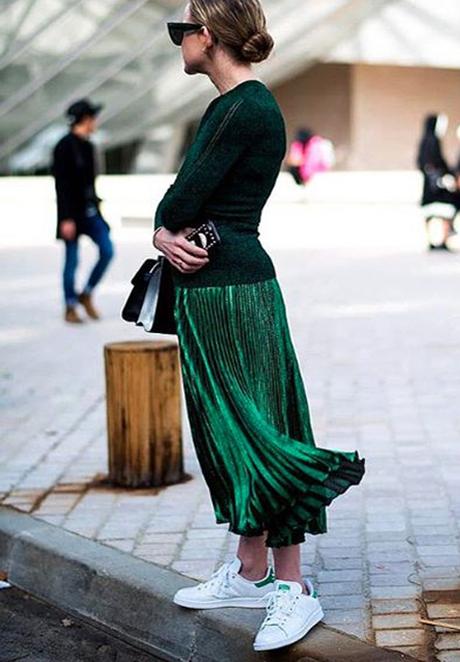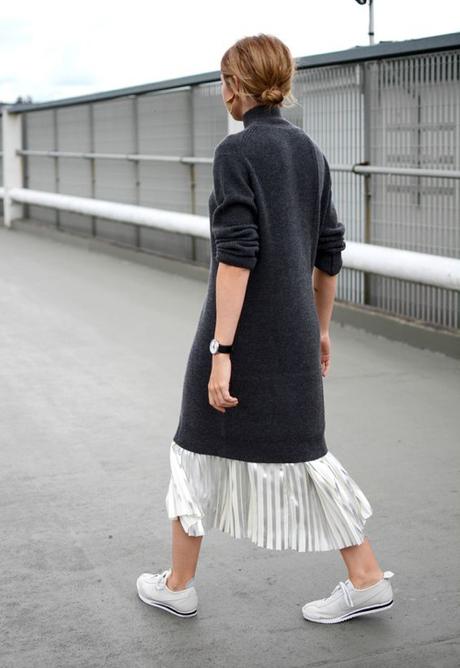 Metallic Skirt + Graphic T-Shirt
While the graphic T-shirt trend has slowed, there's no question it's the perfect antidote to a super shiny metallic pleated maxi skirt.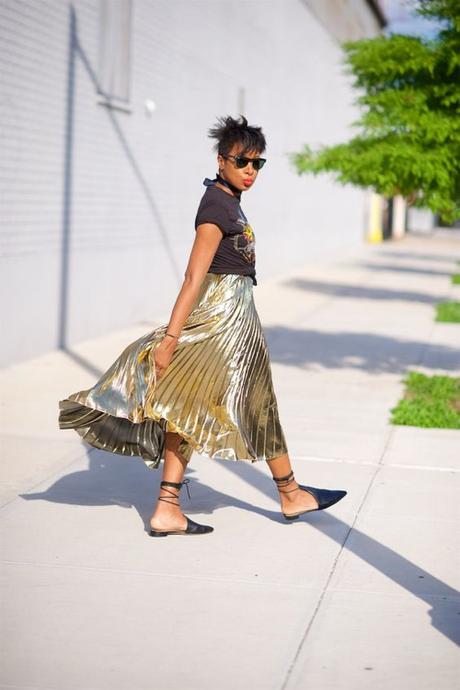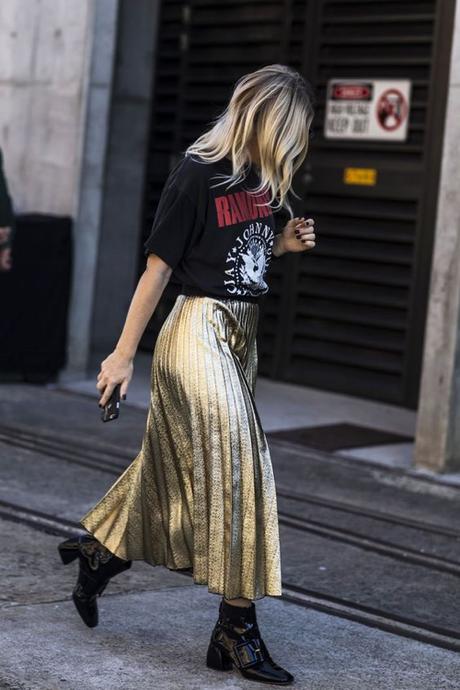 Metallic Skirt + Textural Sweaters
As we move into winter, the season's textural or ruffled knits dress down the bling of a metallic skirt while still offering a look that's absolutely fashion forward.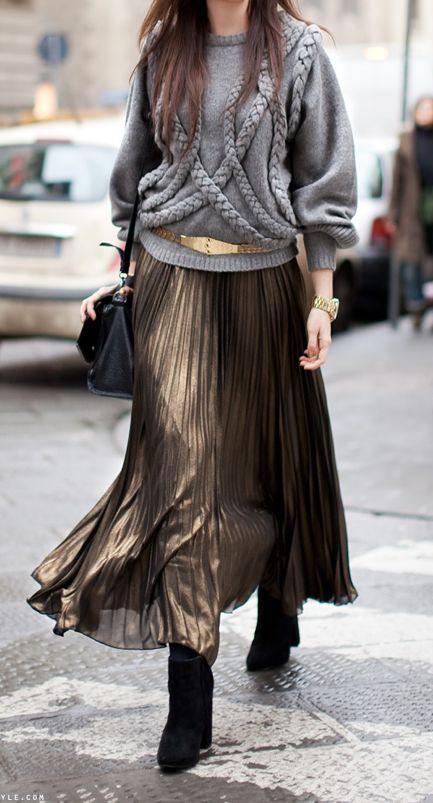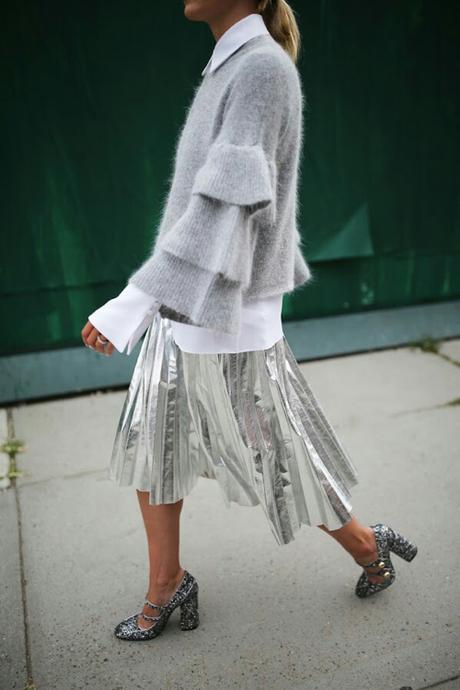 Metallic Skirt + Furry Loafers
When they appeared on runways you wondered wear on earth you'd wear a fur-lined loafer. Now you know. The gold metallic pleated skirt paired with a black turtleneck and Gucci shearling-lined mules is pretty much perfection.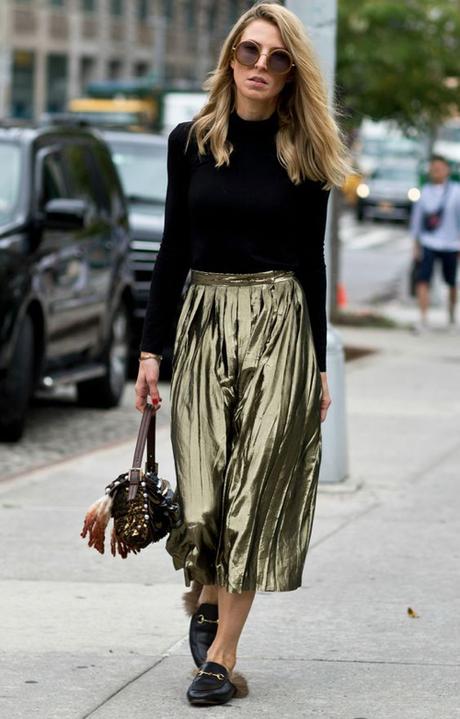 Metallic Skirt + Boots + Sweater
Finally, you can't go wrong pairing your pleated skirt with boots (studded if you're nasty) and a baggy ribbed sweater. An all-purpose day look that's equal parts casual and cool.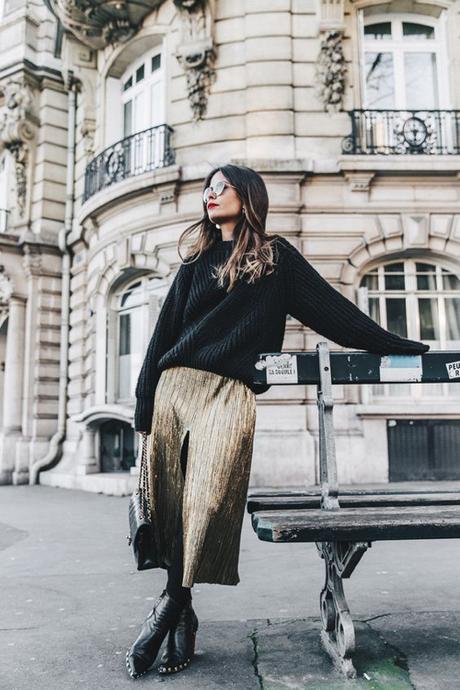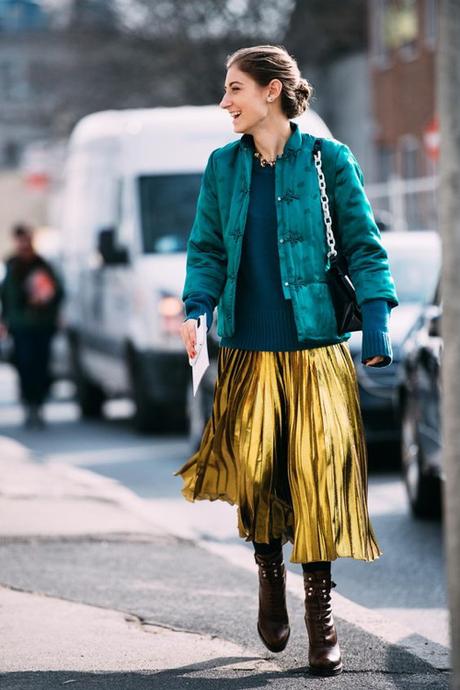 •             •            •
Shop StyleCarrot partners for pleated skirts  >

Turn on your JavaScript to view content