These Strawberry Oatmeal Crumble Bars feature fresh strawberries and an oatmeal crumb crust that doubles as the crumble topping! This quick and easy recipe is gluten-free and vegan.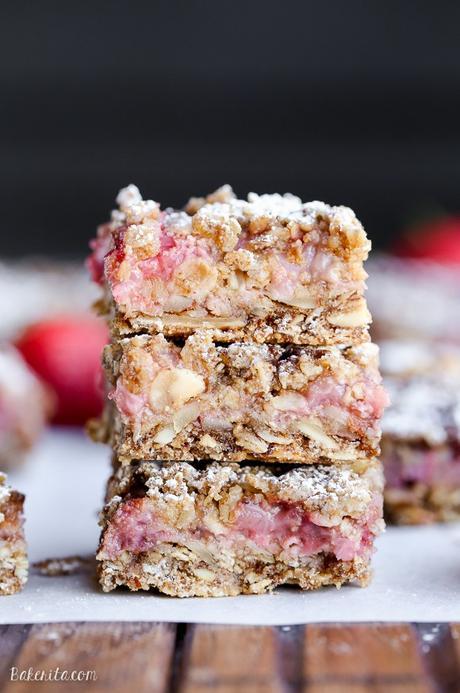 I'm currently standing in my kitchen while the movers move around me, packing up my furniture and moving boxes filled with everything I own. The contents of my life are getting loaded into the moving truck, ready to be driven down to San Diego. It's weird, and sad, and a little bit surreal.
As excited as I am to move back to San Diego, it feels so bizarre to be leaving Washington after having spent the past five years here, and I'm extra sad to be leaving my apartment. I love my kitchen and my shooting area and seeing my photography set-up in boxes makes me nostalgic already. I can't believe another baked good won't be coming out of this kitchen!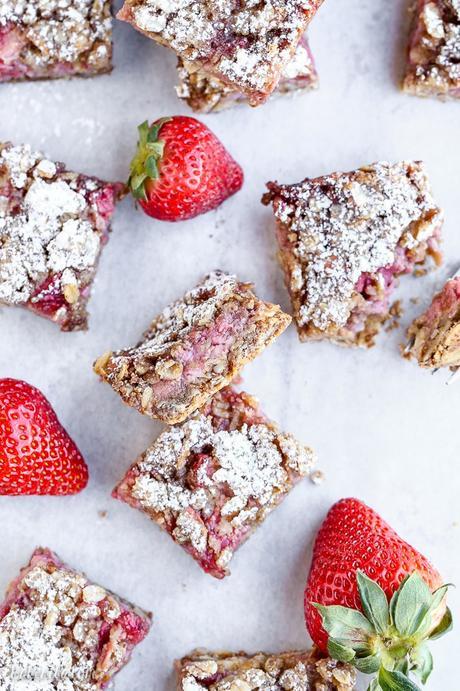 Luckily, I still have plenty of recipes that I've made in the past few weeks in preparation for the move, and I can't 
wait 
to share them all with you in the next few weeks. First up: strawberry oatmeal crumble bars!!
These strawberry oatmeal crumble bars got rave reviews! I used the first-of-the-season farmer's market fresh strawberries, and they were so sweet and juicy on their own, which made these bars that much more phenomenal.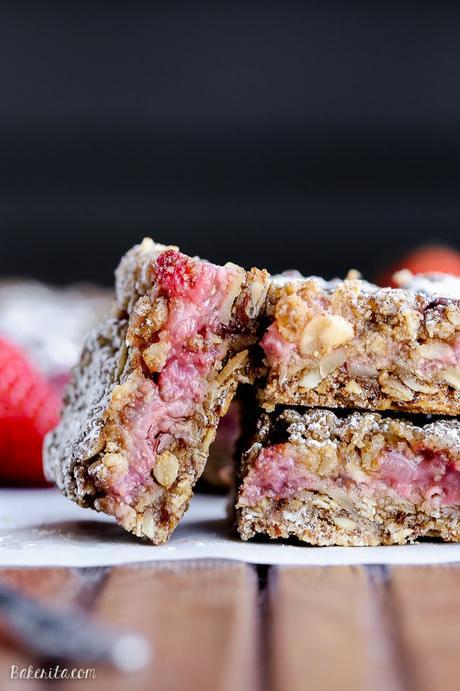 Because 
nobody 
has the time to fuss over making a crust, a filling, 
and 
a crumble topping, this crust recipes doubles as both the crust and the crumble top. It's made with almond flour and oats, which make it super hearty and reminiscent of the 
best 
fruity oatmeal crumbles.
I used T-Sugar's Cassonade Sugar to sweeten the crust and crumble – it's similar to brown sugar, but with a deeper, richer, more caramel-y flavor. You don't need too much – just enough to sweet the crust while still letting the sweetness of the strawberries shine! I tossed some chopped almonds into the crust/crumble mixture as well, to add a bit of extra crunch.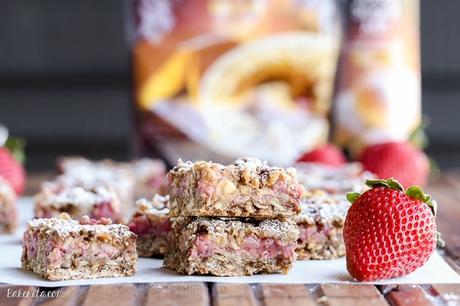 After the bars are assembled and baked, waiting for them to cool is the 
hardest part. 
But unfortunately, it's also essential if you don't want to bars to fall apart – the crust is crumbly when warm, so wait for it to cool and set before slicing into these. If you want to add a bit of extra pizzazz, give a sprinkle of powdered sugar on top! I gave a spin of T-Sugars Powdered Sugar Mill on top of these bars and it was the perfect thing to finish them off.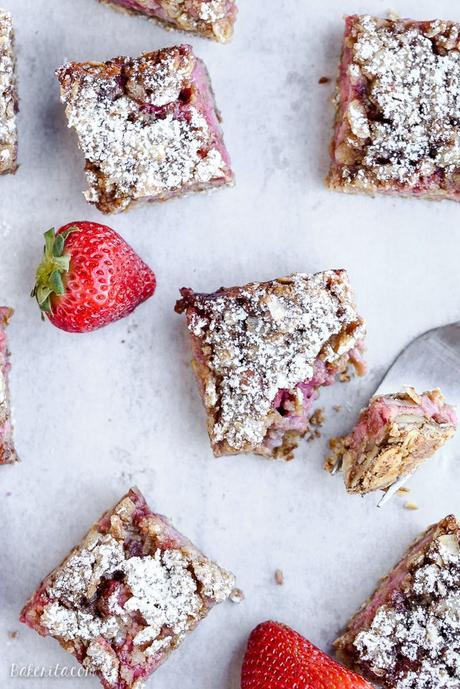 Go get yourself some fresh strawberries and put them to good use in a batch of these bars. They're the perfect way to use the season's most delicious berry :) enjoy!
Facebook | Instagram | Twitter | Pinterest | Snapchat
Remember to #bakerita if you try the recipe!
Strawberry Oatmeal Crumble Bars (Gluten Free + Vegan)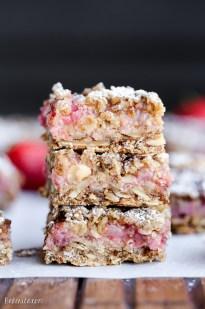 Save
Print
Prep time 10 mins Cook time 40 mins Total time 50 mins   Author:
Rachel Conners
Serves:
16 bars
Ingredients
12 oz. fresh strawberries, quartered
1 teaspoon tapioca starch
1 cup almond flour
½ teaspoon baking soda
¼ teaspoon salt
½ cup coconut oil, solid at room temperature
½ cup T-Sugars Cassonade Sugar
1 cup rolled oats (gluten-free certified if necessary)
½ cup chopped almonds
Directions
Preheat oven to 350°F. Line an 8x8-inch pan with parchment paper or foil and grease lightly.
In a medium bowl, toss together strawberries and tapioca starch. Let stand while you prepare the crust.
In separate bowl, combine the almond flour, baking soda, salt, coconut oil, Cassonade sugar, rolled oats, and chopped almonds. Stir until combined, working the coconut oil in with your fingers if necessary.
Reserve 1 cup of crumb mixture for the topping. Press remaining crumb mixture evenly into the bottom of greased pan. Bake at 350°F for 10 minutes.
Remove partially baked crust from the oven. Evenly distribute strawberries on top. Top with remaining crumb mixture.
Return to oven and bake for another 30 minutes or until bubbling and lightly browned. Let cool completely before cutting into 16 squares.
3.5.3208
This post is sponsored by T-Sugars US. Thanks for supporting the brands that support Bakerita!

There's more where that came from!
Raspberry Chocolate Chunk Bars (GF + Vegan)

Peanut Butter & Jelly Crumb Bars (GF + Vegan)

Blackberry Dulce De Leche Crumb Bars

Caramel Apple Crumb Bars (GF, Refined SF + Vegan)

Pumpkin Cheesecake Crumb Bars

Paleo Cranberry Crumb Bars