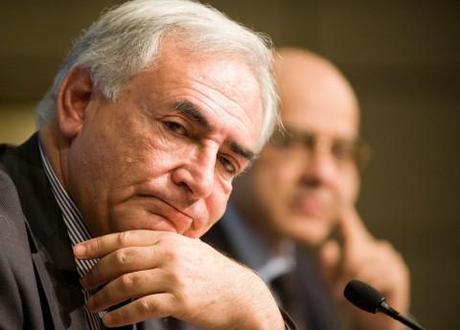 IMF chief Dominque Strauss-Kahn, . Photo Credit: International Monetary Fund
Lawyers for Dominique Strauss-Kahn have reacted with fury to the leak of a medical report on his alleged victim. According to French newspaper L'Express, the report details the first medical examination of Nafissatou Diallo at a New York hospital after the alleged assault, and concludes: "Cause of injuries: assault. Rape." Diallo accused the former head of the International Monetary Fund of sexual assault in May; last month, he was released from house arrest, but remains in New York with his wife. Strauss-Kahn's lawyers described the leaked report as "misleading and deceitful", according to Reuters, because it stemmed entirely from Diallo's account.  Meanwhile, Diallo's lawyer insisted the medical record  disproved the former IMF head's defence that any sexual contact he had with the maid was consensual:  "Forensics don't lie. That's the bottom line," Kenneth Thompson told Reuters.
"The hospital report's conclusion is based almost exclusively on the word of the complaining witness, who has been proven, time and again, not to be credible," said Strauss-Kahn's lawyers in a statement.
Conflict. Jennifer Peltz reported for Associated Press/Time that doctors examining Diallo found "part of her genitals was reddened and she reported shoulder pain". However, in a statement, Strauss Kahn's lawyers dismissed the significance of the medical exam: "The physical descriptions of the complainant in the medical reports are not injuries at all, and are common conditions consistent with many possible causes other than a sexual assault, including consensual sexual activity days before the incident." Writing for Jezebel, Margaret Hartmann contended that Strauss-Kahn's lawyers are hypocrites: "Oddly enough, they weren't complaining when damning information about Diallo was being passed on to the press," she said.
Lawsuits, lawsuits, everywhere. The Atlantic Wire reported that Strauss-Kahn's ex-wife Brigitte Guillemette is threatening to sue Anne Mansouret, who claimed she had "brutal" sex with the former IMF chief and whose daughter has accused him of sexual assault. Meanwhile, Diallo filed a civil lawsuit against Strauss-Kahn last week. The lawyer who represented Bill Clinton against Paula Jones's sexual harassment claim told Time that the timing was unfortunate: "This just confirms the theory of the defense that this is just all about money. What better evidence than the fact that she filed a suit for money?" he said. Over at The Wall Street Journal Law blog, Michael Rothfeld argued that the wording of Diallo's lawsuit is significant, as it contains a request for an injunction "permanently restraining Defendant from engaging in such unlawful conduct". According to Rothfeld, Diallo is "trying to fend off accusations by Mr. Strauss-Kahn's lawyers that she is trying to profit off the incident" by insisting she is as "someone who is representing a cause".
"She never was scheming to take DSK's money, and that's a fact," said Diallo's lawyer Kenneth Thompson.
Defence strategy. Indeed, it seems the money angle will form a key part of Strauss-Kahn's defence. Writing in Newsweek before the medical report surfaced, John Solomon reported that the lawyers are planning to suggest that Diallo made the rape allegations after Strauss-Kahn refused to give her money for oral sex. What's more, Solomon wrote, Strauss-Kahn's lawyers may try to show Diallo is "an 'earner' who tried to pick up cash and gifts to supplement her $40,000 housekeeper's salary, creating a financial motive to interpret some of the evidence in a new light".