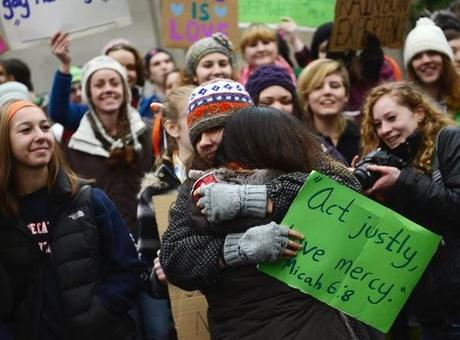 Another-end-of-week retrospective: a number of good articles have appeared this week, reporting on the firing of Mark Zmuda by Eastside Catholic school in Seattle when he married his same-sex partner. In what I just posted re: the emerging meme about the breaking of Francis fever, I noted
Jamie Manson's article yesterday
at
National Catholic Reporter
 discussing the Seattle story. My previous posting focused on Jamie's remarks about Pope Francis and whether he represents an opening to reassessing magisterial teaching about homosexuality.
Jamie's article focuses, as well, on the protest that Eastside Catholic students have mounted regarding Zmuda's firing. As the article notes, Eastside students have issued several statements noting that their protests are grounded in the Catholic social teaching they've learned from Eastside and other Catholic institutions. Jamie cites
a statement the student protesters issued
a few days ago:
[T]he continued mistreatment of the gay community within the Catholic Church is unbecoming of the Gospel message we are all called to recognize. We will continue to write letters, lobby Church officials, and use any other means at our disposal to respectfully work toward our ultimate goal of changing the discriminatory attitudes regarding homosexuality in the Church.
Brian Roewe also reported yesterday for
NCR
 about the student protests. As he notes, the students' statement also reads,
The Gospel compels us to demonstrate compassion and love in all our actions, and Mark Zmuda has always done just that. It is a shame then, that the school, in conjunction with the Archdiocese of Seattle, has chosen to conduct itself in such a manner that contradicts the message of social justice that we as Catholics are all called to uphold.
The students are also calling for future employee reviews to consider specifically how an Eastside employee embodies Catholic
social
 teaching--and not merely Catholic teaching about sexual ethical issues.
According to Mary Elizabeth Williams at Salon
, the student protests and national outcry about Zmuda's firing now appear to have had the following effect: though teacher Stephanie Morrow has just announced that she became engaged to her same-sex partner over the holiday break, Eastside officials have told her she may keep her job. As Williams concludes, "In the few weeks since Zmuda left Eastside, what started as yet another absurd incident of a Catholic institution imposing its backward policies has become an opportunity for a school community to articulate what its priorities are – and how it defines its own moral code."
The photograph of Eastside students protesting Mark Zmuda's firing is by Lindsey Wasson of
Seattle Times
.