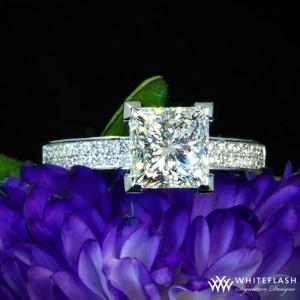 When you've invested in beautiful diamond jewelry, you will want to take the few steps needed to keep your diamond rings, necklaces, and earrings as beautiful as the day you took them home. Luckily, you don't need expensive cleaners, complicated storage routines, or constant professional services to keep your diamonds sparkling. Much tarnishing and scratching of jewelry is caused by improper storage—just a few simple storage tips will help keep your diamonds, gemstones and pearls beautiful for years.
We all know that diamonds are the hardest naturally-occurring substance. But what many diamond owners don't realize is that diamonds can scratch almost anything in your jewelry box, from gold to rubies. To prevent damage to your more fragile jewelry items, store diamonds in individual containers. You can use jewelry boxes for convenience, or individual silk pouches for travel. Pearls also need to be stored separately, to prevent scratching their delicate surfaces. You can simply wrap pearl necklaces and earrings in swatches of velvet, cotton, or felt, or store them in small pouches as well.
Jewelry can be washed in a mild sudsy solution. You can use a specially marked jewelry cleanser or a mild laundry detergent—stay away from harsh or abrasive solutions. Dish soap or antibacterial soaps can cause build-up and make diamonds lose their natural luster. Dilute the soap in warm water and soak jewelry for an hour to remove built-up grime or dirt. Remove, and then pat dry with a microfiber towel or another absorbent fabric. If jewelry is only somewhat dirty, running under warm water may be enough to loosen the dirt or stuck particles. Use a soft toothbrush, an eyebrow brush, or another soft-bristled brush to loosen anything that is stuck under the setting.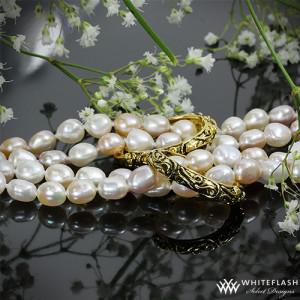 If the diamond is covered with greasy residue, running it under warm water may not be enough. Rubbing alcohol can be used to clean loose diamonds, but is not recommended for jewelry because not all gemstones and metals will respond well to the harshness of alcohol. Similarly, many commercial cleaners and ultrasonic cleaners are too harsh for more delicate or softer stones, such as emerald, topaz or opal. If you do use an ultrasonic cleaner for diamonds, do not let it soak for more than five minutes.
No matter how careful you are, damage can happen even to the finest jewelry. Examine your diamond jewelry regularly to catch loose stones before they fall out. If you spot a loose stone, take the piece to a jeweler to have the setting reinforced. Take pearls to a jeweler as soon as the string starts to fray. With a little attention, and a little care, your pearls and diamonds will be beautiful for years and years to come.
Whiteflash – best provider of wedding rings, certified loose diamonds and other diamond jewelry!