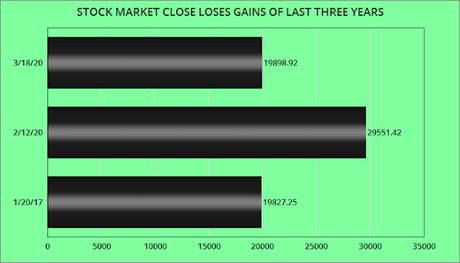 Donald Trump loves to brag about the stock market. To him, it shows what a good job he has done with the economy. But he's going to have to find something else to brag about.
The day before Trump was sworn in, the stock market closes at 19,827.25. By February 12 of this year, the stock market had climbed to a record high of 29,551.42. Yesterday, the market closed at 19,898.92 -- only about 71 points over what it was on the last day of the Obama presidency.
That means the market has lost all of the gains in the last three years -- and it happened in slightly over one month.
Trump won't claim responsibility. He doesn't believe he is responsible for anything bad that happens. But he is responsible -- at least partially. The market may well have dropped because of the economic hit of the Coronavirus epidemic, but if the epidemic had been handled competently and quickly by Trump, the drop wouldn't have been nearly as bad.
And we probably still haven't seen the bottom of the current bear market. That's because Trump still isn't displaying the leadership investors (and all Americans) expect of a president. Chaos still reigns in the Trump administration, and no one can be sure they understand what is needed to stop the epidemic and stabilize the economy.