Once upon a time, Hollywood decided to adapt a book from my favorite series into a big budget movie.  All signs pointed to said movie being a complete and utter disaster. From casting announcements, to rumored story changes, it would have been easy to write the movie off before seeing it. But, throughout the production of the film and up to the release, I kept a 'cup half full' mentality on the whole thing. I didn't want to color the film with negativity before seeing it– that would be unfair to the actors and crew people behind the film.  In the end, the film did suck, but I'm happy I went into it with an open mind.
Why am I writing about this? Well, USA Today recently released photos from the new Jem and the Holograms movie!  I've seen a lot of 'cup half empty' responses to this film.  But, I implore you, don't judge this until you see it.  A lot of people put their heart and soul into making this movie, so, for their sakes, keep an open mind.
Let's be honest, even though we love the source material as is, it needed an update to relate to the children of today.  I've tried to sit my cousins down in front of Jem before and, let's just say, they were not impressed. For this re-boot to work, changes needed to happen.  For me, as long as they keep the messages and themes alive in this new Jem movie, I'm fine with a little re-writing.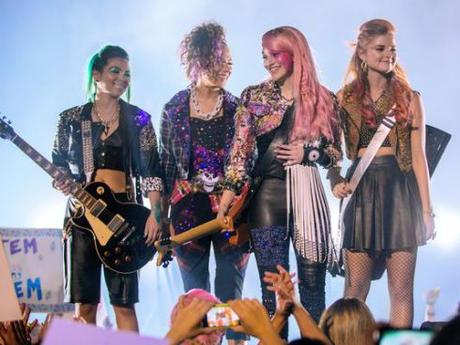 Universal Pictures, Jem and the Holograms, borrowed from USA Today article
Not only are their photos, but the USA Today article also tells us some juicy tidbits about the film.  Directed by Jon M. Chu, the film stars Aubrey Peeples (Jem/Jerrica), Stefanie Scott (Kimber), Hayley Kiyoko (Aja), and Aurora Perrineau (Shana). Until now, no one was really sure who Juliette Lewis was playing. Turns out, she'll be playing Erica Raymond (a female Eric Raymond). Molly Ringwald (Breakfast Club, anyone?) will be playing the four girls guardian. Ryan Guzman (Pretty Little Liars) plays Rio.  No word yet, that I've seen, on Synergy.  It would be a shame if she wasn't part of the movie concept, but then again, cup half full.
The story seems to be taking the same route, or a similar route, to the comic book, giving Jerrica a case of stage fright when it comes to performing, even though she's amazingly talented.  I like this concept, because right off the bat you know this movie will be promoting self-confidence in this crazy, social media crazed world.  For more information and photos, check out the USA Today article.  Universal's Jem and the Holograms is set to hit US theaters October 23rd, 2015.
(And in case anyone is wondering, the movie I referenced in the first paragraph is The Seeker, adapted from The Dark is Rising by Susan Cooper.  So many things went wrong, including the script writer essentially saying there was nothing he could salvage from the original story that would work for today's youth. Don't take an adaptation job if you don't see anything in the source material that's calling out to you, dude.  Just saying.)
May 12, 2015. Tags: hasbro, jem and the holograms, movie tie in. Articles and Doll Histories, Uncategorized.