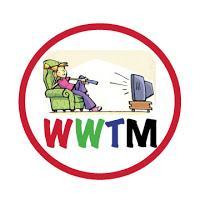 The answer to Thursday's Trivia Question: Even when Brandon was sleeping with Lucinda...I loved him! 
FIRST FIVES:  Tara Dowling, Candace Gorin, Andrea Walters, Monica Caraffa & David Gorin (You can see why the Gorin's got married!!!) Honorable Mention: James Gabriele Wednesday's Broadcast Top 5
American Idol-FOX 4.6/14.1
Modern Family-ABC 3.8/10.1
Criminal Minds-CBS 2.7/11.8
CSI-CBS 2.4/10.9
The Middle-ABC 2.3/8.4
Wednesday's Broadcast Trendrr Top 5 American Idol-FOX 220,217
Law & Order SVU-NBC 21,621
Modern Family-ABC 51,586
Criminal Minds-CBS 47,238
Arrow-CW 42,328
Wednesday's Cable Top 5
The Big Bang Theory-TBS 1.5/3.5
Moonshiners-Discovery 1.1/2.4
Workaholics-Comedy Central 1.0/1.5
American Dad-Adult Swim .9/
2.2
The Americans-FX .8/1.9
Wednesday's Cable Trendrr Top 5
Workaholics-Comedy Central 115,952
NBA Basketball-ESPN 82,464
Washington Heights-MTV 31,916
The Americans-FX 17,935
Piers Morgan-CNN 17,930
Late Night Ratings for the week of 
Leno .9/3.7
The Daily Show .8/1.8
Kimmel .7/2.5 Letterman .7/3.1  Colbert .7/1.4 Fallon .5/1.8 Conan .4/.8 Nightline .4/1.5 Ferguson .4/1.4 Carson.3/1.0
Early Morning Ratings for the week of 1/21/13-1/25/13
GMA-1.8/2.0
Today Show-1.8/2.0
CBS This Morning-.9/1.0 (This number's growing people!)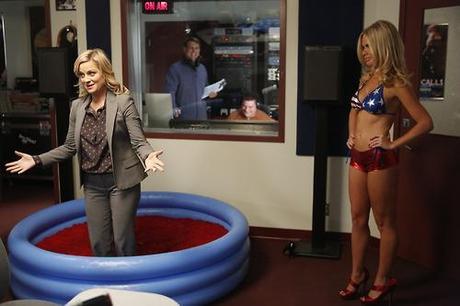 I never understood when Jane Lynch married herself on Glee, so not sure I quite got Ann Perkins dating herself on
Parks & Rec
last night.  Now Ann wants to be a Mom so she and Leslie interviewed sperm candidates for the job. One of the candidates was a Howard Stern radio guy named Howard Tuttleman.  He and his team were able to get Leslie Knope into a pool of Jello and they even used the word farcicle in this episode.  If you are a true Howard fan, you remember Al Michaels using that word, why he used it and when he used it. (Bonus Trivia Question Alert) Ron, Chris and Ben had food poisoning after tasting wedding food, but since Tom didn't eat the food and only posted pics of it to Instagram, he was fine. Check out his photos here: http://www.nbc.com/parks-and-recreation/photos/tom-haverford-food-instagrammer/12636/#item=277103 April had to wear Leslie's clothes and give a Pawnee Commons presentation.  When April was trying to imitate Leslie, hilarious but when April was being April, better. Another great episode guys, you better all be on this bandwagon.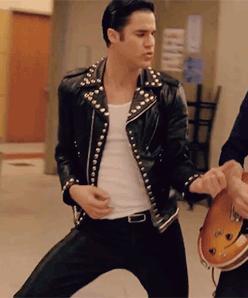 Last night was Diva night on
Glee.
 I had a bit of a challenge once again trying to explain to my 11 year old that the actor who plays Unique is a guy who dresses like a girl, but he is playing a guy who dresses like a girl.  We never really got to why he/she does this, but I think maybe he got it this time.  Maybe.  If you ask me, everyone on Glee could be identified as a Diva at some point, but of course Rachel Berry comes to mind first. Kurt let her have it this week and called her out on her diva like behavior so they had to have a sing off at midnight for some reason.  They sang a song from Les Miserables. Kurt won, Rachel was pissed, but at least it brought her back down to earth. Santana was back again, but Britney sent her on her way and where'd she go...the only place you can go...to Rachel and Kurts loft in NYC, and she seemed to be able to get from Lima OH to Brooklyn in one song and via one subway.  Hey...it worked for me.  Finn kissed Emma which honestly shocked me.  Best song of the night, Blaine's performance of Freddie Mercury (and Queen's) "Don't Stop Me Now".  I had to go to YouTube and check out the original. Blaine was great don't get me wrong, but hey...Freddie was the original Diva! 
http://www.youtube.com/watch?v=HgzGwKwLmgM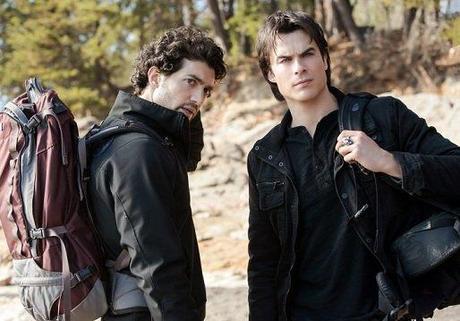 I gotta admit, last nights Vampire Diaries was scary. I don't love kids running through the woods at night with Vampire Hunters shooting at them and all sorts of traps that can kill or capture them. I like everyone home in Mystic Falls preparing for a party.  There wasn't any party this week.  Half the gang was supposedly off the cost of Nova Scotia looking for Silas, Shane's wife, and the cure for Vampirism.  The good news was that the map with the clues on it was only available on Jeremy's naked chest.  Fine by me Julie Plec! Back at home, Klaus was still trapped in the Gilbert's house thanks to Bonnie's spell and Tyler and Caroline were keeping an eye on him until he figured out that he could attack Caroline which almost killed her, but of course since Klaus has a thing for Caroline, he couldn't let her die. Big question of the night...to take the cure or not to take the cure.  Elena wants Damon to take it, grow old with her etc. Damon's not into that scene at all, he likes who he is and doesn't really believe that Elena will still love him if she takes the cure.  Of course at the end of this episode, Bonnie, Shane, Jeremy and the tombstone have all gone missing from the group and we are left with Stefan, Caroline and Elena.  I hated Lord of the Rings and if this quest for the cure it going to be long and draw out just like the quest for the ring, I'm going to be pissed.  I can't wait til the season finale to find out there is or isn't a cure. I'll go mental. 
NEWS & INFORMATION:
-As much as I love Survivor and can't wait for its return next week, I was happy to hear that the producers have cut the premiere down from 2 hours to 90 minutes.  I hope all of the producers out there know that the audience really needs to stick to the 1 hour formats.  We all get a little antsy and can't commit to 2 hours at least not live, no way.  So thanks Jeff Probst, I appreciate the effort here.
-Another weekend, another awards show and of course I can't wait to break out the bullet points and get started.  CBS and The Grammy's are so nervous about wardrobe malfunctions that they published Grammy guidelines for the talent.  This section had me laughing out loud.  Hope it doesn't offend anyone: 
"Please be sure that buttocks and female breasts are adequately covered. Thong type costumes are problematic. Please avoid exposing bare fleshy under curves of the buttocks and buttock crack. Bare sides or under curvature of the breasts is also problematic. Please avoid sheer see-through clothing that could possibly expose female breast nipples. Please be sure the genital region is adequately covered so that there is no visible 'puffy' bare skin exposure."
-Also, for all you Grammy people, there will be tons of cross platform, cross network coverage of the red carpet and the show.  Live streaming will be available  from 6-8pm on :
MTV.com, VH1.com, CMT.com, NewNowNext.com, and Ustream, as well as the MTV News mobile app. The live-stream will expand to on-air coverage on MTV every 30 minutes until show time.
-Some smartphone info out yesterday: 
125.9 million people in the US owned smartphones during the last 3 months of 2012

 Android was powering 53.4% of smartphones in the US during that time period (+ 0.9) 

 Apple's iOS accounted for 36.3% of the market.

 Microsoft smartphones accounted for 2.9% of the market in the last 3 months of 2012

BlackBerry smartphones accounted for 6.4%. Both companies saw their shares drop (two percentage-points for Microsoft; 0.7 percentage-points for BlackBerry) in that time period.
-Congratulations to Robin Roberts who announced her return to Good Morning America yesterday.  She will have to start setting that alarm clock on February 20th but I'm betting she will wake up on her own that day.  I know I'm happy she'll be back!
Friday's Trivia Question: Okay, I have another Howard Stern Trivia Question...On what award show did Howard dress up as Fartman and present an award?  Who was his co-presenter?

Have a great weekend!
WWTM-Kristy
http://watchingwaytoomuch.com
[email protected]
[email protected]