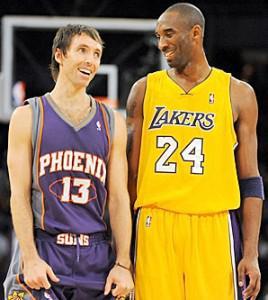 Photo: Harry How - Getty Images
- Adam Parker
Is it just me, or did every Phoenix Suns fan wake up this morning feeling like they got trampled by a 4,000 lb. rhinoceros?
As a Suns and Steve Nash fan, my worst nightmare (or at least close to it) has come to pass.
Pigs have taken flight. The sun rose in the west and set in the east. Hell has frozen over. Steve Nash is now a member of the hated rival Los Angeles Lakers.
I know, it's tough to take.
I'll be honest, when I first saw the announcement, my initial thought was to head to the nearest restroom and throw up.
Talk about disgusting. Nash in a Lakers jersey!? Really?! Ugh...the only thing that would have been worse would have been if Steve spent the final three years of his career in San Antonio alongside Tim Duncan, Tony Parker and Manu Ginobili. So at least in that regard, the basketball gods showed us Suns fans a tiny sliver of mercy.
However, just because it was the second-to-worst outcome, doesn't leave any sort of silver lining if you're a Suns fan.
But then I thought about it some more. I mean, like it or not, we've got to face the facts. Nash was on his way out whether we liked it or not and though trading him to a hated division rival like the Lakers isn't exactly the "sunshine and rainbows" scenario the Suns were looking for, at least they didn't leave the table empty-handed.
In return for sending Nash to L.A. via a sign-and-trade that will land Nash with a championship contender while also making him $27 million richer over the next three years, the Suns received four draft picks -- first rounders in 2013 and 2015 and second rounders in 2013 and 2014.
Considering the alternative that Nash could have left the Suns high and dry by heading to Toronto as an unrestricted free agent, this is probably the best case scenario. The only better scenario in my mind for Phoenix was if Nash ended up with the Knicks which would have likely resulted in the acquisition of promising young guard Iman Shumpert in a sign-and-trade.
Unfortunately, that didn't happen. I feel your pain, fellow Suns fans. But all is not lost.
This creates even more cap space for Phoenix, which they will hopefully continue to build upon by amnestying the useless Josh Childress and rescinding their qualifying offer to Aaron Brooks.
I also love the additions of Michael Beasley (three-year, $18 million deal) and former Sun and Nash heir apparent Goran Dragic "The Dragon" with a four-year, $30 million deal that could be worth up to $34 million because of a $1 million annual incentive for every year he makes the All-Star team.
The Suns will find out July 11 -- which is the first day free agents can officially sign their contracts -- whether or not restricted free agent guard Eric Gordon will be joining the new-look squad. Gordon, who said in a statement after leaving his free agent visit to the Valley said 'his heart is in Phoenix' (as well as his younger brother Evan, or, at least he's in Arizona playing basketball for the Sun Devils). The question remains however, of whether or not the Hornets are prepared to part with who they thought would be a pivotal piece of their own rebuilding process going forward.
All signs at this juncture point to new Hornets owner Tom Benson matching the Suns' max offer sheet of four years and $58 million, meaning Gordon would have to remain in the Big Easy whether he likes it or not. However, Gordon might complain to the point that the Hornets may try to facilitate a sign-and-trade with Phoenix for Gordon, as NOLA is said to be interested in Robin Lopez and new Suns rookie point guard Kendall Marshall. There's also a rumor swirling that this deal doesn't get done without the inclusion of Marcin Gortat.
I don't know about everyone else, but I say let New Orleans keep Gordon if we have to give up either Gortat or Marshall. I understand the Hornets' position, but it doesn't mean that I have to like it.
All in all, I like the approach the Suns' Front Office took. They got something out of what could have been nothing, and have thus far spent the cap room wisely unlike that disastrous summer of 2010 when Amare Stoudemire bolted for the Knicks. The approval rating of the Suns' front office amongst the fanbase has been astronomically low these past two seasons, so kudos to them for actually getting things right thus far this off-season.
But back to Nash.
The guy is a class act who gave the Suns a decade of his 16-year career thus far (if you count his first two seasons in the league when he was drafted by Phoenix back in 1996). He gave it his all, and though it resulted in some unforgettable memories (and back-to-back league MVPs), it didn't result in what Nash desires above all else -- a championship.
The feedback I've seen on this move around the internet has been mixed at best. Many Suns fans (who are likely wearing their emotions on their sleeves) are distraught at the thought of Nash in a Lakers jersey, going so far as to call it a 'betrayal'. However, there were some who looked at the move from more of a business standpoint, and chose to congratulate Nash on the opportunity, thank him for the memories and wish him well as he continues his quest for that elusive championship he so desperately desires.
I personally am mostly okay with Nash going to Kobe Land. Does it sting? Absolutely. But Nash gave us everything he could over these last eight years, and to be honest, there's no one in my mind who is more deserving of a championship. The guy is a class act and one of the few truly great 'guys' in the Association.
Everybody loves him (including the countless players who he's helped turn into millionaires), and it's not hard to see why.
As for the responses from the Lakers' fans, the majority of them that I read were absolutely thrilled with the move. Despite their occasional arrogance, it was nice to see that they at least recognized Nash as one of the elite talents at his position in the game, despite his advanced age. Hell, some even went as far as to say they like this deal better than the proposed (and later vetoed by commissioner David Stern) deal that would have landed the Lakers Chris Paul because Nash didn't cost them any players to acquire. So Bravo to the Lakers fans for that glowing review!
I'm not sure if I'd go quite that far. Okay, I'm lying. As a Suns fan I undoubtedly will always think Nash is not only better than CP3, but better than every other point guard in the league today, logic be damned. He remains and will always be my favorite player in the NBA, even after he's hung it up and dished his last dime.
Some people worry about how Kobe and Nash will co-exist. My advice -- stop worrying. You're not giving Kobe enough credit as an off-the-ball offensive player. They're smart. They'll be fine. As for Pau Gasol and Andrew Bynum, the benefits are obvious. If they're open, Nash will undoubtedly hit them with the ball where they like it. It's going to be quite the offensive symphony for the next three years in L.A., and Nash will be the maestro.
No doubt Lakers super fan Jack Nicholson woke up this morning to dial the phone and order his season tickets if he hadn't already done so.
Will they win a championship? That remains to be seen as the Oklahoma City Thunder and reigning champion Miami Heat will be their many obstacles. But one thing's for sure -- the addition of Nash at least puts the Lakers back in the conversation -- a place they really hadn't been for the past two seasons.
Good luck in L.A., Steve. I hope you finally get your ring.
Oh, one more thing.
Try not to beat the Suns too badly next season, okay? Thanks.
Be sure to follow Beard And Stache on Twitter 
@BeardAndStache
, and also Adam 
@Adam_Parker43
, Like our Facebook page 
HERE
!