The clock is ticking down, and before we know it the roar of engines and cheers of race fans will return to the Indianapolis Motor Speedway for the 101th Indianapolis 500. This year is especially exciting for Parrot Heads because the headline for the Miller Lite Carb Day will be the Steve Miller Band, with the Barenaked Ladies opening the concert at IMS!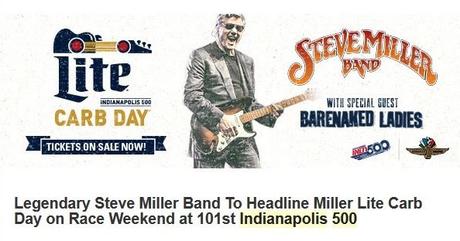 "Steve Miller Band and Barenaked Ladies are renowned for their hit songs and high-energy live shows, so this is a tremendous concert lineup for our fans on Miller Lite Carb Day," said J. Douglas Boles, Indianapolis Motor Speedway president. "These performances will be a rocking finale to such an exciting day of racing, music and fun at IMS, setting the stage for another fantastic Indianapolis 500 race weekend."
Miller formed the Steve Miller Band in 1966 as a San Francisco blues-rock phenomenon who also had a solid foundation in the jazz tradition from his parents and his godfather, guitar icon Les Paul. The band then became paragons of American rock in the 1970s and 1980s, recording and performing polished, irresistible and instantly recognizable hits that still dominate radio today, including "The Joker," "Livin' in the USA," "Take the Money and Run," "Rock'n Me," "Fly Like an Eagle," "Jet Airliner," "Jungle Love" and "Abracadabra."
That incomparable career led to Miller being inducted into the Rock and Roll Hall of Fame in 2016.
Then you have the Barenaked Ladies, who formed in Toronto in 1988, and have sold more than 14 million albums. They've also earned multiple Juno Awards in its native Canada and two Grammy nominations for its cerebral, witty rock that includes such smash hits as "One Week," "The Old Apartment" and "If I Had $1,000,000."
The band released its 14PthP studio album, "Silverball," in 2015. Barenaked Ladies' latest release was a live album, "BNL Rocks Red Rocks," in 2016. Barenaked Ladies consists of a long-standing partnership between Ed Robertson (guitar, vocals), Jim Creeggan (bass, vocals), Kevin Hearn (keyboard, guitar, vocals) and Tyler Stewart (drums, vocals).
Performances by the Steve Miller Band and Barenaked Ladies will cap an incredible day of excitement and action on Miller Lite Carb Day at IMS.
The field for the 101th Running of the Indianapolis 500 will have one hour of final practice to prepare for the race, from 11 a.m.-noon. Then aspiring Verizon IndyCar Series stars will be in the spotlight starting at 12:30 p.m. during the Freedom 100 race for the Indy Lights Presented by Cooper Tires. The speed and precision of top Indianapolis 500 crews will also be on display during the annual TAG Heuer Pit Stop Challenge at 2 p.m., followed by the Miller Lite Carb Day concert.
The 101th Running of the Indianapolis 500 will take place Sunday, May 28. Visit www.IMS.com to purchase tickets and for more information on the complete Month or May schedule at IMS.
Get Your Miller Lite Carb Day Tickets Now
The concert is free with a general admission ticket to Miller Lite Carb Day, and tickets are $30, and are available for purchase at www.IMS.com/carbday. If you want closer access to the stage you can purchase a $20 upgrade to the Miller Lite Concert Pit. Prices will increase soon, so it's best to buy your tickets now and save. VIP viewing options and packages will be announced at a later date. Kids 15 and under are free when accompanied by a ticketed adult.