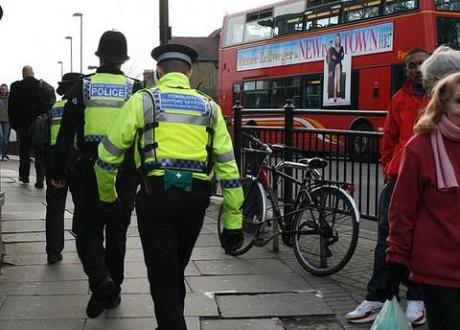 Is the London's Met Police Service in crisis? Photo credit: www.flickr.com/photos/jonathanbeard/
The resignation of Met Assistant Commissioner John Yates, hot on the heels of Met Commissioner Sir Paul Stephenson's decision to stand down, both in connection to their relationship with former
News of the World
executive Neil Wallis, has plunged London's Police Service into turmoil in the run-up to the gargantuan security operation that is the 2012 Olympics.
Met morale dented. "Boris Johnson is attempting to rush through the appointment of a new Met Police commissioner as the corruption crisis deepens," reported London Evening Standard City Hall Correspondent Peter Dominiczak. "And it also emerged today that the Mayor has recorded a video message that will today be placed on the Met's internal website to 'boost the morale' of officers."
London is the biggest loser. "The resignation of the Commissioner of the Metropolitan Police, Sir Paul Stephenson, amounts to the biggest casualty by far, to date, of the News International phone hacking scandal," insisted a London Evening Standard editorial. "Sir Paul's resignation will be a loss to London. He was a very good commissioner. He had a sound grasp of policing priorities and his regime was, unlike that of his predecessor, Sir Ian Blair, untainted by factionalism. After the debacle of the shooting of Jean Charles de Menezes, Sir Paul provided stability for the Met. For most Londoners the effort to contain street crime and combat terrorism are a good deal more important than phone hacking: they will feel that the scandal has deprived the capital of a committed police chief. Nonetheless, Sir Paul's resignation was recognition of his own errors of judgment. It should have been readily apparent that Neil Wallis's position at the News of the World during the hacking affair made him an unsuitable appointment. Sir Paul was ill served by his advisers here, but he was nonetheless responsible for that decision."
Misjudgement not corruption. Stephen Glover of The Daily Mail lamented that police chiefs have been "thrown to the lions." "Sir Paul probably had to go in view of the secretive nature of Mr Wallis's recruitment, as well as his very unwise acceptance of a free stay worth £12,000 at a spa while recovering from a cancer operation. But for all the wild talk of our supposedly corrupt police, there is no evidence that either man did anything venal. Both seem honest and decent policemen," observed Glover. "My strong suspicion is that some policemen at a lower level had a corrupt relationship with the News of the World, which I trust will be revealed by Lord Justice Leveson's inquiry, if not before. But the charge against Sir Paul Stephenson and Mr Yates is one of misjudgement rather than corruption, and in the lynch-mob atmosphere in which we live, over-excited politicians and pundits should not pretend otherwise."
"Does the resignation of two successive commissioners of Metropolitan Police in just over two and a half years indicate that something is gravely wrong with the political oversight and governance of the Metropolitan police?" provocatively asked previous commissioner Lord Blair in The London Evening Standard.
Police are not politicians. "We expect and openly tolerate close, even cosy, relations between politicians and the media – each relies on the other for survival in a society that is less deferential and where politicians find it difficult to be heard, let alone trusted. The police need to tell their side of the story. But the police are not politicians," reminded Head of Crime & Justice at Policy Exchange Blair Gibbs, at Coffee House, The Spectator blog. "When senior police officers begin to behave like politicians – and 18 dinners with one media group looks like a politician's diary – they damage the wider reputation of the service." Gibbs insisted that "close relations with buddies in the press is the preserve of politicians. So let those who are elected and accountable for politics judge them on that. But let the professionals, the chief constables, get on with fighting crime and disorder."
Get more on phone hacking

Murdochs and Brooks face the music at culture select committee hearing
Phone hacking storm gathers pace: Rebekah Brooks arrested, Paul Stephenson resigns
Brooks (finally) resigns
Hackgate scandal spreads to US
News Corp pulls plug on BSkyB deal
Axed News of the World staffers hit Brooks with parting shot via final edition crossword
Hugh Grant turns the tables on The News of the World