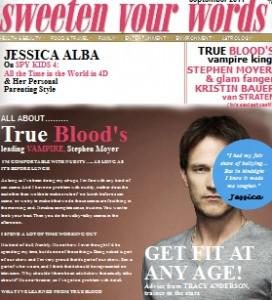 Stephen Moyer is featured on this month's Sweeten Your Words.
Stephen shares what he has learned from True Blood:
"I think a huge lesson to learn as a bloke is that we cannot control women. We need to let them be. That thing of …. if you love somebody, set them free, is true. The more that you step back and allow other people to just be, and stop trying to control them, the more you will learn."
And watching Anna Paquin win an Oscar:
"I remember it happening. I was in a four year hangover at that period of time, so I don't really remember all of it, but I remember there being a film called The Piano, (laughs) and I remember her being amazing. I don't remember watching The Oscars at the time but I've watched them since. I've watched that little You Tube clip, which is very dear, and I've sat down with my kids and watched Fly Away Home a number of times, which is a great little movie."
Read the complete article at the source.