It was an absolute pleasure to talk with Sergio Casci, the screenwriter of Stephen Moyer's upcoming film 'The Caller'.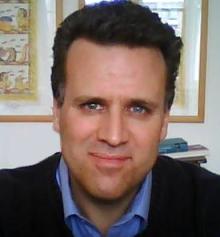 Sergio Casci
The Caller, starring Rachelle Lefevre, Stephen Moyer, Luis Guzmán and Ed Quinn, was shot late 2009 in Puerto Rico. This psychological thriller directed by Matthew Parkhill tells the story of new divorcee Mary (Rachelle Lefevre) who tries to start a new life after her marriage with husband Steven (Ed Quinn) has come to an end. Mary starts to receive a series of sinister phone calls from a mysterious woman who is calling her from the past and that's when things really start to get scary.
Rachelle Lefevre is known from the Twilight movies, Stephen Moyer plays a vampire on True Blood and so did Ed Quinn (Stan in season 3). That makes three vampire-actors in one movie.
Sergio flew out to Puerto Rico to visit the set of The Caller where he met the leading lady Rachelle, Stephen had already finished shooting his scenes and had left the island. Unfortunately he didn't see them work together on set, but the screenwriter is extremely pleased with what the actors did with the characters he created.
"Once you hand over the screenplay it's in the hands of the producers, the directors and the actors, you have to sit back and hope for the best. What really pleased me was the chemistry between Rachelle Lefevre and Stephen Moyer. They absolutely crackle on screen; it's fantastic to watch. They are both fantastic actors in their own right and they are both very charismatic, but when they come together the chemistry on screen is just absolutely amazing. It is something that you hope for but that you don't always get and in The Caller we were just so lucky because we got it, it's brilliant."
Being a Scottish-Italian Sergio can't help that on some subconscious level his Italian roots surface every now and then in his work. Stephen's character in The Caller is named John Guidi and it turns out he comes from Italian origin.
"I wanted him to have an Italianess", Sergio explains. "I saw him as someone with an Italian background and more so his parents, they are in the film as well."
"He has an amazing American accent; I didn't realize that he was British", Sergio says about Stephen Moyer. "I am a massive fan of True Blood and I was a fan before I even knew that Stephen was going to be in The Caller and I think he is absolutely brilliant, he is absolutely fantastic."
Read the complete interview on AllStephenMoyer.com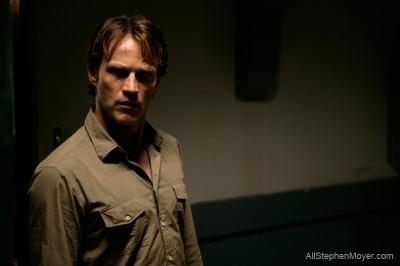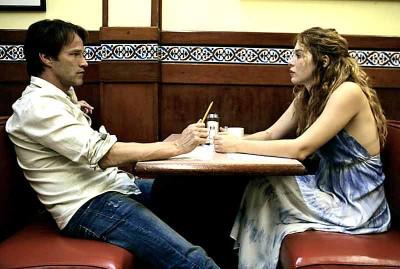 The Caller can be seen at the Edinburgh Film Festival on June 20 and 22. After the screening follows a Q&A with Sergio Casci and director Matthew Parkhill. For more information visit www.edfilmfest.org.
Are you a GetGlue user? You can find The Caller on GetGlue here.
Special thanks to Pimienta for the movie stills.